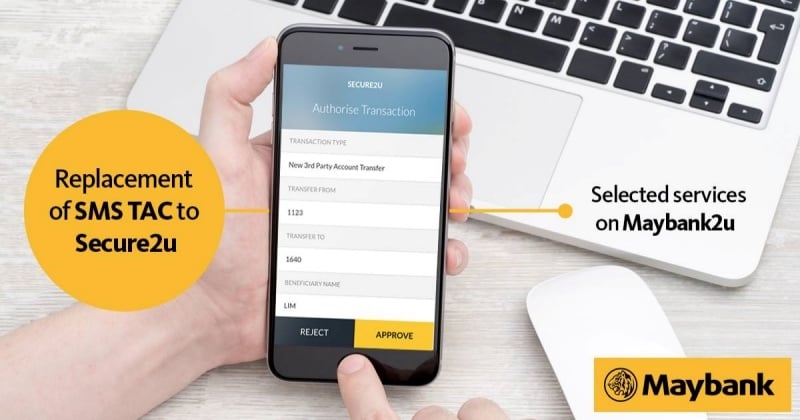 Update 17/1/2019: On 20 December 2018 it was announced that all Maybank app transactions (including Instant Transfer and Interbank Giro Transfer to your non-favourite accounts, Bill Payment and Prepaid Reload) will be authorised on Secure2u starting from 22 January 2019.
Maybank will be replacing the existing SMS TAC with Secure2u for designated services starting from 1 December 2018. Secure2u was introduced to customers as a safer and more convenient method to authorise transactions using the Maybank mobile app.
Maybank Secure2u features two payment authentication methods: Secure Verification and Secure TAC. Secure TAC produces a six-digit Transaction Authorisation Code (TAC) on the Maybank app to authorise Maybank2u transactions. Meanwhile, Secure Verification pushes a notification to the user's smartphone to "approve" or "reject" transactions on Maybank2u, where they have 30 seconds to respond. Secure2u is linked only to a single device and one username, measures which keep users' details secure.
In essence, Secure TAC and SMS TAC aren't that much different for users – both generate six-digit codes for authorisation. The only difference is that SMS TAC is sent via SMS, which is dependent on the telco, while Secure TAC is generated from the Maybank app. If you've ever experienced slow SMS TACs, this move is certainly a welcome one as Secure TAC works even on slow internet connections. From 1 December onwards, here are the services that SMS TAC will progressively be replaced by Secure TAC: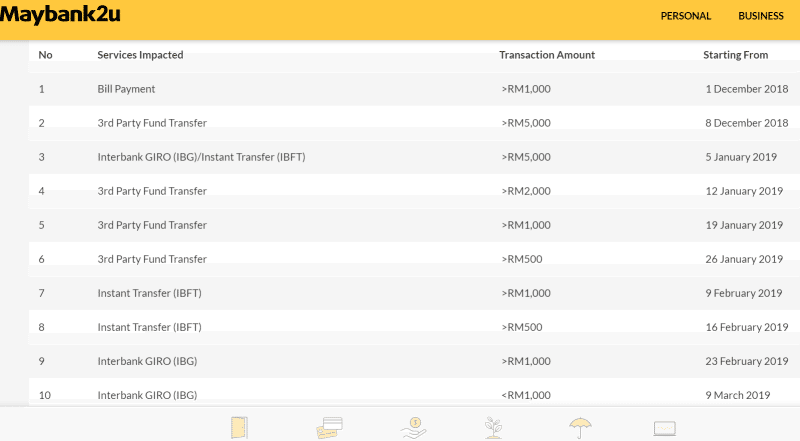 From the table, it's obvious that virtually all online banking transactions done on Maybank2u will require Secure2u verification in the future. Hence, Maybank users are encouraged to download the Maybank app, which is available on both Google Play and the Apple App Store.
(Source: Maybank)