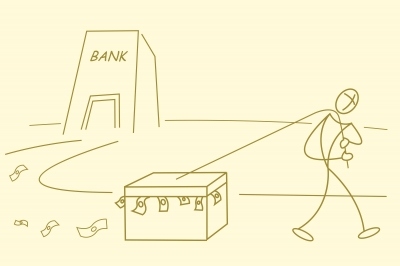 It doesn't matter how much we'd like to think we are heading toward having a cashless society: the truth is that there are times when nothing beats having cash in hand.
For whatever reason you need money; one of the fastest ways to get the cash you need is to take out a personal loan from your friendly neighbourhood bank.
Whilst many people know about personal loans – that is, they know it's a way to get money – very few realise what they are signing up for when they sign the dotted line.
So before you go signing your life and income away take a quick look at our simplified, no-holds-barred look at personal loans.
What is a personal loan?
Banks are in the business of lending for big ticket items, such as houses and cars. With this kind of borrowing the banks use the asset (the house or car) as a 'guarantee' for repayment. So if you don't repay, they will take possession of your property.
But what if you just need money – not for any big purchase but lots of little ones? Or an emergency? Maybe you need cash for a graduation or wedding. Unfortunately, you can't put your degree or marriage certificate down as security.
This is where personal loans can be useful. With a personal loan you can pretty much do anything you like with the money lent to you. But because the bank does not have an asset to secure your repayment promise personal loans are harder to get approved, and often come with high interest rates.
The bank is taking on a bigger risk by lending to you with no real guarantee of repayment, so as with any high-risk venture, they expect to be paid handsomely for it. Wouldn't you also want a higher dividend for a riskier investment portfolio?
Most often personal loan interest rates are fixed and charged every year on the full amount you borrowed and not on a reducing balance like a home loan. This means that no matter how much of your loan you repay – even in the final year of payment – you will be paying the same amount of interest you did on day one.
Bank Negara has set the maximum number of years for repayment at 10 years, though the usual amount of time banks will give you is between 7-8 years.
Where do you get a personal loan?
The first place you would look would of course be a commercial bank, be it local or foreign. The commercial banks are the preferred route for most people as the rates offered are lower than alternative lenders, like loan sharks and other money-lenders.
Banks are also licensed institutions regulated by Bank Negara and thus abide by government policy and lending laws. This applies both to conventional and syariah-compliant personal loans, so it's the same if you apply for a CIMB Bank personal loan or a RHB Islamic personal loan.
Of course, a bank's requirements for loan approval will be stringent and many checks will have to be done before you get your hands on some money.
Banks calculate all your payments to ensure you can afford them. If they have denied you a loan on the basis that your income is insufficient; it probably is just so.
The Good
You can get a personal loan for as low as RM2,000 up to RM250,000 depending on your income level.
In most cases, the interest rate will remain the same throughout the life of the loan.
Many banks offer a better interest rate if you have a good credit score.
It is easy to apply for a personal loan; especially from banks you are already have an account with.
The Bad
The interest rates can be high. The larger the amount you borrow and the longer you take to repay it, the more you have to pay in interest.
There will be extra costs such as: Processing/documentation fees/stamp duties as well as early settlement fees/penalties if you pay off your loan quickly.
You do not save any money by paying more to the personal loan unless you opt to reduce the tenure of your loan from the outset.
Anything else I should know?
Interest rates: Personal loan interest rates are lower than credit cards but higher than home or car loans. They are usually in the region of 8% and up, though some special types of loans like the BSN personal loan for government servants are noticeably lower. Express loans (where money is given to you within 24 hours) can cost up to 20% in interest. Personal loan interest rates are usually calculated on a fixed basis (calculated based on the amount borrowed and not the balance at the end of each month/year).
Loan tenures: Personal loan tenures can be between 1-10 years but how many years you get will depend on your credit rating and income. It is always best to take the shortest tenure you can afford because you will pay much lower interest.
Do you really need this loan? One of the most important questions to consider before taking on debt is to ask if it is necessary or if there is no other way to get the extra money.
Fees: You will be charged fees to so you won't get the full loan amount.
Check out our FAQ on personal loans for answers to common queries.
Getting a personal loan can be a great help if you understand how to use it to your advantage. Interest rates are usually lower than a credit card; it offers you instant cash in cases when your card just won't do the trick; and the structured payments allow you a more disciplined approach to repayment. Unlike a credit card where you are able to pay just the minimum; a personal loan requires you to pay a set amount, thus ensuring that you will pay off the loan in full at the end of the loan tenure.
When you really need cash for emergencies, a personal loan can be a life-saver. Just find the best loan for your needs and income with the lowest interest rate. Remember to try to pay off the amount as quickly as possible too.