Have you ever thought about what are the essential items that an expectant mother would like to have? Diapers, baby wipes, milk pump machine, overalls, strollers, drool pads…the list of things that needs to be prepared for the arrival of baby dearest is endless.
If you have stumbled across this post to find out what are the things you would need as a mother to be or to get an idea on what to give someone who's expecting a bundle of joy, look no further as we will be listing the top 5 must-have items for every mum-to-be.
1. Baby Monitor
Ask anyone who had cared for a baby before and they will let you know that it is indeed a tiring and overwhelming task attending to the needs of babies at odd hours of the day. On a prolonged stage, this could result in a series of restless nights and increased sleep debt which is definitely not good for your physical health in the long run. That's where the baby monitor comes in, offering parents-to-be a brief respite from their current roles without neglecting the welfare of their precious ones.
There are a variety of baby monitors out in the market, some which comes in the form of a basic one-way unit that gives parents the ability to listen to their baby, a two-way radio, that offer parents the ability to talk back to the baby and even a video baby monitor which used real-time video feed to show what the baby is up to.
Pro-Tip : Buy rechargeable batteries if a non-standard battery set is not provided. Not only will you get to save the environment, you'll save money on the long run too!
Save : Rechargeable Two-Way FHSS Wireless Digital Audio Baby Monitor Set , RM103.25
Splurge : Samsung SEW-3043W BrightVIEW HD Baby Video Monitoring System, RM3483.16
2. Baby-Wearing Carrier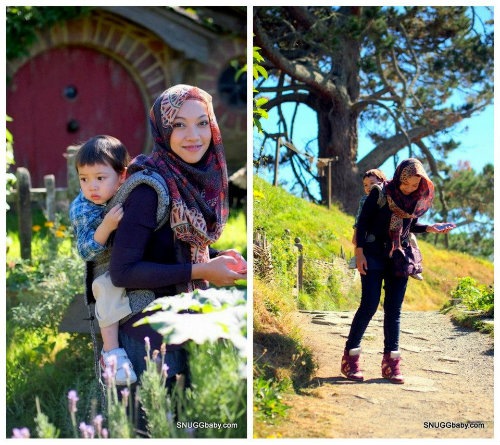 Photo courtesy of Liza Yaakup
Traditionally, woven cloth wraps are favoured by mothers to bring their babies around as they carry on with their daily life errands undisturbed. Whilst parenting methods have changed with the introduction of baby strollers, that doesn't stop the babywearing movement from enduring the test of time and taking the world's attention again by storm.
On a more modern context, baby carriers have evolved and are viewed an integral tool which provides mothers the support needed to bond with their babies. While it is possible to learn how to babywear from tutorial videos, new mothers can reach out to the babywearing community where qualified babywearing instructors can provide you sound advice on how you can safely baby wear, be it with a woven wrap, ring sling baby carrier or a soft structured carrier
Pro-Tip : Avoid getting counterfeit/OEM baby carriers as these could potentially harm your baby. There are many local brands that you can opt for instead and their quality is just as good, if not better.
Save : BabyWrap Rainbow at Night Ring Sling, RM160
Splurge : Daiesu Kelarai Mercury Wrap Conversion Stork SSC by SNUGGBaby, RM600
3. Baby Travel System (Child Car Seat + Stroller)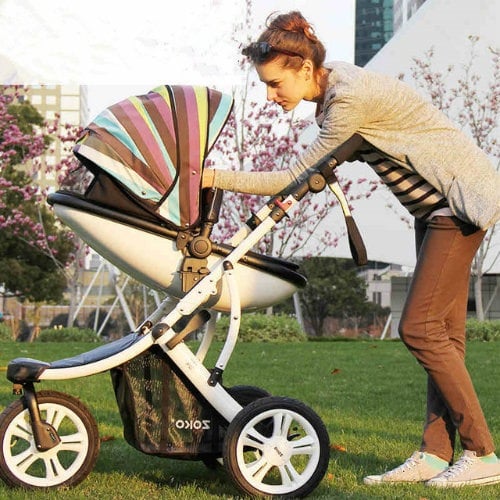 Photo courtesy of Aliexpress
Carrying a baby in your arms as you run your errands while allowing him/her to sit on your lap as your partner drives around town may help you to bond as a family, but in actuality, it is a dangerous act that can put your baby's mortality at risk in most unfortunate situations.
Selecting the perfect travel system for your baby may take you a lot of time, money and effort as not all child car seats and strollers are built alike and each travel system may vary from the other depending on brand, features, quality, and price.
Pro-Tip : If you are budget-conscious, you can always buy the items separately or even put the child car seat or stroller on an Easy Payment Plan.
Save : Sweet Heart Paris ST87T Travel System Stroller, RM356.26
Splurge : Bugaboo Buffalo Classic Collection Complete Stroller, RM8956.32
<a href="https://ringgitplus.com/en/credit-card/?utm_source=ringgitplus&utm_medium=banner&utm_campaign=my-rpint-crcd-gen&utm_content=blogcta_crcd_bestcreditcardinmalaysia_ringgitplus_mid"title="Compare credit card">

4. Baby Booster Seat
Yes, you may have sentimental feelings for the teakwood highchair that you have assembled by hand for your bundle of delight but unfortunately, babies may not exactly share the same sentiment. Meal-time with babies can be both soothing and stressful at the same time. Unlike adults who do not require additional support when they sit upright and have their meal, babies would need to sit on a specialized chair that supports their growing body (and appetite!).
Pro-Tip : Get a portable booster seat so that in situations where baby chairs are not available like busy restaurants or tiny cafes, you can still feed your baby easily.
Save : GTE Baby Booster Seat / Portable Baby Dining Chair and Table, RM64.60
Splurge : Bumbo Multi Seat Baby Booster, RM229.90
Hopefully, these tips will provide you an insight on what are the essential things that you would need (or give!) as a mother to be and that your journey towards motherhood is smooth-sailing all the way. Don't forget to make every moment count before the arrival of your baby.
If you do not have financial means to get the items listed above, perhaps you can consider getting a credit card and putting it on an EPP (Easy Payment Plan). That way, you'll receive the best of both worlds without compromising on things that matter most to you.
Not sure what are the best credit card deals available in the market? Our <a href=" https://ringgitplus.com/en/credit-card/"target="_blank"> comparison tool
is here to help you compare and decide which credit card fulfills your requirements best. Happy hunting!
Are there any other essential baby items that we have missed out on? Share your thoughts with us in the comments section down below