Did you think that all your credit card needed to do was to pay for your purchases; give you cashback and reward points; and charge you interest? Nope, if these few contenders are anything to go by, your credit card needs to look pretty snazzy too. Of course, beauty is in the eye of the beholder so we say our sorrys here and now if your favourite piece of plastic didn't make it into our line-up of the hottest cards.
If there was a beauty pageant for credit cards; we think these little babies are sure to hit the right notes with the judges. Check out the cards we think come out tops on the design scale (take a bow, designers!).
10. Public Bank Visa Signature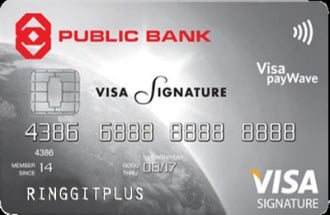 Coming in at number 10, we love the universe inspired design on this little hunk-o-plastic. In shades of silver, the Public Bank Visa Signature is definitely classy. But the silver hue also tends to make it look pretty close to the lower end silver credit card which isn't very exclusive and definitely not to the taste of Signature deserving customers. For that poor choice of colour; the card had to fall to tenth spot.
But if we're looking at substance, the Visa Signature card comes with the Paywave feature which gives you effortless purchases by just waving your card at the contactless reader during checkout. With a swipe or wave motion, you can enjoy 6% cashback rate and exclusive VIP reward points and travel conveniences. In addition to that, this card is free to use all year round.
9. Citibank Rewards Platinum Visa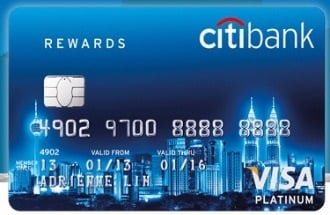 Featuring the beautiful cityscape view of Kuala Lumpur, the glowing backdrop of the iconic Twin Towers and KL tower the Citibank Rewards Platinum Card seeks to resonate with the city dweller in you. The irridescent silhouette reminds us a little of Edward Cullen. And because even the love affair between bankruptcy and credit card debt is a better story than Twilight; we had to drop this card at No. 9 for reminding us of that glittering hot mess.
But unlike a useless vampire, the Citibank Rewards Platinum Card offers 5 categories of rewards to choose from- travel, shopping, dining,household, or petrol. Depending on your priorities, you can choose 2 categories for free the first year. However, there will be an additional fee for any categories more than 2. You gained from earning reward points 5X faster than the usual RM1 for 1 point system. So if you prefer redeeming reward points over cashbacks, this one is up for grabs.
*8. Maybank Manchester United Visa *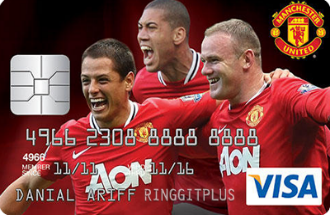 Are you a Manchester United football club fan? Cut your old credit card and apply for Maybank MU Visa card. Just kidding. But, nothing's better than having your favorite football team on your credit card. It's at times a great anti-theft measure as no self-respecting Arsenal or Liverpool fan will want to even touch it (we hope).
The perks are typically MU based; giving you with treat points and discounts whenever you shop at manutd.com; dine at the Red Cafe and even when the team wins the Premier League (not a bad deal as on average they seem to win every 2 years or so).
7. Citibank Clear Visa
[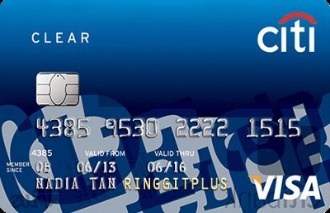 ] (/img/wysiwyg/citibank-clear-visanew.802124947.jpg)
Not one to gloss over things like design*; the Citibank Clear Visa is coated in matte finish with classy block lettering skirting the bottom. It gives the card a rugged look setting apart from the other cards in your cardholder. The blue seems to be a favourite with Citibank (official company colours or limited pantone prowess?) but the fact that two of their cards have shown up on our best list; we have to admit that they've outdone the competition even with a limited colour scheme.
But what are the benefits you may ask. With just one swipe, this clear card unlock privileges to clubs, cinemas, shops and cafes. You are entitled to discount and rewards when you swipe your Clear Visa at Citibank's participating outlets.
*We promise never to use that pun again.
6. Hong Leong Fortune Visa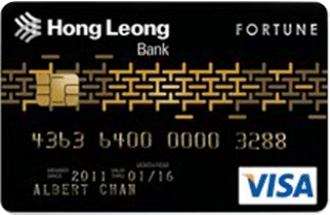 The Hong Leong Fortune credit card is one their best designed cards in Hong Leong's line-up of credit cards. The black on gold is luxurious and classy with a hint of mysticism. The embossed in gold print, depending on how you look at it, could resemble the interlinking gold bits in your Rolex watch or the weave in an Aztec rug. Perfect for whether you're an old businessman or trendy hipster.
Funnily enough, despite the name, one doesn't need to have a large bank account to enjoy Hong Leong's Fortune credit card. With a minimum of RM 24, 000 annual income, you can enjoy 1% cashback on all spending (not the best cashback rate in town but hey, at least the card looks good).
5. UOB VOX Visa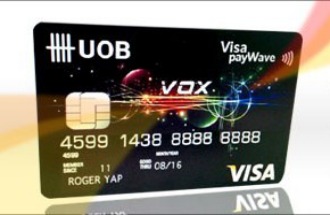 Reach for the stars with your UOB VOX card and hopefully your monthly bill won't be as similarly out of this world. We love the multiple colours of the stars and and the universe on this card that look like a poster for a rave festival (and since raves will probably never happen in Malaysia again; this is the closest we can get to feeling like we are part of one).
But surprisingly, the card isn't catered to the partying community but apparently more to their shopaholic girlfriends. To please online shoppers, the VOX credit card offers 5% cashback capped at RM1,000 each month (that's a pretty high cap and a much better rate than the Hong Leong Fortune card). If you are seeing double rainbow, we are too because this card also comes with a PayWave feature for much cooler and swifter purchases.
4. Affinbank World MasterCard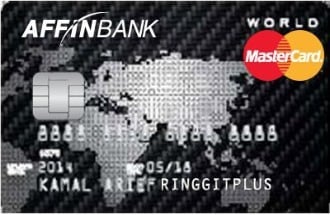 AffinBank presents you the world of privileges via the Affinbank World MasterCard. And in case that wasn't clear enough in the name; they've decided to display a flattened version of the globe on the front (they must be from before Christopher Columbus' time).
Although world domination is not included as part of cardholder benefits; we're sure you won't be crying yourself to sleep when you see what you will be getting. Interest rate for the card is one of the lowest in the market at 9.99% (the lowest in the market) and you get a rebate of 0.8% on monthly spending. As an an avid traveller, you get to enjoy some refreshments at the airport lounge and get insured with travel insurance of up to RM1,000,000.
3. CIMB Preferred Visa Infinite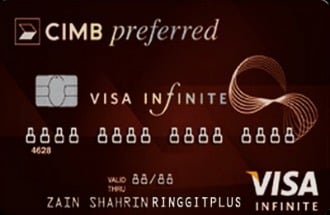 "Less is more" is the stance CIMB Preferred decided to take with the minimalistic design on the CIMB Preferred Visa Infinite. A rich maroon colour gives the card class but may appear to some insecure men as a little too feminine. Nonetheless, the card is classy looking and much preferred over the usual blues, blacks and metal coloured cards. Top honours to CIMB for trying out something new with their premium credit card.
The benefits aren't shabby either; like a VIP, you can enjoy plethora of benefits such as exclusive complimentary access to airport lounge; enjoy discounts at participative retail outlets and fine dining; and travel deals. As this card is exclusively for invited customer, only existing CIMB customers stands a chance to apply.
2. UOB Lady's Solitaire
The crème de la crème of credit cards marketed for women; the UOB Lady's Solitaire Card is top of the line and not available to everyone. With a delicate champagne rose sporting a bling centre; you can tell UOB wasn't messing around with the female stereotypes. But we had to admit – it's a goodlooking card – if you like that sort of thing of course.
If a stereotypical design wasn't enough; UOB went the extra mile to kill feminism and yet in some strange way support it by assuming all financially independent ladies only want handbags, shoes and clothes! The UOB Lady Solitaire card comes with 10% cashback rates, discounts and rewards at UOB participating retail outlets from shoes to cosmetics. Have your eye on that new Louis Vuitton bag? Enjoy 6 to 12 months installment at 0% instead of a making a full payment. It doesn't get any better than this, huh, ladies?
1. Alliance You:unique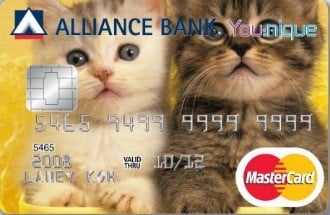 And now we've come to number one which some of you may argue is kind of a cop out! The Alliance You:nique card does what no other card in the market does in terms of design – they let you design it! This way, no matter what your tastes are – classy, kitschy or just plain bad – you can have a card that looks just the way you want it to. All you need to do is submit your favorite photo together with an application form. It's a win for both Alliance and you as they will always have the best design to their customers because, well, the customer chose it! You may say it's a lazy way out of designing but we think it's pretty awesome. A picture of some cat off Buzzfeed on your credit card? Yes, please.
But the customisation of the card face isn't the only thing Alliance Bank allows you to design. You are allowed to choose one out of 3 benefits of your choice: up to 3% rebates; 9 % financing rates; and earn double reward points. With these available options, you are able to maximise the benefit depending on your needs.
And that's our superficial top ten! Do you like good looking plastic? Tell us your top picks in the comments.