Whether you are moving into a new house or redecorating for the upcoming festivities, you are going to come across the option to pay for your goods via cash, credit card or through a credit instalment plan.
Under the right circumstances, it may be cheaper to use cash and in other times, it might not. Depending on your needs, some would prefer to pay for the whole thing in cash and some would rather stretch the payments over a period of time.
Here are a few things to consider when using either method.
Cash Purchases
Some smaller shops tend to deal in cash as it reduces the transaction fees of credit cards that the shop has to bear. That is why many shops tend to quote you a cash price and a credit card price and give you the option on which you would prefer.
Smaller stores also have lesser overheads as they maintain a smaller amount of stock, space and staff. These smaller stores can then transfer these benefits on to the customer with better prices.
In most scenarios, these shopkeepers also tend to drop their prices to compete with the bigger brand retail stores. All these are excellent reasons to pay for your furniture in hard cash.
Despite the amazing discount factor, carrying a lot of cash can be a bit dangerous. To avoid carrying a thick wad of cash and sliding it over the table like a mobster deal, take the safe route and see if these shops accept bank transfers.
Another non-credit way to pay is via flexi payment plans. Certain retail chains may allow a flexi payment plan which essentially works like a personal loan, but at significantly lower rate of interest.
Not all flexi payment plans are interest free, of course. For example, Courts Malaysia offers a flexi payment of up to 60 months but it includes an interest that starts from 0.5%. The store assesses your credit score based on your income and commitment and provides you with a special rate for the purchase of furniture in the store.
You can then make your monthly payments via bank transfer or cash according to their repayment channels.
While it would be nice to stretch the payments over a longer tenure to make your monthly commitments lower, the interest rates could make it less worth while. That is because the longer you stretch the loan, the more you will end up paying in return.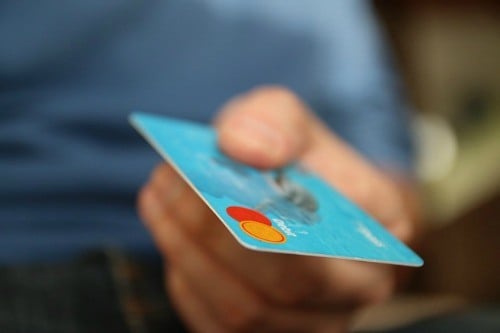 Credit Card Purchases
This method works the same as buying any other item with a credit card. When making your purchase with these, find out what cards may have additional benefits. Some may give you double the rewards or open up additional offers that provide you more value.
If you are aware that you will be unable to pay it of all at once, you could choose to break down the payments with a zero percent instalment plan at the point of purchase.
Zero Percent Instalment Plans
Some stores like Harvey Norman, have an arrangement with the banks and offer a 0% instalment plan on selected credit cards which are exclusive to their stores.
This will take up your credit limit on your chosen credit card but it allows you to break down the payments over a tenure of up to three years. Having the option to make smaller payments opens up your cash flow to other investments or priorities.
Since it does not cost you anything extra, nor will it be cheaper to pay it in cash, you may choose a 0% instalment plan on your purchases and use that excess cash to earn you some interest in a short term fixed deposit before making the monthly payments.
However, some plans come with a one time handling fee which you should take into consideration as this will affect the total amount you pay eventually.
Ready to Shop?
Before you hit the stores, sit down and make a plan. Maybe divide and conquer may be the best strategy. Purchase some items with a credit card, some on cash and others on credit plans to maximise every ringgit you spend.
We recommend using cash if you're only buying cheaper pieces or just purchasing one item at a time. If you're looking to furnish an entire room at once or plan to buy some higher-end items that might cost a lot more, credit card EPPs might be the way to go.
If you would like to know more about the best credit card deals, head over to our comparison tool page and apply for a card that will help you enjoy the best gains on your purchases.