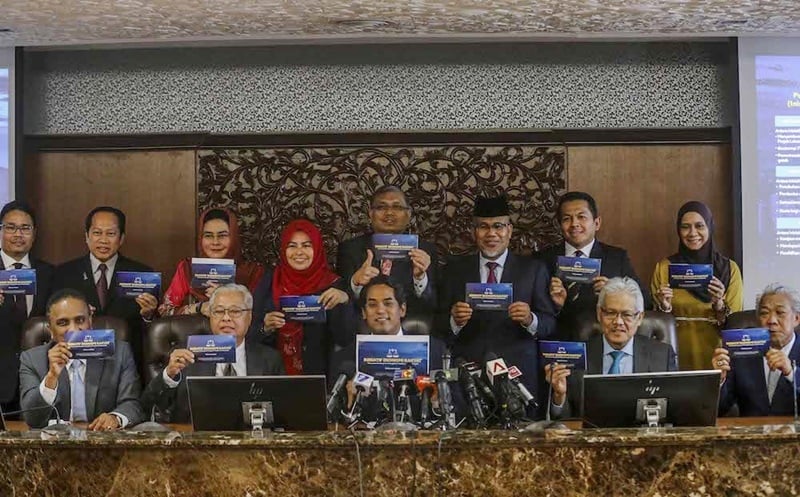 (Image: The Malay Mail)
Barisan Nasional has revealed its first "shadow budget" as an opposition party ahead of the tabling of Budget 2019 on 2 November. Entitled "People's Economic Initiative", the shadow budget was announced by Rembau MP Khairy Jamaluddin, who holds the Finance portfolio in the opposition's shadow cabinet. The shadow budget seeks to bring back the Goods and Services Tax (GST) and implement nine tax regimes.
GST was previously implemented by the Barisan Nasional government in 2015 at 6%, but this was replaced by Pakatan Harapan's Sales and Services Tax (SST) on September 2018. According to Khairy, the SST had failed to bring down the prices of basic goods and items.
"We need a more efficient and transparent taxing system and we will bring back GST but lower it to 3%," said Khairy. He estimated that the revenue collected under the lower-rate GST would be about the same as SST, but solve the problem of tax evaders and leakages faced by the SST.
(Image: The Star)
The shadow budget proposes the implementation of nine taxes. Six of these proposed taxes are new, such as the soda tax, which is predicted to generate an additional RM360 million annually, and the plastic tax, which is expected to bring in about RM1.46 billion.
The budget would also impose a capital tax on individuals whose accumulated wealth are beyond RM10 million yearly and carbon tax on factories with a minimum of 25,000 metric tonnes of green house emissions. Other measures proposed include a new charge on foreign remittance, a reworking of the current foreign workers' levy, a short-term share transactions tax, and remittance tax.
Barisan Nasional would also continue with the 1Malaysia People's Aid (BR1M) payouts, but with a special system for the B40 income households to ensure the payouts reach the right target group. Mega projects East Coast Rail Line (ECRL) and the Kuala Lumpur-Singapore High-Speed Rail (HSR), which are both under review by the current Pakatan Harapan government, would be revived and continued.
(Sources: Free Malaysia Today, The Star)