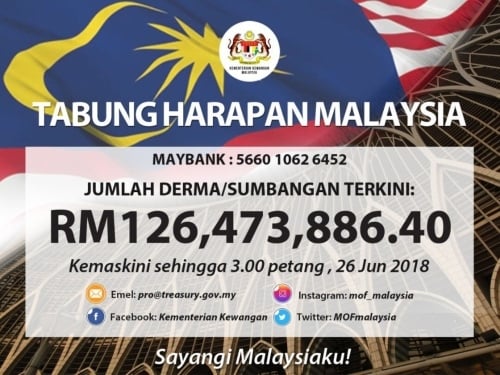 Donations to the Tabung Harapan saw a stunning spike in the last 48 hours, smashing well past the RM100 million mark. As of today (26 June), the Ministry of Finance announced that collections have reached RM126.5 million, less than a month after its launch.
On Sunday, the figure actually stood at RM93.6 million, before a spike in donations in the span of just 24 hours saw a further RM15 million coming in to bring the total amount beyond RM108 million on 25 June. Today's figures shows that donations from Malaysians are not slowing down whatsoever, recording almost RM20 million in just 24 hours.
Since its creation on 30 May, the Tabung Harapan has been gaining widespread attention from the Malaysian public. Within a week after its launch, Malaysians donated over RM43 million to the government fund, which was established as a way for Malaysians to directly help reduce the country's RM1 trillion debt.
If you wish to contribute to the government fund, you donate to the following account: Maybank account number 5660-1062-6452 under the name "Tabung Harapan Malaysia". All donations for the Tabung Harapan are tax deductible.
(Source: The Star, The Edge and The Sun Daily)