RinggitPlus turns 5 this week! We've gone a long way since our start, and now we're the largest financial comparison website in the whole of Malaysia! Of course, we couldn't have done it without you, so we'd like to thank all of you for contributing to our continued success!
How Did RinggitPlus Start?
RinggitPlus was formed in 2012, when our co-founders met and found that they share the same passion in helping people make better informed financial decisions and get more for their money. At the time, banks and financial institutions were finding it hard to cope with the thousands of applications due to the lengthy pen-and-paper application process, much less help Malaysians choose the best credit card or loan to suit their financial needs.
To help bridge the gap between consumers and financial institutions, our team at RinggitPlus worked on ways to simplify the credit application journey by helping Malaysians compare and apply for the best financial products online.
Now, you no longer need to go through the hassle of filling in complicated paper forms and go through multiple websites to apply for financial products. All you need to do is go on RinggitPlus and we'll help you compare, choose, and apply for your preferred credit card, loans, insurance plans, and even banking accounts with just a few clicks!
How Does RinggitPlus Help You Get More For Your Money?
RinggitPlus helps you find, compare, and apply for the available financial products in Malaysia – which includes credit card, personal loans, home loans, car loans, insurance, fixed deposit, banking accounts, as well as broadband plans.
Of course, we know that sometimes it can get hard to decide on the best financial product to fit your needs, which is why we offer you tips and insider's take on how to get more for your money and all things financial through RinggitPlus blog.
Our team is dedicated to bringing you the freshest and most informative articles to help enhance and broaden your knowledge in personal finance. Besides, the more you know, the better you can manage your finances!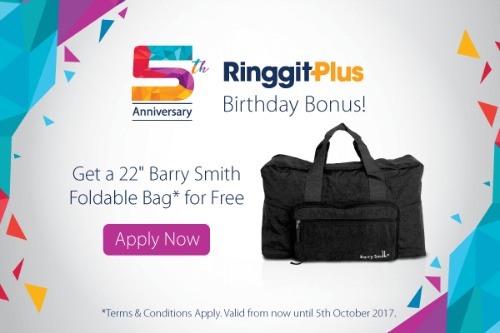 Join Our 5th Birthday Celebrations and Get Double Sign-up Gifts
We won't be Malaysia's largest financial website without your continuous support, so we'd like to treat you to a bonus gift on our 5th birthday! All you need to do is apply for the participating banking and financial products and claim your bonus gift when it's approved! Hurry! Offer only last until 5th October 2017!