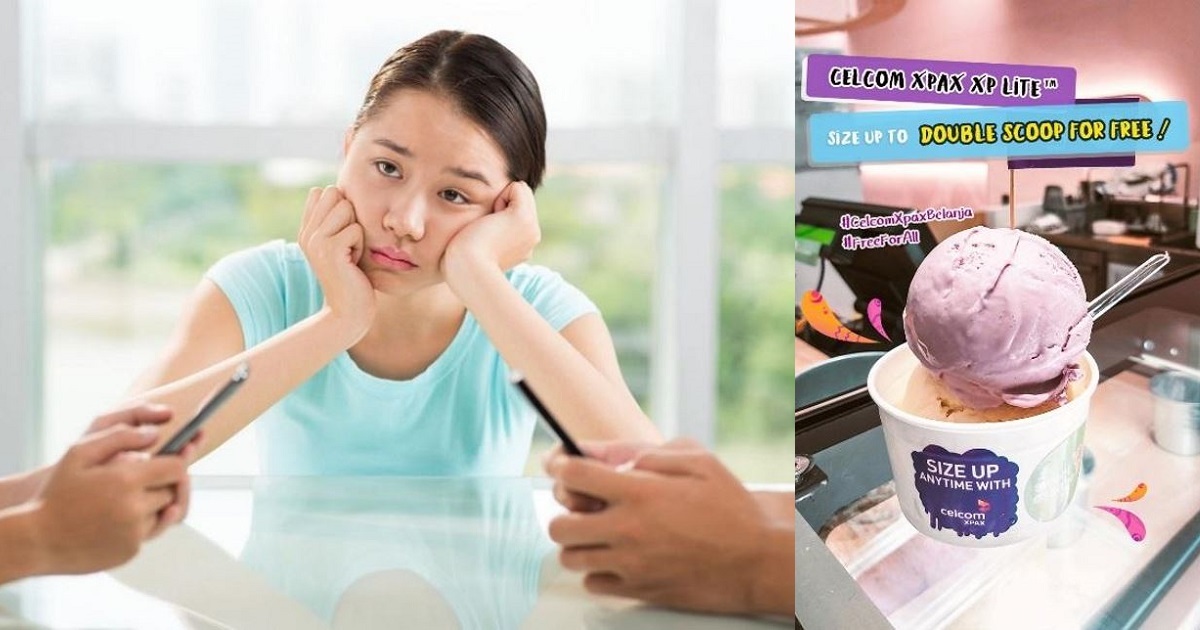 Take a moment to think about your postpaid plan usage: how often have you fully utilised everything that you paid for in your plan? Whether they are call minutes, free SMSes, or mobile data, postpaid plans in Malaysia come bundled at different price points. Sometimes, even if we want one thing and not another, we have to pay for it anyway. Why can't we just pay for the things we use?
Mobile Postpaid Plans: Why Are We Wasting Money on These Extras, Again?

Maybe what you really need is unlimited data, but not free calls. Or maybe you use your phone mainly for calling clients, your parents, and of course, your boyfriend/girlfriend, and rely more on WiFi for internet. In cases where you need one particular aspect of your plan more than the others, you could be paying unnecessarily for the other included parts for no reason. It's 2019, why should you pay for that?
Even with just RM20 savings per month on an "optimised" postpaid plan, you'd have saved RM240 a year – that's a lot of movie outings or boba sessions. So what you (and we all, frankly) need is a postpaid plan that is customisable yet affordable. A postpaid plan that fits your lifestyle perfectly, supported by a reliable network wherever you are.
Celcom Xpax XP LiteTM Plan: Be Part of the Free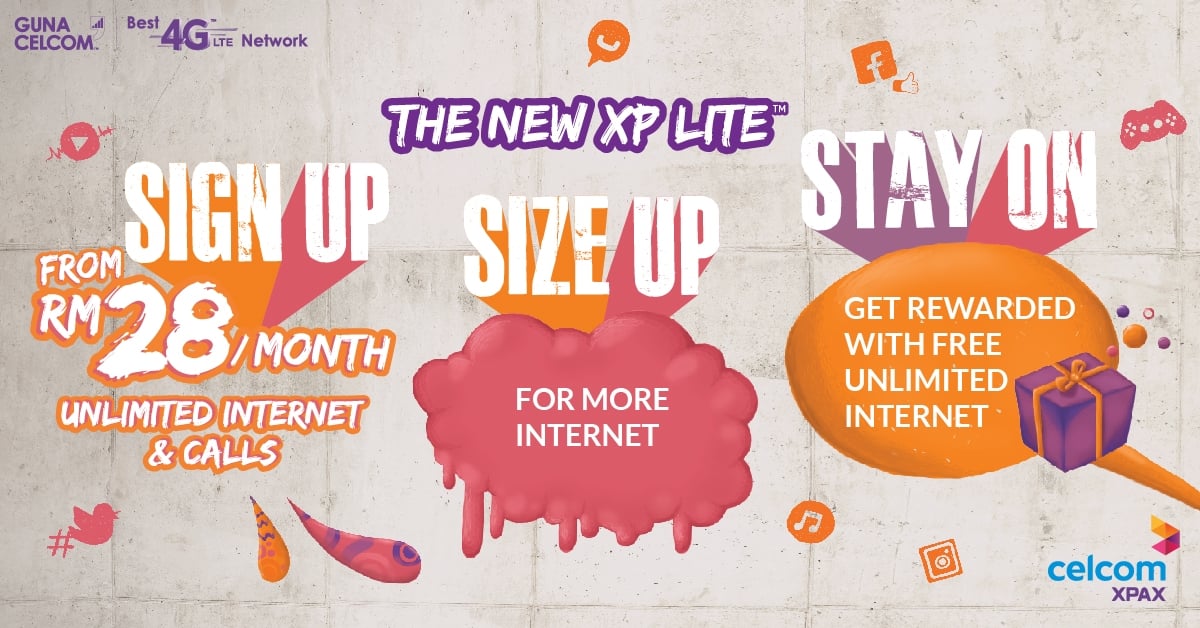 Don't remain shackled to postpaid plans that make you pay more than you need to. The new XP LiteTM offers 1GB of data and unlimited calls for just RM28 a month. If that's not enough, size up with M or L passes that offer additional data at low prices. Bundle in a brand new smartphone for even bigger savings!
Free yourself from paying for what you don't need
For RM28, get access to unlimited calls to all networks and 1GB of mobile data. Need more? Size Up with M or L passes and unlock huge data for internet and Video WallaTM streaming!
XP LiteTM Pass
M Pass
L Pass
Monthly Internet
4GB
11GB
Free Video WallaTM
3GB
3GB
Total Internet
7GB
14GB
Pass Price
RM10
RM30
Total Monthly Price
(XP LiteTM + Pass)
RM38
(RM28 + RM10)
RM58
(RM28 + RM30)
A flexible plan with a low monthly fee, XP LiteTM allows you to size up your plan and what's in it according to your everchanging usage needs. Need more internet this month? No worries, just size up your data allowance!
Free yourself from small rewards, because you're worth more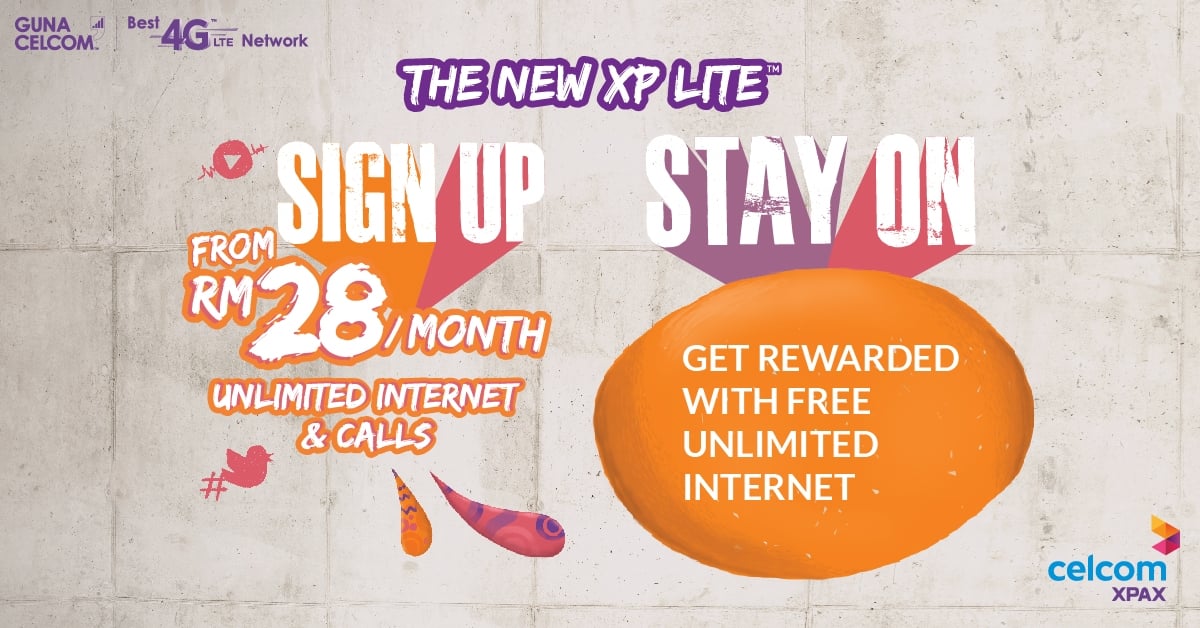 Sometimes postpaid plans come with "rewards" that are basically irrelevant. 1GB to use over a weekend? You'll blow that in an afternoon watching Pewdiepie videos. Stay On with XP LiteTM M or L pass for six consecutive months, and you'll get rewarded! From the seventh month onwards, L pass users will get one hour of unlimited internet every day – for FREE. Meanwhile, M Pass users get 1GB of free Video WallaTM per month. What other way to enjoy the best 4G LTE network, right?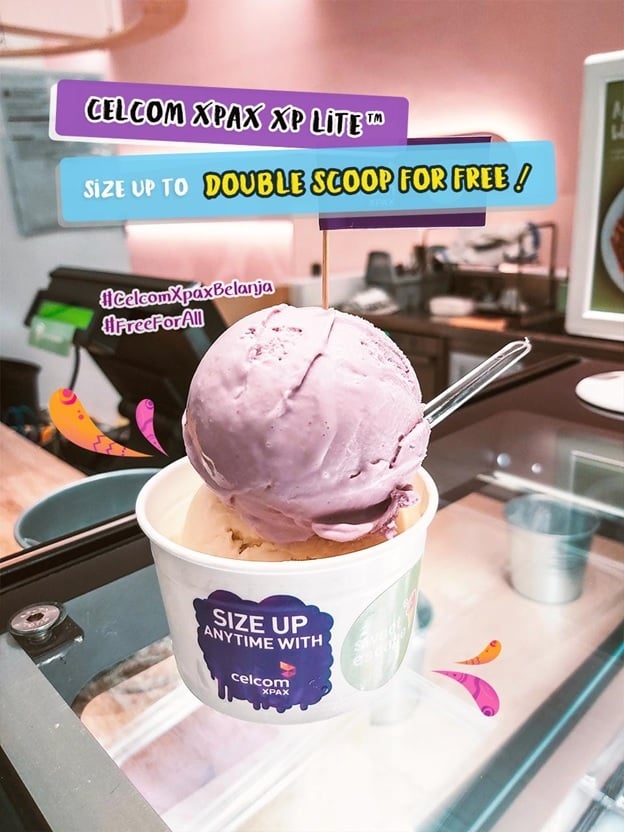 Not only that, everyone can also Size Up their rewards thanks to Celcom Xpax's unique brand partnerships #CelcomXpaxBelanja. It is #FreeforAll! Everyone can expect Size Up offers such as single scoop to double scoop ice cream treats, double patty upgrades for burgers, and even better – one free pizza for every two pizzas purchase! So look out for ice cream treats on 28 November 2019, and pizza & burger treats on 14 November 2019. And if you're a coffee lover residing in Sabah or Sarawak, you get to enjoy Green Mug free upsize from regular to large size on every Saturday, till 30 Nov 2019!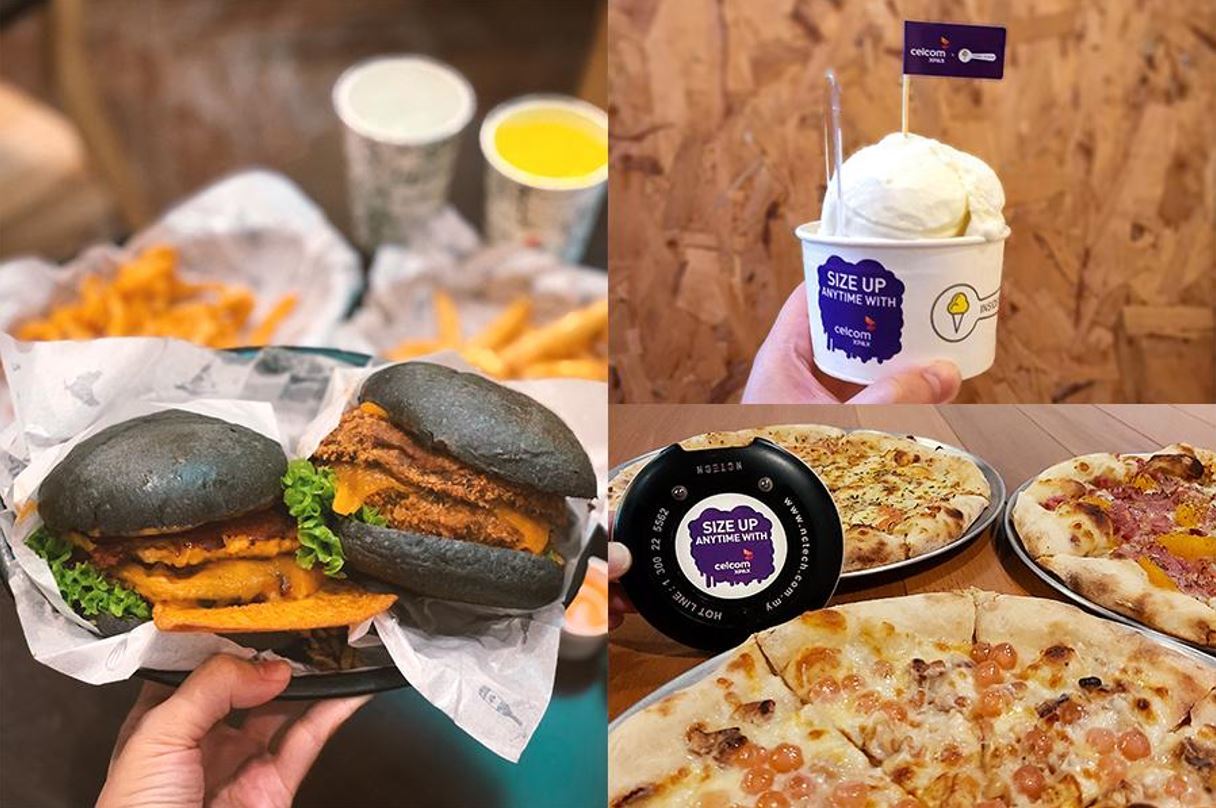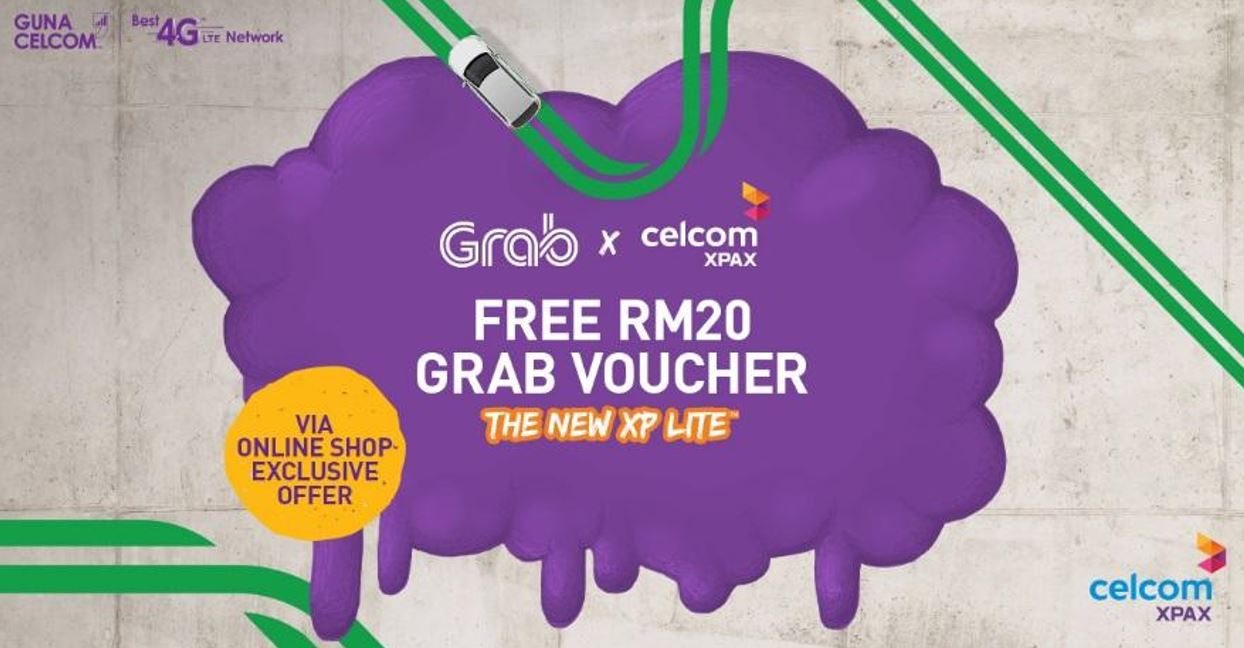 Plus, if you subscribe to XP LiteTM via the Celcom Online Shop, you will also receive free Grab vouchers! Users who subscribe for XP LiteTM with an M Pass will receive a RM5 voucher, while those who sign up with an L Pass will receive a RM20 voucher. This promotion ends 30 November 2019.
Free yourself from last season's devices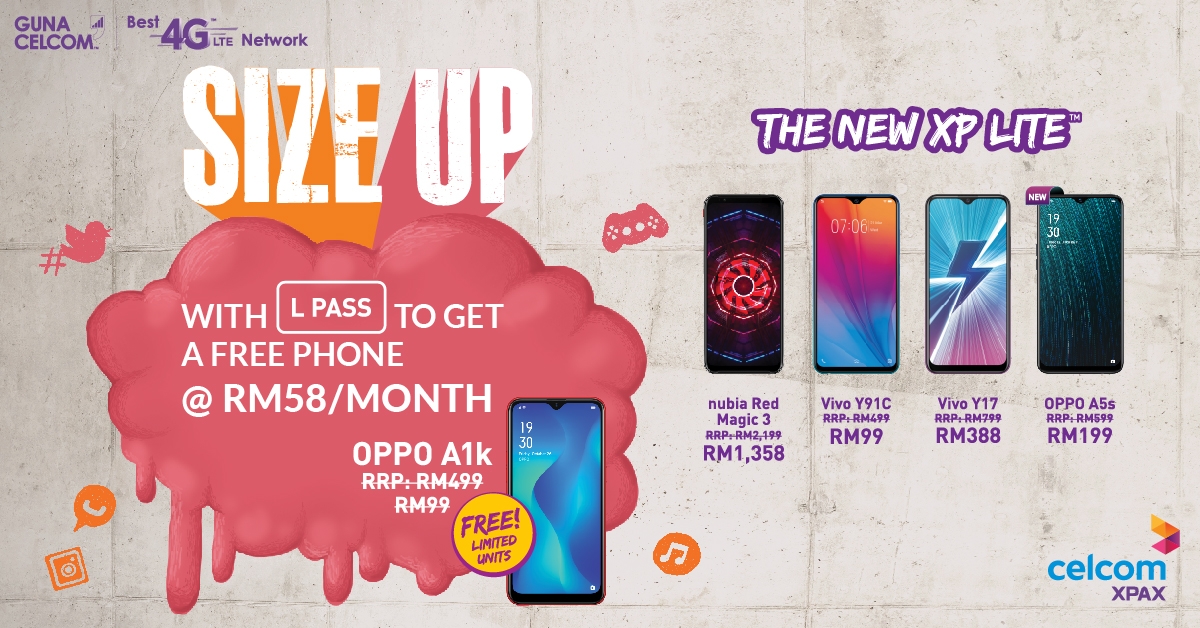 With the speed at which technology advances these days, your current smartphone will need an upgrade by this time next year. XP LiteTM plans have the option bundling your plan with a FREE Oppo A1k or selected smartphones at low prices, so you won't ever have to pay at regular prices again. How's that for a smart purchase?
The new Celcom Xpax XP LiteTM is meant for the hip youngster (or young-at-heartster) that wants the best perks for their particular lifestyle, and who is only willing to pay for more when they need it. It's like prepaid, but with all the stability of a postpaid. It gives you the satisfaction of knowing you only pay for what you need, not what telco companies think you want. Everything in life should be the best fit for you as an individual, so let your postpaid plan be the same too! Find out more at the Celcom Xpax website.