(Image: Amanz)
Telekom Malaysia (TM) has announced that its Unifi Mobile "Jasa Pack" promotion has been extended to 30 June. In addition, the mobile plan is now available for the staff of all 25 Federal Government Agencies, including the Prime Minister's Department, the Ministry of Youth and Sports, and the Ministry of Health.
The Unifi Mobile "Jasa Pack" package is available at a discounted rate of only RM59/month, 40% less from the original RM99/month (excluding 6% SST) subscription price. The plan itself offers unlimited data, voice calls, and SMS with no contract. A 10GB LTE hotspot pass is also included in the plan – with additional passes of 1GB available at RM15 and 500MB at RM8.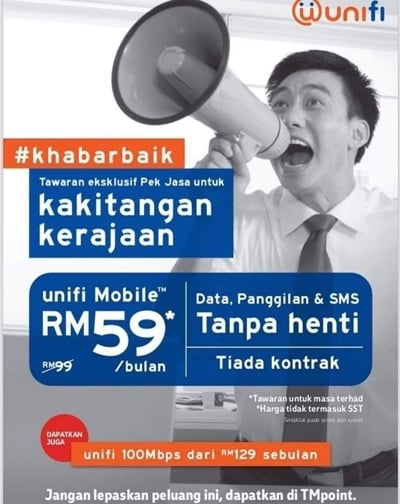 The plan was initially launched for the teachers and staff under Ministry of Education (MOE), registered members of the National Union of Teaching Services (NUTP), the Malaysian Armed Forces, the Veterans of the Armed Forces Malaysia, and the Royal Malaysian Police (PDRM) as a form of appreciation for their contributions to the country.
On top of the extension, TM has also removed the requirement where customers must be an existing Unifi or Streamyx subscriber to be eligible for the plan, which means that new customers can now just directly apply for it. An upfront payment of RM100 is applicable but will offset the first bill.
Interested civil servants may walk in to all TMpoints nationwide with their MyKad and staff ID stating their permanent status.
For more information, visit the official Unifi Mobile page.
(Source: TM)