RHB Hire Purchase
Simple application car loan with easy payment options, low interest, and a high maximum loan amount.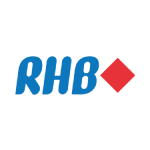 Easy application
Product summary
Tenure

up to 9 years

Loan Type

Fixed Financing loan

Interest Type

Flat

Margin of finance

Up to

90%

Excess Repayment

Not applicable

Early Settlement Rebate

Available
Interest rates
How much the bank charges you based on your loan amount & loan period
Fees & Charges
Interest Rate for New Cars

from

2.8% p.a.

to

3.18% p.a.

, depending on car brand, borrowing amount, and period

Stamp Duty

RM10

Photocopy Charges

RM25

Consent Letter

RM20

Early Settlement Fee

Subject to terms of agreement with the bank

Late Penalty Fee

8%

p.a on the outstanding balance
Requirements
Minimum Annual Income

RM24,000

Minimum Age

Who can apply
More Information
Who is eligible to apply for this loan?
Anyone between the ages of 18 and 55 can apply for this car loan. If you're younger than 21 it is likely that you'll be asked to provide a guarantor.
What do I pay on my car loan each month?
You will pay a fixed monthly instalment calculated using a flat interest rate.
The interest rate on this loan is fixed and will remain unchanged for the whole tenure of the loan. If you like the security of knowing what your repayments will be every month this is a great choice.
What are the consequences if I do not pay my debts?
If you are late making a payment you will pay a penalty of 1% interest on the amount outstanding.
If you fail to pay for two consecutive months the bank has the right to repossess your car.
Can I pay off my car loan early?
Yes of course you can. For early settlement, you will be given a rebate based on the unearned interest on the remaining instalment payments.
Great, let me gather my documents. What do I need?
Salaried applicants:
Photocopy of identity card
Photocopy of driving license
Latest ONE(1) month salary slip; or
Latest ONE(1) month credit bank statement; or
Latest EPF statement
Government-employed applicant:
Photocopy of identity card
Photocopy of driving license
Latest one (1) month salary slip or
Latest one (1) month crediting bank statement
Self-employed applicant:
Business Registration Form A/B (for Sole Proprietor/Partnership); or Current and valid professional practice certificate
Latest six (6) months' Personal or Company bank statement; or
Latest Borang B/BE
Commission earner applicant:
Latest six (6) months salary slip; and
Latest six (6) months crediting bank statements; or
Latest Borang BE (validated payment receipt of payment to LHDN)