Best Credit Cards in Malaysia 2019
Contrary to popular belief, credit cards are not only for the rich. They are designed to cater to various income levels, from the entry-level (sometimes referred to as "Gold"), mid-range ("Platinum"), and premium (different cards have different names, from Infinite, Premier, Signature, and more).
What is a credit card?
At its core, a credit card is an instrument for a bank to pay for an item on your behalf, the amount of which you will owe the bank. In theory, when you pay for something with a credit card, that amount is not what you spent, but what you owe the bank.
Each transaction you make with your credit card is tabulated in your credit card bill at the end of the monthly billing cycle. You are then required to pay the bank within a stipulated time frame (usually 20 days). Failure to do so will incur an interest rate of the outstanding amount you owe the bank.
Why should you get a credit card?
The most common reasons behind owning a credit card is convenience and safety. Big ticket purchases no longer require you to carry huge amounts of cash, putting you at risk of petty thieves. Likewise, this applies to everyday life as well: with a credit card on you, there's no reason to be carrying a lot of cash at any given time.
Another reason to get a credit card is so you have another avenue to build your credit score that banks can refer to. Credit score is basically a report card of an individual's financial wellbeing, which the banks can refer to as a means of assessing the risks the banks take when lending the individual money. Building a good credit score, which among others can be done by always paying your bills on time, goes a long way in the future when you are applying for a home or car loan.
Not all credit cards are created equal; there is generally one or two that offer perks that will appeal to you. Most cards offer rewards points that can be used to redeem items for free, while others have cashback features. Take time to find the best credit cards for you, and you will benefit from them without changing your spending habits.
Imagine getting cashback from paying your utility bills or groceries, or being invited to the business class lounge even when you are flying in economy class. These perks are offered in many credit cards in Malaysia, which means extra benefits to cardholders just for paying for the things you already do in cash, with a credit card.
What are the credit card interest rates?
Interest rates vary among card providers, but they must adhere to Bank Negara Malaysia's (BNM) tiered pricing structure for credit cards. There are three tiers of maximum annual interest rate in which the credit card providers can charge their users:
Tier 1 - Maximum of 15% per annum, for those who settled their minimum payment amount for 12 consecutive months.
Tier 2 - Maximum of 17% per annum, for those who settled their minimum payment amount for at last 10 months in a 12-month cycle.
Tier 3 - Maximum of 18% per annum, for those who settled their minimum payment amount for less than 10 months in a 12-month cycle.
If you consistently pay your credit card bills in full and on time, then you don't have to worry about interest rates at all. This may not be theoretically correct, but banks charge interest on the outstanding amount as a penalty for borrowing their money and not repaying them on time.
What are the requirements to apply for a credit card?
The major credit card requirement is the minimum annual income requirement to qualify you for a credit card. In Malaysia, the requirement for a first time applicant is RM24,000 per annum, replacing the previous minimum income requirement of RM18,000 per annum, in accordance with the 2011 BNM guidelines.
That means your basic monthly income must be above RM2,000 a month before you can apply for a credit card. Banks cross check the figure you state with your salary slips as well as EPF deductions made by your company. Gold, Platinum, Infinite, World, Signature, Reserve, and other premium-level cards have different minimum income requirements, so be sure that you qualify before you apply for a credit card of your choice.
How many credit cards can I own?
There is no limit to the number of credit cards you can own unless you earn less than RM36,000 per annum (i.e. RM3,000 per month). If that is the case, you can only own credit cards from two different credit card issuers in Malaysia, and your combined credit limit will be capped at a maximum of 2x your monthly salary (but whether you get this amount depends on the banks you choose).
You can own credit cards from any number of credit card issuers in Malaysia if you earn more than RM36,000 per annum. Yup, in theory, you can have your pick of all of Malaysia's credit cards – if you fit their income requirements, of course.
What is my credit limit?
BNM imposes a credit card limit of two times the monthly salary for those earning under RM36,000. Meanwhile, the credit limit for those earning more than RM36,000 is at the discretion of the credit card issuer. It's important to know what your credit limit is and to not exceed it as doing so may incur extra charges with many banks.
You may also request to increase your credit card limit, which will be handled on a case by case basis by the card issuing bank. The bank may request additional documents to support your request, such as an offer letter from a new (better paying) job or a promotion with increment.
What is the credit card billing cycle?
The credit card billing cycle is the period of time between billings, which is typically 30 days. Depending on the bank, the billing cycle may either start at the beginning of the month, or from the date of approval of your credit card application.
What is the interest-free period?
At the start of the billing cycle, you will receive a credit card bill or statement showing purchases made from the previous month which are due for payment. Most credit cards have an interest-free payment period (or grace period) of 20 days, where you will not be charged interest on the amount due. If you fail to complete payment within this period, the bank will begin charging interest on the remaining balance.
Can I withdraw cash from an ATM using a credit card?
Yes. This is known as a cash advance, which is technically a short-term loan facility provided by the bank for credit card holders.
This is also one of the most expensive facilities provided to a credit card holder. Banks charge a service fee and a finance charge for every cash advance instance from the card holder.
What happens if I fail to repay my credit card on time?
If you miss your first credit card minimum payment amount, you will be slapped with a late payment charge of either RM10 or 1% of the outstanding balance, whichever is higher as of statement date, up to a maximum of RM100.
After one or two months of no payment, you would start receiving letters or calls from your credit card issuer, and if you ignore those letters, the credit card issuer may send a collection officer to your residential address. There is a good chance your card would have been blocked as well, if you've reached this point.
Repeated late payments would cause you to be blacklisted in BNM's Central Credit Reference Information System (CCRIS).
The ultimate action that credit card issuers could take against non-payees is to sue them for the sum owed. Malaysian laws dictate that a person could be declared bankrupt if he or she defaulted on an outstanding debt amounting above RM30,000 for more than 6 months.
How to dispute a credit card charge?
If you found that the bank has charged your credit card some fee that you feel is not right, you should call the bank as soon as you can to find out. If it is some administrative or penalty charge for something you may not have committed, and if you think it may have been wrongly charged, you can dispute the charge.
You should, of course, call the bank first for faster and quicker communications. The agent on the line may be able to assist you, but if not, most banks in Malaysia have a charge dispute form uploaded in their websites.
What Is A Balance Transfer For Credit Cards?
A balance transfer plan allows you to transfer the outstanding balance from one credit card to another – and repay them in instalments at a low interest rate. Sometimes, it can even be at 0% interest – a double win situation for the cardholder.
Should I apply for a card solely for a Balance Transfer?
Balance transfers allow you to consolidate your debts from other credit cards into a single credit card or simply move a balance from one card to another to take advantage of a low interest rate (sometimes as low as 0%, for a certain number of months ranging from 6 months up to 36 months) to to help you optimise your payment regime.
However, some banks do not take lightly to people solely applying for credit cards to transfer a balance and if they suspect that is what you are doing; they will be quick to deny your application. That said; it doesn't mean you shouldn't try. However, remember that for balance transfers; your credit limit needs to be enough to cover the balance you want to transfer and you wouldn't be able to guess how much of a credit limit the bank will give you when applying for a card.
Which Credit Cards Are Available At Your Salary?
The general rule is that credit cards with the best benefits are only reserved for the rich, there are plenty of useful entry-level cards that help you make the most of what you spend. Compare the credit cards that you qualify for, especially based on the benefits offered.
Apply For Credit Card Online For Better Benefits
Virtually all credit card application will require the following documents as a minimum: a copy of your IC/passport, at least three months' worth of salary slips, and your EPF statement. If you are applying for a credit card in person (at the bank branch or a promotional booth), you could print your EPF statement on the spot, but just prepare these documents beforehand to be safe.
However, one of the quickest ways to apply for a credit card in Malaysia these days is online. While most banks offer credit card application online, RinggitPlus throws in sweet sign-up gifts that you're eligible for if your online credit card application is successful.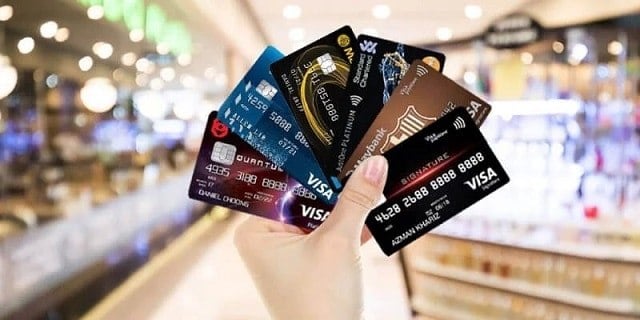 Best Credit Cards Malaysia 2019