A travel credit card offers benefits such as travel rewards, insurance coverage, airport lounge access, and exclusive partner perks, making it a valuable tool for saving on travel expenses and enhancing the overall travel experience.
Spend with the CIMB Travel Platinum card and earn Bonus Points
You can earn 5x Bonus Points for every RM1 spent with this CIMB Travel World Credit Card in the following categories: international travel, plane tickets, and duty-free shopping. Spending on other transactions locally, meanwhile, earns you 2x Bonus Points. Check out the illustration by CIMB below to see how your points will accrue more quickly the more you spend.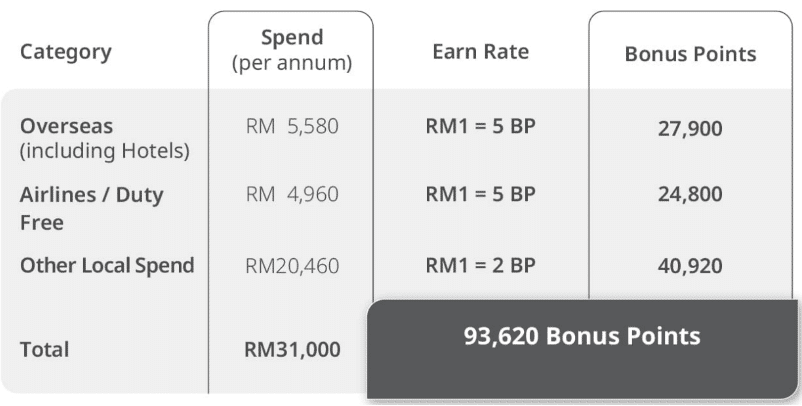 With that amount of Bonus Points, you can redeem flights and hotel stays from CIMB's airline partners and hotel chains. We've compiled a list of the airline partners' miles/points/Avios in the table below. Do note that the redemption must be made in multiples of 1,000 partners' Points/Miles/Avios.
Airline Partners
Air Miles/Points/Avios
Air France-KLM
British Airways
Etihad Airways
EVA Air
Malaysia Airlines
Turkish Airlines

9,000
Qatar Airways
Emirates
Cathay Pacific

6,000
Japan Airlines
4,000
AirAsia
11,000
Hotel Chain Partners
Hotel Points
IHG Hotels & Resorts
Marriott Bonvoy

9,000

ALL - Accor Live Limitless

4,000
Awesome travel privileges are up for grabs
Other than Bonus Points and flights and hotel stay redemptions, this travel card offers all the travel perks that you can think of, such as access to airport lounges, comprehensive travel insurance, e-commerce purchase protection and exclusive Mastercard privileges. Let's unravel the travel perks one by one.
Up to 4x access to participating Plaza Premium Lounge
Every quarter of the year, you as the principal cardholder, get 1x free passes to participating Plaza Premium Lounge when you hit a minimum quarterly spend of RM3,000. You can share the free access with your supplementary cardholder as well. Capped at 4x lounge access per annum, this privilege is subject to terms and conditions. Simply present your CIMB Travel Platinum Credit Card, passport or IC and a valid boarding pass to access.
Up to RM30 cashback for in-flight WiFi service
If you need to use the in-flight WiFi service, you can purchase it using this travel credit card to earn cashback capped at RM30 per principal cardholder per statement date based on posted transactions with predetermined airline merchant category codes. Click here for the full T&C.
Comprehensive travel insurance coverage
Whenever you buy flight tickets in full using the CIMB Travel Platinum Credit Card, you will be automatically covered with up to RM1 million worth of travel insurance in which you are also covered from travel inconveniences such as luggage loss, flight delays, loss of deposit, flight cancellation, including overseas hospitalisation allowance due to COVID-19. For the complete T&C, click here.
E-commerce Purchase Protection
If you fancy shopping online for abroad purchases, then you're going to find this E-commerce Purchase Protection helpful because you'll be protected by up to USD200 worldwide coverage from unexpected circumstances such as incomplete delivery or wrong items delivered, improperly functioning due to physical damage to delivered items, or non-delivery of purchase after 30 days of scheduled delivery. Full T&C here.
Exclusive privileges from Mastercard
Mastercard APAC Gold Program

25% off green fees at participating golf clubs*
25% off golf lessons at Golf Performance 360 Golf Academy*

*Note: Both offers are subsidised by Mastercard and are not direct offers from the respective golf clubs.

Click here to make a booking.
Click here for the complete T&C.

Mastercard Airport Concierge Meet & Assist

Enjoy 15% off on the Mastercard Meet & Assist service. You'll get a dedicated agent that will escort you through the airport during departure, arrival or connecting flights.

Click here to sign up and for full details.

Mastercard Travel & Lifestyle Services Premium (MTLS)

Enjoy premium benefits at over 3,800 hotels and resorts globally such as:

1. Complimentary breakfast for two daily
2. Room upgrade at the time of arrival (depending on availability)
3. Early check-in and 3pm check-out (depending on availability)
4. Amenities worth up to USD100 (depending on availability and varies by properties)

Click here to sign up.
Click here to find out more.

Complimentary One-Night Stay

You are entitled to a one-night stay at participating hotels, subject to validity depending on the hotels. T&Cs apply.

Wyndham Hotels & Resorts Membership

Enjoy a Gold Membership and get multiple perks such as the following:

1. Member savings
2. Preferred room choice
3. Complimentary WiFi
4. Late check-out, etc.

Please note that you must register as a member with the Wyndham Rewards prior to registering for the Mastercard privilege.

Click here for the T&C and guide to register.

Mastercard Pay Now Travel Later

Pay for your stay in advance and fly later. Enjoy the flexibility of a one-time free waiver to change your travel dates.

Click here to find more details.
Annual fee for a CIMB Travel Platinum Credit Card
This credit card comes with no annual fee as it is being waived by CIMB Bank.
What are the eligibility criteria to apply?
Anyone aged 21 years old and above with a minimum annual income of RM24,000 can apply as the principal cardholder of the CIMB Travel Platinum Credit Card, while the supplementary cardholder must be at least 18 years of age to be eligible.