Overview of Citibank Credit Cards In Malaysia
One of the world's largest credit card issuers, Citibank has a long history here in Malaysia. Offering a wide range of Visa and MasterCards, from starter Classic packages through to the exclusive and, dare we say it, poshest credit card on the market.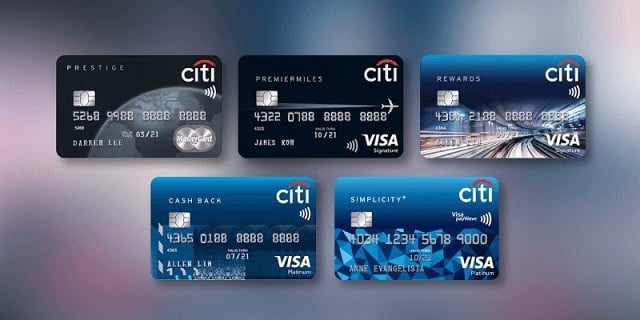 How do I apply for a Citibank Credit Card in Malaysia?
Credit card application can be made online through 2 simple processes: (1) RinggitPlus chatbot application, then (2) Citibank Digital Form.
Interested in applying for a credit card? You can simply head over to Citibank credit card page on RinggitPlus to compare and apply for the best Citibank credit card for you.
Once you have chosen the right card, click APPLY NOW button to start chatbot application.
What happens next is you will be redirected to Citibank Digital Form to complete the application. Follow 6 simple steps below to get your Citibank credit card application approved: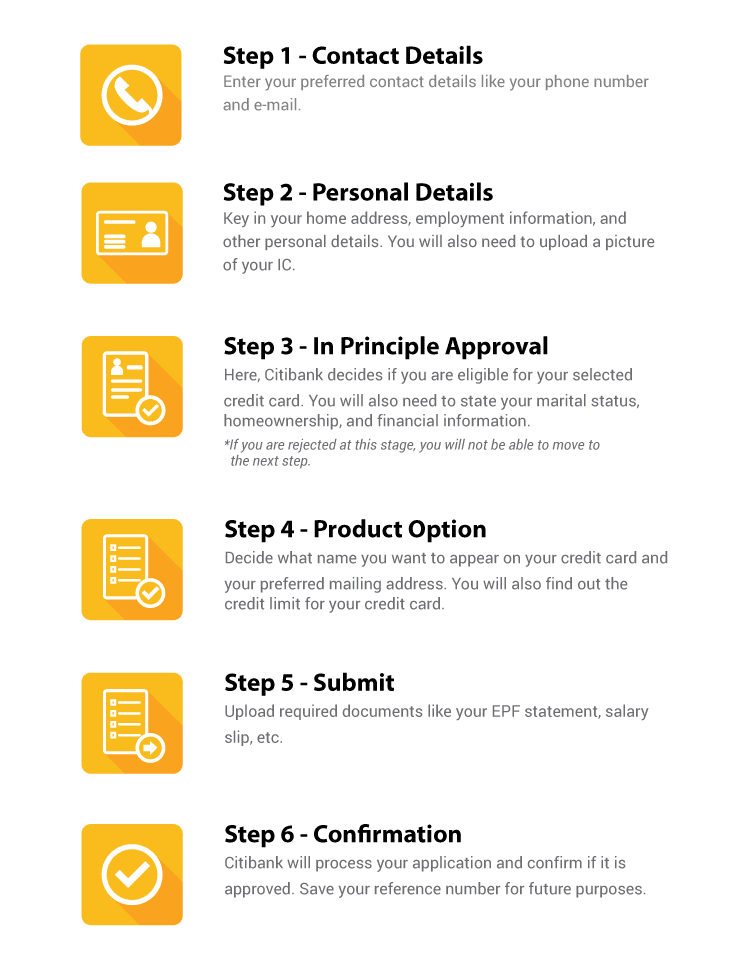 Citibank Credit Card Promotions
Wish Upon A Card Your Road To Rewards
You could be winning a car and bringing home many other cool prizes when you spend with you Citi Visa credit cards from 5 November 2019 until 31 January 2020.
Apply for a Citibank Visa credit card online now, enroll into this campaign via www.citibank.com.my/wish or EDM and SMS and keep using Citibank services to earn entries! 

Psst...earn 100 entries just by becoming a new Citibank customer.
(Citibank's Terms and conditions apply)
#DontSayBojio
Refer any Citibank credit cards to your friends and family from 15 October 2019 until 12 January 2020 to win Dyson products, Boost e-Wallet and many more!
(Citibank's Terms and Conditions apply)

That's not all, apply for Citibank credit card on RinggitPlus to get amazing gift offers for yourself, family and friends. Season's greeting!
What are the Features and Benefits of Citibank Malaysia Credit Card?
1. Citi Reward Points
One thing that you should know about Citi Rewards Points is that they never expire, a rare feature among credit card issuers available in the market. When you spend every Ringgit with Citi Clear Visa credit card on all retail transactions, you will be rewarded with 1 Citi Rewards Point.
With the Citi Rewards Visa Signature credit card, you can earn up to 5x Citi Rewards Points while shopping locally and overseas. This is especially rewarding for those who loves to shop at big name departmental stores as well as well as at local supermarkets.
For those who loves to travel, the Citi PremierMiles Visa Signature credit card offers plenty of value. Not only do you get unlimited lounge access at international airports in Malaysia, you also earn PremierMiles points for every ringgit you spend. You have the option to convert PremierMiles to air miles, pay for your purchases and even use them to pay off your annual fees.
2. Citibank Worldwide Privileges
If you're an avid traveller but just a little bit too concerned about your budget, having a credit card that gives you savings on your travels might just be the thing that you need.
With Citibank Worldwide Privileges, you'll be getting a lifestyle upgrade when you are a Citi Cash Back Visa credit card member. Enjoy the privilege of having deals and discounts all over the world for hotels, restaurants, golf resorts, and at the shopping mall.
3. Citibank Comprehensive Insurance Coverage
Managing an emergency while abroad is a daunting task. With that in mind, Citibank covers you and your supplementary cardmembers for personal accident for up to 30 days when you buy travel tickets with the Citibank credit cards.
Some other insurance coverage you are entitled for is travel inconveniences, medical expenses, loss and damage to personal belongings and home content insurance.
4. Citibank Balance Transfer via Instalment Plan
It's always a good idea to keep the outstanding balance of your credit card at the lowest interest rate where possible.
Citibank Balance Transfer via Instalment Plan is a credit card flexi payment plan, that gives you a low and flat interest rate when you consolidate all the outstanding balances from other credit cards to your Citibank card. You can choose a comfortable repayment period that fits your needs, which is between 6 to 36 months. It also has a minimum transfer amount of RM1,000 and 0% one-time upfront fee.
What are the interest rates for Citibank credit cards?
Citibank adopts a tiered interest rate in a range of 15% - 18% per annum. Interest rate charged will commonly be higher should you have a history of inconsistent repayments and lower interest rate if you are prompt in repayments.
What are the minimum monthly repayments for Citibank credit card?
Citibank members are required to make minimum monthly repayments of 5% of current balance or a minimum of RM50, whichever is higher. Monthly repayments will have to be made on the stipulated due date.
Failing to do so may result to late payment charge of a minimum of RM10 or 1% of total outstanding balance (excluding interests and fees), whichever is higher and up to a maximum of RM100.
How much does it cost to get a replacement Citibank credit card?
If your credit card got lost, stolen or damaged, you can get a replacement credit card for RM50 per card within 5-7 working days from the date of issuance.
What is Credit Shield Select?
Credit Shield Select is a credit insurance that settles all or part of your outstanding balance in the event of death, diagnosis of Critical Illness, or the first day of Hospitalisation subjected the policy's terms and conditions. You will only need to pay RM0.60 for every RM100 of your monthly statement to enjoy this insurance protection.
Am I eligible to apply for Citibank credit card?
To apply for a Citibank card, the principal cardholder will have to be at least 21 years old, while the supplementary cardholder is to be at least 18 years old. Minimum annual income differs from card to card.
What are the documents required to apply for Citibank credit card?
You can compare and apply for a credit card online here. To speed your application, it's best to prepare the documents required for the application.
If you are a Salaried Employee, please provide:
Photocopy of MyKad / NRIC (both sides)
Latest EPF statement or latest 3 months salary slip*
And any of the following documents where required:
Latest BE form with tax receipt
3 months bank statements
Latest EA form
If you are Self-Employed, please provide:
Photocopy of MyKad / NRIC (both sides)
Photocopy of Business Registration form
6 months bank statements OR latest Form B with tax receipt
If you are a Salaried Expatriate, please provide
Copy of Passport
Latest 2 months salary slip*
Work permit valid for at least 6 months at the time of application
Letter of employment
*Number of months of salary slip required will depend on the nature of your work. Have your commission slips withs with you if available.
List of the best Citibank Credit Cards:
1. Citi PremierMiles Visa Signature Credit Card
Enter the world of luxury travel with Citi PremierMiles Visa Signature, the premium credit card for frequent flyers that welcomes you to the VIP lifestyle. Enjoy unlimited access to selected airport lounges, free rides home from KLIA, and fast air miles conversion for free flights!
2. Citi Cash Back Visa Credit Card
Get attractive cashback of up to 10% on your spending from petrol to groceries, Grab rides, dining and many more with the Citbanki Cash Back Credit Card. You don't have to wait for special promotions to enjoy cashbacks from your credit card purchases anymore! Your cashback is automatically credited into your account.
3. Citi Clear Visa Credit Card
Citi Clear Visa offers priority access and a host of great rewards for life in the fast lane: evergreen loyalty points, instant rewards, zero liability and many more! With amazing discounts at popular night clubs and coffee houses (for the morning after), the Citi Clear Visa credit card is the card for millennials who live life by the motto, "YOLO"!
4. Citi Rewards Visa Signature Credit Card
If you love both shopping, exploring the world and rewards, then the Citi Rewards Visa Signature credit card is for you. Enjoy the luxury of global access and 5x Rewards Points not only at your favorite department stores and supermarket, but worldwide.
Citi Prestige is your passport to a world of unforgettable experiences, offering unique benefits, and premium personalised service. This is a card that offers unrivalled travel perks, including complimentary stays at any international hotel and resort, complimentary limo rides from KLIA, unlimited airport lounge access worldwide, and even VIP access to events around the world.