'Good things come in pairs' is a popular Chinese saying and Maybank 2 Platinum Cards has proven this age-old adage to be so true.
Applicants of this Maybank AMEX card will get a complimentary MasterCard or Visa and one statement for both credit cards.
Maybank Online Acquisition 2023 Credit Cards Campaign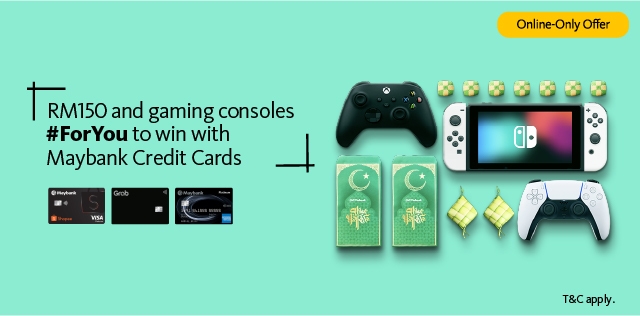 Elevate your Eid celebration to the best one yet with Maybank Online Acquisition 2023 Credit Cards Campaign by taking home exclusive prizes for a limited time only.
From 1 April 2023 until 30 June 2023, the first 1,800 eligible customers (600 eligible customers every month) throughout the Campaign Period can grab a one-time cashback prize worth RM150 plus selected gaming consoles when you meet the spending criteria set by the bank. Do read the terms and conditions of this campaign to find more details. Here is an illustration of the prizes and spending criteria.
Card Scheme
Prizes
Spend Criteria
Campaign Period
Gaming Console
Cashback
Maybank Visa Cards
Xbox Series X

(Top 10 Spenders)

RM150 Cashback (1,800 Winners)

Minimum retail spend of RM300 within the first 45 days from the card approval date

1 April 2023 - 30 June 2023
Maybank Mastercard Cards

Nintendo Switch OLED

(Top 10 Spenders)

Maybank American Express Cards

PlayStation 5

(Top 10 Spenders)
To be eligible for the prize, you must be either a new-to-bank individual or an existing customer of Maybank and Maybank Islamic Berhad who is a resident of Malaysia and is 21 years of age at the time of applying and has yet to own any Maybank/Maybank Islamic principal credit card.
If you fall under the mentioned eligibility criteria, make an online application for a credit card (or more) via Maybank2u, the Maybank website or the MAE App within the Campaign Period, wait for approval by the bank, and perform a minimum retail spend of RM300 within the first 45 days from the card's approval date to be eligible to participate in this campaign.
If you require any help or enquiries regarding this campaign, please contact Maybank's Customer Care Hotline at 1-300-88-6688 or +603 7844 3696.
Maybank 2 Platinum Cards - Five Cashback and TreatsPoints
Indulge in your favourite hobby over the weekend to get 5% cashback with your Maybank 2 Platinum Cards.
Spend any amount on all retail, except for government bodies and utility transactions, to get RM50 cashback per month or RM600 cashback per year.
In conjunction with the cash rebate, you can also collect 5x TreatsPoints for every RM1 spent on retail and petrol with your AMEX card.
Similar spending with education institutions, insurance providers, and utility providers using Maybank 2 American Express card will earn you 1x TreatsPoints.
1x TreatsPoints will also be rewarded for spending via Maybank 2 MasterCard or Visa.
With this multi-tiered reward system, you can quickly collect points to redeem many attractive gifts, shopping, dining, travel and entertainment deals offered under the Maybank reward program.
Lifetime Fee Waiver
Wait a minute, is it true? Yes, it is! Maybank is waiving the annual fee for Maybank 2 Platinum Cards for as long as you can breathe in this world.
It is not a usual thing any bank would do, especially for a Platinum card!
You need to earn a minimum of RM5,000 per month to get your hand on these AMEX and MasterCard or Visa credit cards.
TreatsPoints Redemption
How to redeem your Maybank TreatsPoints? There are easy ways you can go about redeeming your Maybank TreatsPoints:
Take your time flipping through the TreatsPoints e-Catalogue at Maybank's website, then drop a line to Maybank Customer Service at 1300 88 6688;
or download and complete the TreatsPoints redemption form and fax it to 03 7953 8685;
or walk into Maybank Card Centre in Menara Maybank, 1 Utama Shopping Centre, Suria KLCC and The Gardens Mall.
Maybank Credit Card Promotions
There are a host of benefits of owning these Maybank credit cards, apart from earning cashback and TreatsPoints.
You can discover a wide range of exclusive deals, discounts and promotions from shopping, dining, and travel to beauty & health, entertainment and credit facilities!
To find out more, just head over to Maybank's promotions webpage, which houses more than 100 items that you can cross off of your wish lists!
Free Travel Insurance from Maybank 2 Platinum Cards
Now everyone can fly with complimentary travel insurance of up to RM700,000. This travel and protection privilege is extended to cardholders who charged their travel fares to Maybank 2 Platinum Cards, either AMEX or MasterCard/Visa. Travel inconvenience coverage is also included in this insurance plan. Any losses incurred due to missed connections, flight delay, luggage delay or luggage loss will be compensated by Maybank up to RM2,500.
Credit Management Facilities
Under the Maybank Balance Transfer plan, you can consolidate and transfer all outstanding balances from other credit cards or charge cards to your Maybank credit card at low-interest charges and over flexible tenures.
Besides, you can also shop with flexible instalment payments via Maybank EzyPay and EzyPay Plus.
These EPP plans allow you to convert your big-ticket item purchases and repay in instalments for up to 24 months at low interest starting from 0%.
That's not all. You can also step up your purchasing power to commensurate with your ever-changing lifestyle by applying to increase your credit card limit.
Maybank Dining Privileges
Some are born with a talent for crafting delicious cuisine, and some have a natural chef palate.
Whoever you may be, Maybank 2 Platinum Cards cardholders can enjoy ultimate dining privileges at SPF Hotels and Resorts nationwide.
Invite your life partner or business partner to join the feast with you as you can save up to 50% when you charge the luncheon bill to your AMEX card.
Maybank 2 Platinum Cards Finance Charge
What is the interest rate imposed on repayments?
| | |
| --- | --- |
| Conditions of Repayments | Tiered Interest Rate (p.a.) |
| Prompt Repayment every month | 15% |
| Prompt Repayment 10 out of 12 months | 17% |
| Prompt Repayment of less than 10 out of 12 months AND New Cardmembers | 18% |
Previously, the finance charge is only imposed on the below that are not paid after the payment due date:
Retail transaction - finance charge is calculated from the posting date till full payment is made
cash advances/withdrawal transaction - finance charge is calculated from the transaction date
The finance charge is now based on the prevailing tiered interest rate (above) and will be imposed on any of your outstanding balances including all fees and charges (except late payment charges).
These are carried forward from the previous statement until the outstanding balances are settled in full.
All fees and charges include:
Annual Fee
Cash Advance Fee
Card Replacement Fee
Statement Copy Fee
Sales Draft Retrieval Copy Fee
Any other form of service of the miscellaneous fee (if any) EXCEPT Late Payment Charges
A late payment charge of 1% will be imposed if the minimum payment is not made by the payment due date. This is subject to a minimum of RM10, whichever is higher up to a maximum of RM100.
This change on Finance Charge will not have any impact if you do not have any unpaid outstanding balance. In fact, you will continue to enjoy a 20-day interest-free period, provided that the outstanding balances of your Maybank 2 Platinum Cards are carried forward from the previous month's statement cycle and are paid in full.