If you love the idea of getting your money back after spending any amount, any day on any retail items with your credit card, Maybank will make your wish come true with its brand new American Express Cash Back Gold credit card.
Bring home an exciting reward with Maybank American Express credit cards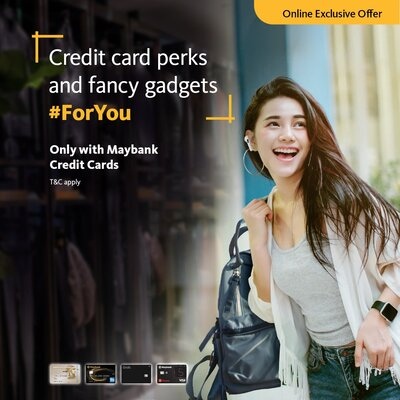 Valid until 30th September 2022, grab this chance to participate in the Maybank/Maybank Islamic Online Acquisition 2022 Credit Cards Campaign and bring home an exciting reward of the Targus Geolite Advance BackPack (12 - 15.6 inch), subject to the campaign's terms and conditions.
Capped at the first 600 customers every month, this campaign is applicable to only new-to-bank and existing Maybank customers that have yet to own a Maybank/Maybank Islamic credit card and are residents of Malaysia, you are eligible to participate in this campaign by:
Applying as the Principal cardholder for any one or more Maybank/Maybank Islamic American Express credit card(s) via Maybank2u at www.maybank2u.com.my
Complete the Maybank Credit Card Application Form online, and upload all required supporting documents via the website above
You also need to spend a minimum of RM300 on retail purchases within the first 45 days from the card approval date to be eligible for this campaign.
If you have any questions regarding the campaign above, do not hesitate to email us at [email protected]. We're happy to help!
Enjoy Unlimited Cashback with Maybank American Express Cash Back Gold!
Cashback or cash rebate is a form of incentive whereby you are entitled to receive a cash refund on your credit card for purchasing a product or service.
The new Maybank American Express Cash Back Gold credit card promises to award you unlimited cashback on any retail purchases.
When you spend with Maybank American Express Cash Back Gold locally, you will earn 1% cashback, whereas, for transactions made overseas, you will get 1.5% cashback.
The best thing about this Maybank American Express Cash Back Gold is that there is no minimum spending requirement to receive cashback, and there is no limit as to the amount of cashback you can get in a month!
0% Flexi Payment Plan
Don't sweat on the big number as you can convert your big purchase into a smaller instalment amount up to 24 months at a 0% interest rate with Maybank EzyPay.
If you want the flexibility of repaying the instalment over 36 months, just apply for Maybank EzyPay Plus and pay lower interest rates over the instalment period.
That's not all, you can settle your outstanding balance off anytime before the end of your tenure under both easy payment plans at zero cost!
Zero to Low Annual Fee
Anyone with a minimum monthly income of RM2,500 can apply for a Maybank American Express Cash Back Gold credit card.
For the first year of card membership, you don't have to worry about paying the annual fee of RM70 (exclusive of GST) as Maybank will waive it for you.
The first-year annual fee waiver is also extended to your first two supplementary cardholders.
---
Maybank American Express Cash Back Gold Finance Charge
What is the interest rate imposed on repayments?
| | |
| --- | --- |
| Conditions of Repayments | Tiered Interest Rate (p.a.) |
| Prompt Repayment every month | 15% |
| Prompt Repayment 10 out of 12 months | 17% |
| Prompt Repayment less than 10 out of 12 months AND New Cardmembers | 18% |
Previously, the finance charge is only imposed on the below that are not paid after the payment due date:
Retail transaction - finance charge is calculated from the posting date till full payment is made
cash advances/withdrawal transaction - finance charge is calculated from the transaction date
The finance charge is now based on the prevailing tiered interest rate (above) that will be imposed on any of your outstanding balance including All Fees and Charges (except late payment charges).
These are carried forward from the previous statement until the outstanding balances are settled in full.
All Fees and Charges include:
Annual Fee
Cash Advance Fee
Card Replacement Fee
Statement Copy Fee
Sales Draft Retrieval Copy Fee
Any other form of service of the miscellaneous fee (if any) EXCEPT Late Payment Charges
A Late Payment Charge of 1% will be imposed if the minimum payment is not made by the payment due date. This is subject to a minimum of RM10, whichever is higher up to a maximum of RM100.
This change on Finance Charge will not have any impact if you do not have any unpaid outstanding balance.
In fact, you will continue to enjoy a 20 days interest-free period, provided that the outstanding balances of your Maybank American Express Cash Back Gold carried forward from the previous month's statement cycle are paid in full.