Bring home an exciting reward with Maybank American Express credit cards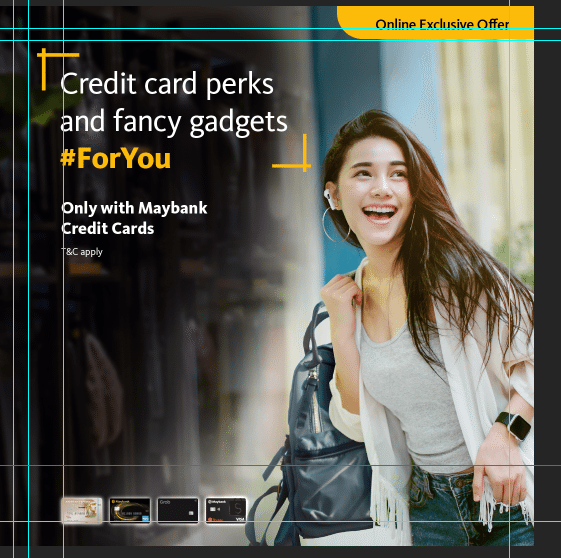 Valid until 30th September 2022, grab this chance to participate in the Maybank/Maybank Islamic Online Acquisition 2022 Credit Cards Campaign and bring home an exciting reward of the Targus Geolite Advance BackPack (12 - 15.6 inch), subject to the campaign's terms and conditions.
Capped at the first 600 customers every month, this campaign is applicable to only new-to-bank and existing Maybank customers that have yet to own a Maybank/Maybank Islamic credit card and are residents of Malaysia, you are eligible to participate in this campaign by:
Applying as the Principal cardholder for any one or more Maybank/Maybank Islamic American Express credit card(s) via Maybank2u at www.maybank2u.com.my
Complete the Maybank Credit Card Application Form online, and upload all required supporting documents via the website above
You also need to spend a minimum of RM300 on retail purchases within the first 45 days from the card approval date to be eligible for this campaign.
If you have any questions regarding the campaign above, do not hesitate to email us at [email protected]. We're happy to help!
A Year Full of Rewards with Maybank AMEX credit card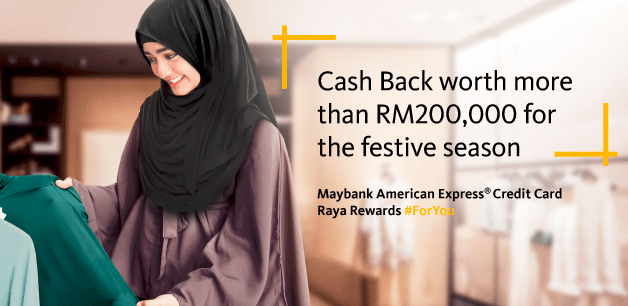 This year is definitely a year full of rewards with Maybank American Express® credit cards. Great cashback rewards await new-to-bank individuals, and/or existing Maybank / Maybank Islamic Ikhwan AMEX card holders.
Exclusive to all AMEX card holders
Starting now until 15 July 2022, hurry and participate by spending any amount on retail spending and send an SMS like the below to win up to RM5,000 cashback! Terms and conditions apply.
SMS AMEX<space>Last 6-digit of your MyKad / Passport to 66628

| | | |
| --- | --- | --- |
| Monthly Prize | Monthly Top Spenders | Cashback Rewards |
| Grand Prize | Top 1 | RM5,000 Cashback |
| 1st Prize | Top 2 - 4 | RM3,000 Cashback |
| 2nd Prize | Top 5 - 10 | RM2,000 Cashback |
| 3rd Prize | Top 11 - 20 | RM1,000 Cashback |
| Monthly Consolation Prize | Top 21 - 500 | RM20 Cashback |
---
50% Savings On Fine Dining with Maybank American Express Platinum
You are known for your epicurean taste and love for food arts; why don't take it to the next level with Maybank American Express Platinum credit card?
Get up to 50% savings on food and beverages at Shangri-La Hotel Kuala Lumpur and Marriott Bonvoy participating hotels & resorts in Malaysia.
Please note that the Shangri-La Hotel Kuala Lumpur dining deal expired on 31 December 2022, while Marriott Bonvoy's on 31 December 2022 as well.
Travel Insurance Coverage
Cardholders will have the chance of getting full travel insurance up to RM700,000 for charging their travel fares to the Maybank American Express Platinum.
If you are concerned with or frequently experience flight delays, luggage delays or loss, and even more frustrating missed connections, it might be a very good idea to keep yourself secured with this credit card insurance plan.
Retail Protection
Found defects on your purchased item or simply do not like your previous purchases?
Don't worry as you are also protected on your purchases for up to RM15,000 per item and RM100,000 per card account in a year.
With this Maybank credit card, you can enjoy return guarantee benefits for item exchange or refund.
The maximum amount can go up to RM1,500 per item or up to RM6,000 per card account in a year. The guarantee is valid for 90 days only.
AMEX Global Assist
Not sure what to do when you're flushed with nervous over financial-related matters?
You can always seek refuge from American Express Global Assist should you require immediate attention and assistance, whether it is stolen/broken card or any other cash-related emergencies.
Maybank Line of Credits
Don't you know it that your Maybank American Express Platinum credit card is eligible for debt management and flexible repayment programs under Maybank?
Take advantage of the higher credit limit in your AMEX Platinum card and transfer all outstanding balance from other credit cards to enjoy a lower rate starting from 0% for up to 3 years with Maybank Balance Transfer Plan.
Also, you can convert your big-ticket item purchase into an affordable monthly installment amount for up to 24 months with interest rates starting from 0% with Maybank EzyPay and Maybank EzyPay Plus.
---
Maybank American Express Platinum Finance Charge
What are the interest rate imposed on repayments?
| | |
| --- | --- |
| Conditions of Repayments | Tiered Interest Rate (p.a.) |
| Prompt Repayment every month | 15% |
| Prompt Repayment 10 out of 12 months | 17% |
| Prompt Repayment less than 10 out of 12 months AND New Cardmembers | 18% |
Previously, the finance charge is only imposed on the below that are not paid after the payment due date:
Retail transaction - finance charge is calculated from the posting date till full payment is made
cash advances/withdrawal transaction - finance charge is calculated from the transaction date
The finance charge is now based on the prevailing tiered interest rate (above) that will be imposed on any of your outstanding balance including All Fees and Charges (except late payment charges).
These are carried forward from the previous statement until the outstanding balances are settled in full.
All Fees and Charges include:
Annual Fee
Cash Advance Fee
Card Replacement Fee
Statement Copy Fee
Sales Draft Retrieval Copy Fee
Any other form of service of miscellaneous fee (if any) EXCEPT Late Payment Charges
Late Payment Charge of 1% will be imposed if the minimum payment is not made by the payment due date. This is subject to a minimum of RM10, whichever is higher up to a maximum of RM100.
This change on Finance Charge will not have any impact if you do not have any unpaid outstanding balance.
In fact, you will continue to enjoy a 20 days interest-free period, provided that the outstanding balances of your Maybank American Express Platinum are carried forward from the previous month's statement cycle are paid in full.