Més que un club - is not just a tagline. FC Barcelona is stepping up the game with a Visa Signature credit card in partnership with Maybank, only suitable for the champions!
Bring home an exciting reward with Maybank Visa credit cards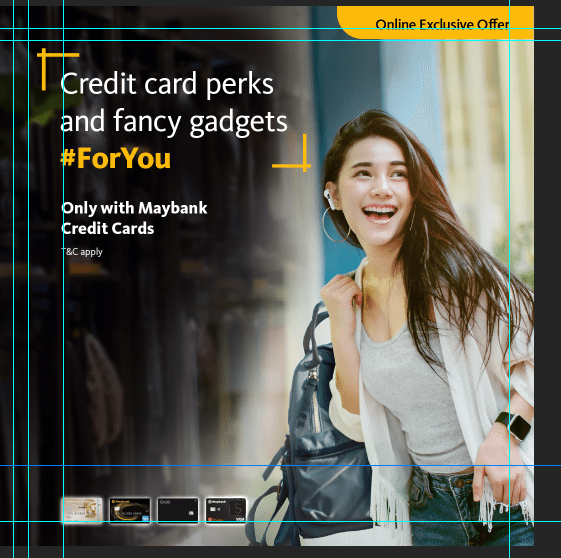 Valid until 30th September 2022, grab this chance to participate in the Maybank/Maybank Islamic Online Acquisition 2022 Credit Cards Campaign and bring home an exciting reward of the Ice Generation Gold Black (Medium - 3H), subject to the campaign's terms and conditions.
Capped at the first 600 customers every month, this campaign is applicable to only new-to-bank and existing Maybank customers that have yet to own a Maybank/Maybank Islamic credit card and are residents of Malaysia, you are eligible to participate in this campaign by:
Applying as the Principal cardholder for any one or more Maybank/Maybank Islamic Visa credit card(s) via Maybank2u at www.maybank2u.com.my
Complete the Maybank Credit Card Application Form online, and upload all required supporting documents via the website above
You also need to spend a minimum of RM300 on retail purchases within the first 45 days from the card approval date to be eligible for this campaign.
If you have any questions regarding the campaign above, do not hesitate to email us at [email protected]. We're happy to help!
FC Barcelona Partnership Discounts with Maybank FC Barcelona Visa Signature
Eat, sleep and breathe in your FC Barcelona jerseys, pillows, mugs and many more as you can get special prices when purchasing your favorite Spanish La Liga football club merchandise with Maybank FC Barcelona Visa Signature.
If you are lucky enough to visit the pitch at the Camp Nou Stadium in Barcelona, don't forget to swing by FCBotiga official store and grab as many souvenirs as you can for your loved ones, or foes if any, because you are entitled to 5% discounts.
You are going to love shopping on FCBotiga's official online e-commerce site even more as you can get up to 10% off on all merchandise.
No Annual Fee
Targeting at mass affluent customer segment, this Maybank FC Barcelona credit card can easily be applied if you are making RM48,000 every year, and a rabid fan of FC Barcelona, of course.
And the kick-off is, you don't have to pay for an annual fee for a lifetime - no conditions whatsoever. Both Principal and Supplementary cardholders can enjoy the same level of privileges and benefits at zero annual cost.
Up to 1% Cashback
Maybank FC Barcelona Visa Signature is a travel and cashback credit card that you carry in your pocket proudly because it pays you cashback for every purchase you have made.
Victory requires payment in advance, isn't it?
For all purchases (except for government bodies, utilities and e-wallet reloads) made all year long, you will earn 1% cashback every time you swipe your Maybank FC Barcelona Visa Signature, capped at a maximum of RM50 per month.
Maybank FC Barcelona Visa Signature Visa Signature Privileges
Owning a Signature credit card means that you are privileged, thus own it.
Visa Signature ensures that your travel, lifestyle, business and personal needs are taken care of in the most sophisticated manner via multiple services:
Visa Airport Speed Pass - Fast track your immigration application at over 280 international airports
Visa Signature Concierge Services - A personal shopper, butler and informant, if you will, providing personalized assistance to your every need
Visa Concierge Service and Global Assist - A go-to helpdesk for whatever urgency that pops up anytime, anywhere
Maybank Credit Card Privileges
You can also drop a line or write to Maybank Visa Signature Customer Service for any credit card-related feedback, emergencies or requests.
They are with you 24 hours a day, 7 days per week, and 12 months a year.
Not only that your FC Barcelona Visa Signature is recognized and accepted worldwide, but you too can diversify your payment methods to a mobile wallet service via MaybankPay or, Visa Checkout (for online payment) - one of many ways to safeguard your credit card from theft.
Get full access to a superior line of credits within your Maybank FC Barcelona Visa Signature, such as:
Maybankard Balance Transfer Program
Maybankard EzyPay / EzyPay PLUS
Maybankard Cash Treats / EasyCash
Complimentary Travel Insurance
Charge your full travel tickets to your Maybank FC Barcelona Visa Signature credit card to automatically get covered with a Travel Personal Accident Insurance for up to RM2 million and Travel Inconveniences benefits - score your travel goals with peace of mind.
---
Maybank FC Barcelona Visa Signature Finance Charge
What are the interest rate imposed on repayments?
| | |
| --- | --- |
| Conditions of Repayments | Tiered Interest Rate (p.a.) |
| Prompt Repayment every month | 15% |
| Prompt Repayment 10 out of 12 months | 17% |
| Prompt Repayment less than 10 out of 12 months AND New Cardmembers | 18% |
Previously, finance charge is only imposed on the below that are not paid after the payment due date:
Retail transaction - finance charge is calculated from the posting date till full payment is made
cash advances/withdrawal transaction - finance charge is calculated from the transaction date
Finance charge is now based on the prevailing tiered interest rate (above) will be imposed on any of your outstanding balance including All Fees and Charges (except late payment charges).
These are carried forward from the previous statement until the outstanding balances are settled in full.
All Fess and Charges includes:
Annual Fee
Cash Advance Fee
Card Replacement Fee
Statement Copy Fee
Sales Draft Retrieval Copy Fee
Any other form of service of miscellaneous fee (if any) EXCEPT Late Payment Charges
Late Payment Charge of 1% will be imposed if the minimum payment is not made by the payment due date. This is subject to a minimum of RM10, whichever is higher up to a maximum of RM100.
This change on Finance Charge will not have any impact if you do not have any unpaid outstanding balance.
In fact, you will continue to enjoy a 20 days interest-free period, provided that the outstanding balances of your Maybank FC Barcelona Visa Signature carried forward from the previous month's statement cycle are paid in full.