The long-awaited Maybank Grab Mastercard Platinum credit card is finally here!
Maybank Online Acquisition 2023 Credit Cards Campaign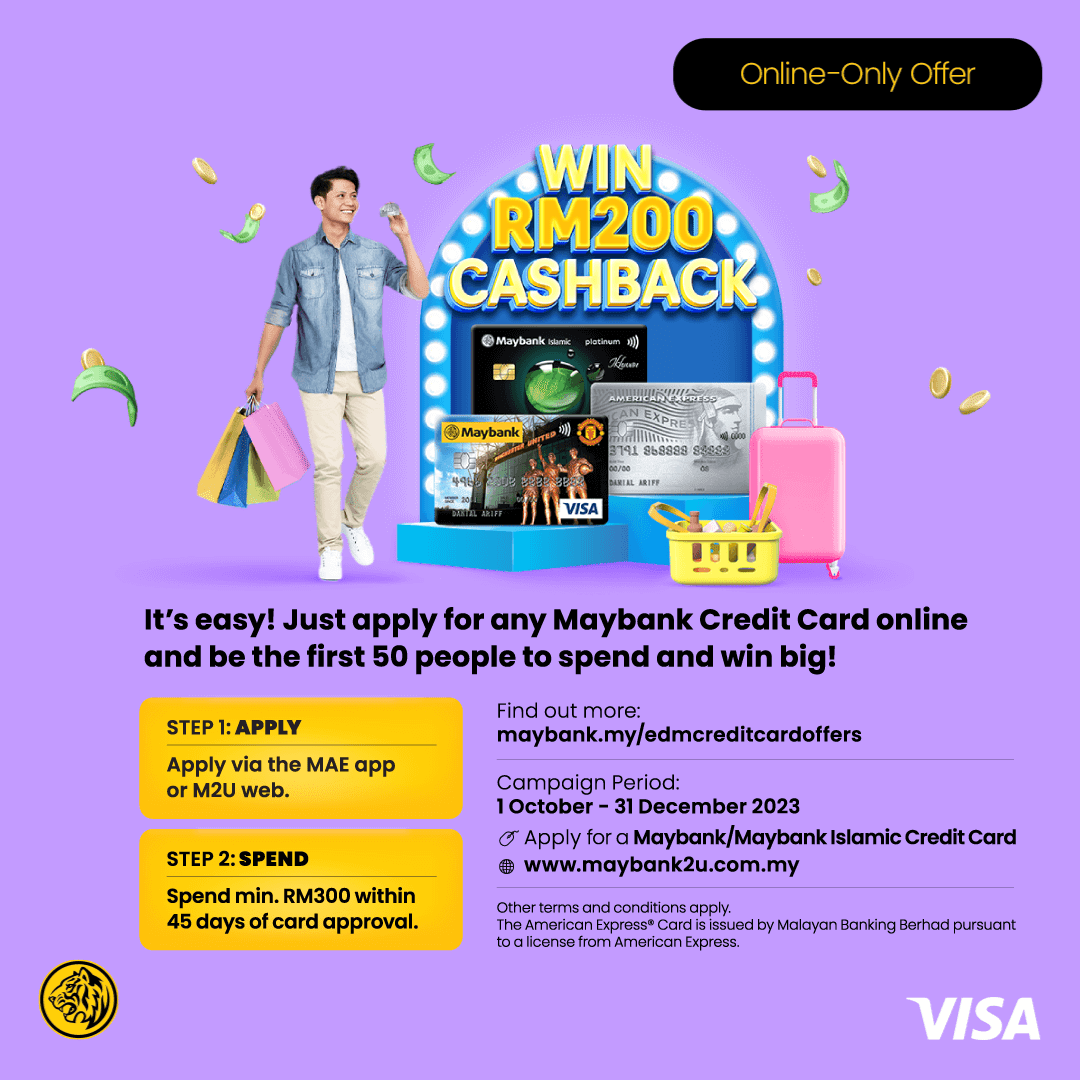 From 1 October 2023 until 31 December 2023 ("Campaign Period"), be the first 150 eligible customers (first 50 customers every month per card scheme) throughout the Campaign Period to grab an RM200 cashback prize. Terms and conditions apply!
Here's an illustration of the campaign mechanics:
Card Scheme
Prize
Spend Criteria
Campaign Period
Maybank/Maybank Islamic Visa Cards

RM200 Cashback (capped at the first 50 eligible customers per card scheme every month)

Minimum retail spend of RM300 within the first 45 days from the card approval date

1 October 2023 - 31 December 2023

Maybank/Maybank Islamic Mastercard Cards
Maybank/Maybank Islamic American Express Cards
To be eligible for the prize, you must be either:
New-to-bank individuals; or
Existing customers of Maybank who are a resident of Malaysia aged 21 years at the time of applying and have yet to own any existing Visa, Mastercard or American Express principal credit cards issued by Maybank/Maybank Islamic
If you fall under the mentioned eligibility criteria, here are the steps to take part in this campaign:
Make an online application for any of the eligible credit cards (or more) via the Maybank2u website or the MAE App within the Campaign Period
Complete the e-application form and upload all the required supporting documents
Wait for approval from the bank
Once approved, perform a minimum retail spend of RM300 within the first 45 days from the card's approval date to be eligible
If you require any help or enquiries regarding this campaign, please contact Maybank's Customer Care Hotline at 1-300-88-6688 or +603 7844 3696.
Winner of the Best Credit Card Product of 2021
Awarded by The Asian Banker, the Maybank Grab Mastercard Platinum is a winner of The Excellence in Retail Financial Services Programme 2021 for Best Credit Card Product - Maybank "Grab Mastercard Platinum Credit Card".

Spend and earn GrabRewards with Maybank Grab Mastercard Platinum
The Grab app is no stranger in providing a convenient on-demand car with driver service and it sure beats the hassle of using public transportation.
To those who often use this service, Grab knows that earning GrabRewards via its mobile app just isn't enough. Hence with this all-new Maybank Grab Mastercard Platinum credit card, we lay out the awesome benefits that await you below which are effective from 1st April 2023 onwards.
Get 1x GrabRewards for every RM1 transaction made on the Grab App (including Grab E-Wallet reloads)
Get 1x GrabRewards for every RM3 transaction made overseas, cross-border and e-commerce
Get 1x GrabRewards for every RM3 spent on any other local transaction (excluding any Grab and e-commerce transactions)
Get 5x RM5 GrabRide and GrabFood Vouchers when you spend a minimum of RM300 in the Grab App within 45 days from the card approval date
Did we tell you that you will get a Welcome Gift too? Simply activate your Maybank Grab Mastercard Platinum credit card once it's approved, and you get a total of 1,000 Welcome GrabRewards.
It gets better though! For 6 months, enjoy all the benefits of the Grab Platinum tier with your Maybank Grab Mastercard Platinum credit card. All you need to do is fulfil the Platinum requirements to continue your membership status at this tier. Additionally, enjoy more Mastercard privileges to your heart's content.
No annual fee for life!
Don't sweat yourself with hefty annual fees because this Maybank Grab Mastercard Platinum is FREE FOR LIFE!
However, you still have to pay the annual Sales and Service Tax of RM25 and of course, make sure that you pay your outstanding balance on time if you want to avoid being slapped with the hefty finance charge and the late payment charge.
Who can apply for this credit card?
If you're a Malaysian with an annual income of RM24,000, you are eligible to apply for this credit card.
The principal cardholders should be 21 years old to 65 years old, while the supplementary cardholder should be 18 years of age to be eligible.
Here is a list of documents to prepare before you apply:
Salaried Employee
Copy of IC (both sides)
Latest 3 months' salary slips
Latest 6 months' savings account/current account statements
Self-Employed

Copy of IC (both sides)
Form B/Latest EA Form
Copies of Business Registration Certificate/Trading License/Form 9, Form 24, Form 49
Latest 6 months company/personal bank statements
Supplementary Cardholder