Maybank Online Acquisition 2023 Credit Cards Campaign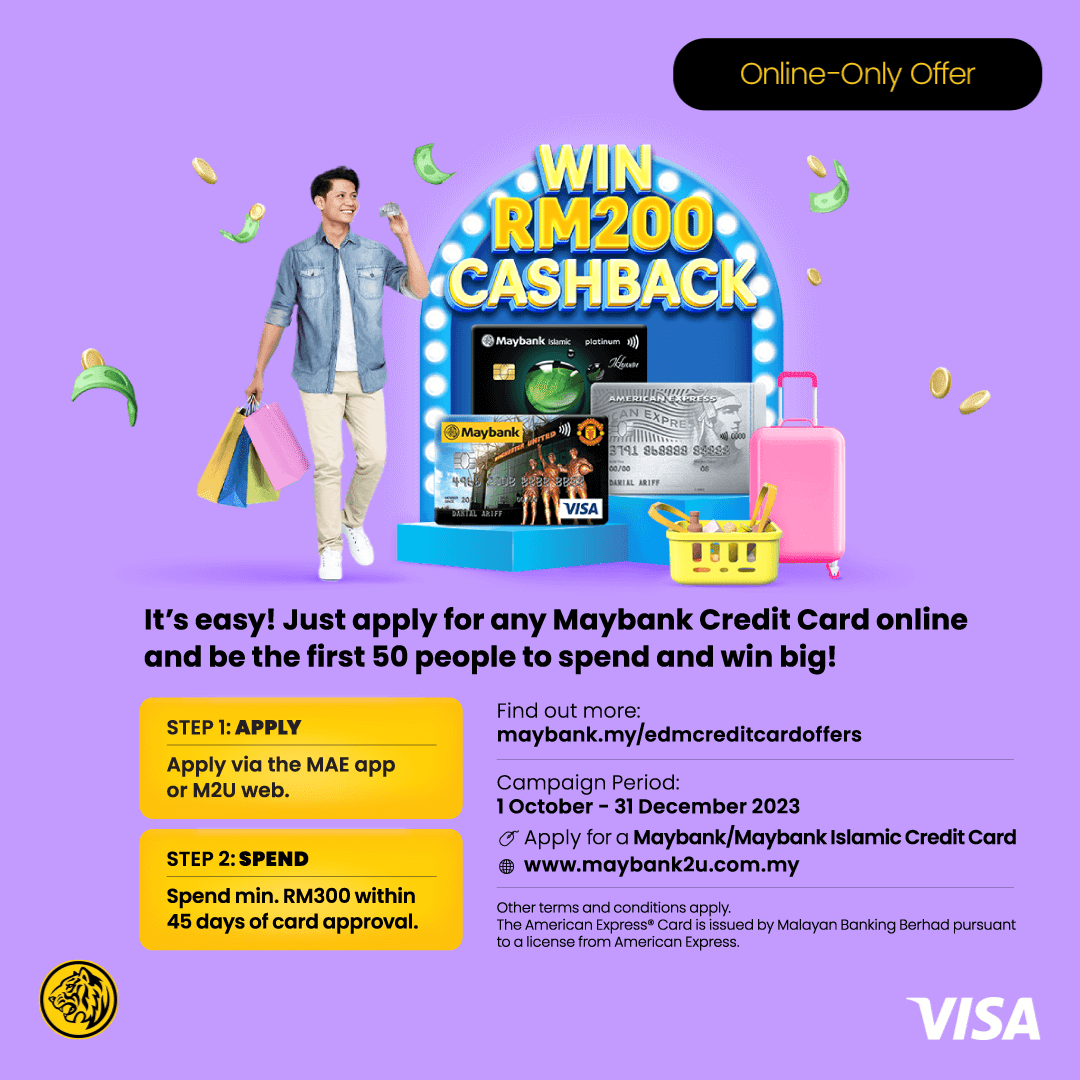 From 1 October 2023 until 31 December 2023 ("Campaign Period"), be the first 150 eligible customers (first 50 customers every month per card scheme) throughout the Campaign Period to grab an RM200 cashback prize. Terms and conditions apply!
Here's an illustration of the campaign mechanics:
Card Scheme
Prize
Spend Criteria
Campaign Period
Maybank/Maybank Islamic Visa Cards

RM200 Cashback (capped at the first 50 eligible customers per card scheme every month)

Minimum retail spend of RM300 within the first 45 days from the card approval date

1 October 2023 - 31 December 2023

Maybank/Maybank Islamic Mastercard Cards
Maybank/Maybank Islamic American Express Cards
To be eligible for the prize, you must be either:
New-to-bank individuals; or
Existing customers of Maybank who are a resident of Malaysia aged 21 years at the time of applying and have yet to own any existing Visa, Mastercard or American Express principal credit cards issued by Maybank/Maybank Islamic
If you fall under the mentioned eligibility criteria, here are the steps to take part in this campaign:
Make an online application for any of the eligible credit cards (or more) via the Maybank2u website or the MAE App within the Campaign Period
Complete the e-application form and upload all the required supporting documents
Wait for approval from the bank
Once approved, perform a minimum retail spend of RM300 within the first 45 days from the card's approval date to be eligible
If you require any help or enquiries regarding this campaign, please contact Maybank's Customer Care Hotline at 1-300-88-6688 or +603 7844 3696.
5% cashback on Fridays and Saturdays
Enjoy big cashback on all groceries and petrol on Fridays and Saturdays with your Maybank Islamic MasterCard Ikhwan Gold credit card.
Just swipe the charges at any Maybank recognised outlets and max out your RM50 eligible cashback each month when you spend at least RM1,000.
Note that any additional spending won't qualify you for more cashback.
Illustration on Monthly Cashback:
How much can a typical single Malaysian with a weekly average spend of RM300 (RM1,200 per month) for groceries and petrol, save RM50 every month on a Maybank Islamic MasterCard Ikhwan Gold card?

Spend Categories

Spend Amount (RM)

CashBack Rate

CashBack Earned (RM)

Friday & Saturday only

Petrol

Groceries




200

1,000




5%

5%




10.00

50.00

TOTAL CASHBACK

1,200

-

50.00

(Monthly Cap: RM50)
Umrah package and charity fund by Maybank Islamic
Stay true to the values that matter with an Islamic credit card that abides by Shariah laws which give back to charity by contributing 0.1% of every of your spending.
The chance to visit Mecca is a blessing for every Muslim. Hence, Maybank will select one weekly lucky winner for an all-paid-for Umrah package for two (2) pax to complete a pilgrimage to Mecca.
For non-Muslims who win, you'll get a substituted holiday package determined by Maybank!
All you need to do is spend a minimum of RM200 on a single receipt, which is equivalent to 1x Entry.
Successful transactions eligible for the contest are listed below:
- Retail purchases from approved local or international merchants
- New Maybank EzyPay plans
- Approved e-commerce or online purchases
These travel packages are not exchangeable or transferable, and the winners will be announced once every 3 months. This giveaway is ongoing, and subject to cancellation by Maybank Islamic.
Extra Maybank TreatsPoints
Maybank Islamic MasterCard Ikhwan Gold is one of the few cards out there that gives you rewards and cashback in a single swipe.
For every Ringgit spent locally and overseas will get you 1x TreatsPoints. Collect these points and redeem them for exciting gifts and air miles (14,000 TreatsPoints = 1,000 Enrich/KrisFlyer/Asia Miles) from Maybank before they expire.
NO TreatsPoints for:
- Petrol and Groceries made on Fridays and Saturdays
- Government Bodies
- E-wallet Reloads
What documents are required to apply for Maybank Islamic MasterCard Ikhwan Gold Card-i?
Copy of IC (both sides) or Passport
Latest BE form with an official tax receipt
Latest 3 months' salary slips
Latest 6 months' savings account activity/current account statement
If you are self-employed:
Copies of Business Registration
Latest 6 months' bank statements
If you are an expatriate:
Letter from employer confirming the duration of employment contract in Malaysia
Maybank credit card featured services
The real value of a credit card is when it makes your day-to-day life a whole lot simpler and helps you manage your finances efficiently:
Cards Spending Tracker
Manage your spending and have a greater understanding of your spending habits. You can track your credit card spending on a monthly basis, segregated into different categories and shown on a pie chart for your easy understanding.
To view the Auto Spending Tracker, you simply need to log in to your Maybank2u account and click on 'My Total Spending' under 'Cards'.
Auto PayBills
Never worry about penalties on your late payments any more with Maybank's Auto PayBills, which charges your bills to your credit card when they are due.
This automatic bill payment facility is great as it offers a wide range of merchants that cover your electricity, telephone, satellite TV and mobile phone bills.
On top of that, you have the opportunity to earn more rewards with TreatsPoints, Membership Rewards and rebates.
There will be a normal finance charge of 8.88% to 17.5% on the remaining balance instalment amount unpaid. The finance charge depends on your past 12 months' payment records.
To apply, print out the Enrolment Form and email the completed form to mbbcardservices@maybank.com.my or fax it to 03-2715 9440 or call 1-300-88-6688.
Credit Care Plus Plan
In the unfortunate event of a tragedy, the Credit Care Plus Plan (underwritten by Etiqa Insurance Berhad) can cover your outstanding Credit Card debt up to RM100,000 per card.
This debt relief plan is applicable for death or total and permanent disability due to illness or accidents or upon diagnosis of any one of the 36 covered critical illnesses.
Acceptance into this plan is automatically guaranteed, subject to no existing illness and/or disability and/or ailment prior to the commencement date of the plan.
There is a monthly premium of RM0.65 for every RM100 of your outstanding closing balance added to your statement every month.
To apply, print out the Enrolment Form and email the completed form to mbbc[email protected]. You can also fax it to 03-7953 8640.
Maybank Secure Online Shopping (MSOS) Code
MSOS code is a One-Time-Password (OTP) for Online Transactions which is sent to your registered mobile number with Maybank.
The MSOS code must be entered in order to complete the payment.
To register, call the Customer Care Hotline at 1-300-88-6688 or the Amex Customer Care Hotline at 1-800-88-9559 or visit the nearest branch to update or register.
Maybank Islamic MasterCard Ikhwan Gold Card-i Finance Charge
What is the interest rate imposed on repayments of this Maybank Islamic credit card?
| | |
| --- | --- |
| Conditions of Repayments | Tiered Interest Rate (per annum) |
| Prompt Repayment every month | 15% |
| Prompt Repayment 10 out of 12 months | 17% |
| Prompt Repayment of less than 10 out of 12 months AND New Cardmembers | 18% |
Previously, the finance charge was only imposed on the below that were not paid after the payment due date:
Retail transaction - finance charge is calculated from the posting date till full payment is made
cash advances/withdrawal transaction - finance charge is calculated from the transaction date
The finance charge is now based on the prevailing tiered interest rate (above) that will be imposed on any of your outstanding balances including all fees and charges (except late payment charges).
These are carried forward from the previous statement until the outstanding balances are fully settled.
All fees and charges include:
Annual Fee
Cash Advance Fee
Card Replacement Fee
Statement Copy Fee
Sales Draft Retrieval Copy Fee
Any other form of service of the miscellaneous fee (if any) EXCEPT Late Payment Charges
A late payment charge of 1% will be imposed if the minimum payment is not made by the payment due date. This is subject to a minimum of RM10, whichever is higher up to a maximum of RM100.
The changes made on this finance charge will not have any impact if you do not have any unpaid outstanding balance. In fact, you will continue to enjoy a 20-day interest-free period, provided that the outstanding balances of your Maybank Islamic MasterCard Ikhwan Gold Card-i are carried forward from the previous month's statement cycle are paid in full.