Don't pay any credit card fees or GST, and give to charity instead with a platinum MasterCard from Maybank Islamic.
And true to the principles of giving, you'll also get a free Maybank Touch n Go Zing card and a chance to win a free Umrah package trip every week with the MasterCard Ikhwan Platinum Card.
Bring home an exciting reward with Maybank Mastercard credit cards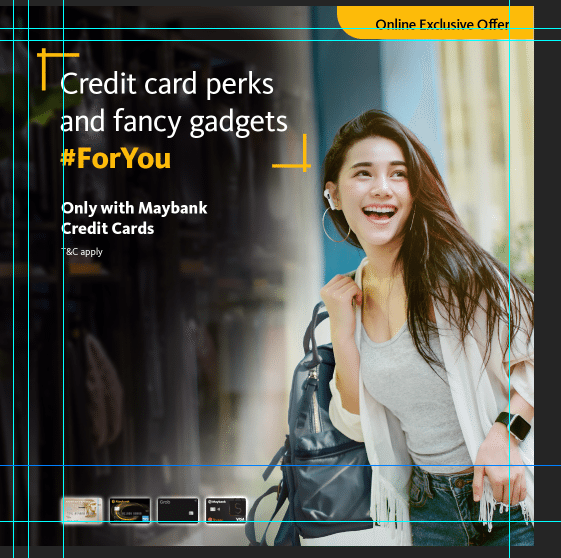 Valid until 30th September 2022, grab this chance to participate in the Maybank/Maybank Islamic Online Acquisition 2022 Credit Cards Campaign and bring home an exciting reward of the OPPO Enco Buds (W12), subject to the campaign's terms and conditions.
Capped at the first 600 customers every month, this campaign is applicable to only new-to-bank and existing Maybank customers that have yet to own a Maybank/Maybank Islamic credit card and are residents of Malaysia, you are eligible to participate in this campaign by:
Applying as the Principal cardholder for any one or more Maybank/Maybank Islamic Mastercard credit card(s) via Maybank2u at www.maybank2u.com.my
Complete the Maybank Credit Card Application Form online, and upload all required supporting documents via the website above
You also need to spend a minimum of RM300 on retail purchases within the first 45 days from the card approval date to be eligible for this campaign.
If you have any questions regarding the campaign above, do not hesitate to email us at [email protected]. We're happy to help!
Umrah Trip Package from Maybank Islamic MasterCard Ikhwan Platinum Card-i
Stand a chance to win an Umrah package for the pilgrimage of your life with the Maybank Islamic MasterCard Ikhwan Platinum.
Each week one winner will get a 2 pax package to Mecca (non-Muslims will get a 2 pax holiday package instead).
All you have to do is spend RM200 or above in a single receipt – this will count as a single entry.
Every 3 months Maybank Islamic will draw a weekly winner from these entries.
5% Cash Rebates
Save more on the daily essentials when you spend on Friday and Saturday with your Maybank Islamic credit card.
You'll be rewarded with 5% cashback on groceries and petrol at outlets across Malaysia, capped at RM50 each month.
Max out the rewards of this cashback offer when you send RM1,000 each month. A total of up to RM600 in savings are yours each year.
Remember that you cannot carry over the spending from a single month for cashback in the next.
Collect Reward Points with Maybank Islamic MasterCard Ikhwan Platinum Card-i
Swipe with your Maybank Islamic MasterCard Ikhwan Platinum credit card for rewards anywhere and everywhere you go including overseas.
Each RM1 charged to your Mastercard will earn you 1 TreatsPoint which you can use to collect cool prizes from Maybank!
However, your transactions on petrol, utilities, government-related, education, insurance, EzyPay and EzyPay PLUS will not be rewarded with TreatsPoints.
Charity Donations
Give towards a good cause each time you use your MasterCard Ikhwan credit card. Maybank will donate of 0.1% of all your spending to Islamic Relief Malaysia and MERCY Malaysia.
That's a little bit of charity on your own part every day because every little amount counts.
---
Maybank Islamic MasterCard Ikhwan Platinum Card-i Finance Charge
What is the interest rate imposed on repayments?
| | |
| --- | --- |
| Conditions of Repayments | Tiered Interest Rate (p.a.) |
| Prompt Repayment every month | 15% |
| Prompt Repayment 10 out of 12 months | 17% |
| Prompt Repayment less than 10 out of 12 months AND New Cardmembers | 18% |
Previously, the finance charge is only imposed on the below that are not paid after the payment due date:
Retail transaction - finance charge is calculated from the posting date till full payment is made
cash advances/withdrawal transaction - finance charge is calculated from the transaction date
The finance charge is now based on the prevailing tiered interest rate (above) that will be imposed on any of your outstanding balance including All Fees and Charges (except late payment charges).
These are carried forward from the previous statement until the outstanding balances are settled in full.
All Fees and Charges include:
Annual Fee
Cash Advance Fee
Card Replacement Fee
Statement Copy Fee
Sales Draft Retrieval Copy Fee
Any other form of service of miscellaneous fee (if any) EXCEPT Late Payment Charges
Late Payment Charge of 1% will be imposed if the minimum payment is not made by the payment due date.
This is subject to a minimum of RM10, whichever is higher up to a maximum of RM100.
This change on Finance Charge will not have any impact if you do not have any unpaid outstanding balance.
In fact, you will continue to enjoy a 20 days interest-free period, provided that the outstanding balances of your Maybank Islamic MasterCard Ikhwan Platinum are carried forward from the previous month's statement cycle are paid in full.