The ever-increasing price of fuel, is all Malaysians have been talking about these past few months.
Well, here comes your knight in shining golden armour, the Maybank Islamic Petronas Ikhwan Visa Gold Card-i!
You can earn up to 8% cashback from all Petronas service stations, without paying a single annual fee with 6% GST, ever!
Maybank Online Acquisition 2023 Credit Cards Campaign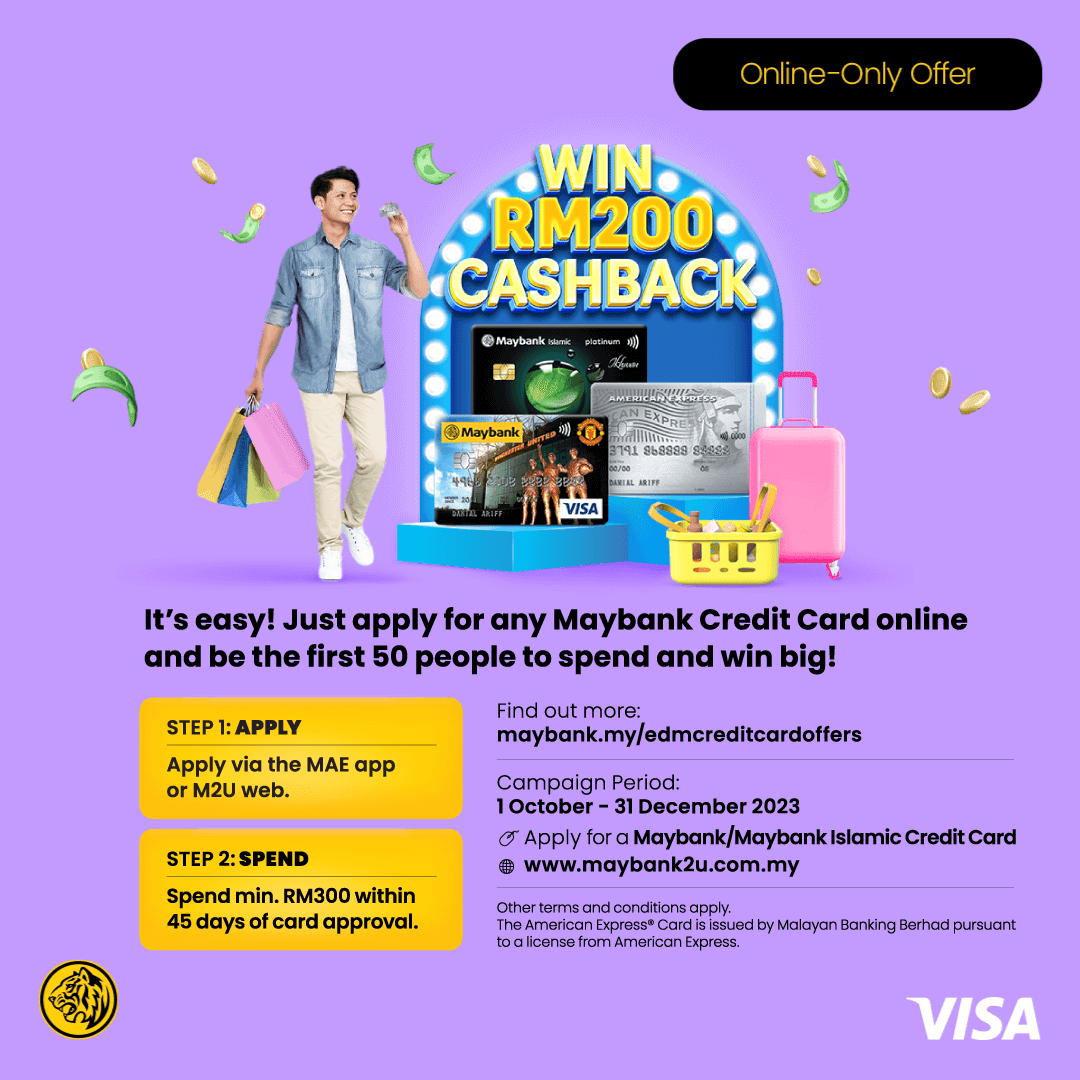 From 1 October 2023 until 31 December 2023 ("Campaign Period"), be the first 150 eligible customers (first 50 customers every month per card scheme) throughout the Campaign Period to grab an RM200 cashback prize. Terms and conditions apply!
Here's an illustration of the campaign mechanics:
Card Scheme
Prize
Spend Criteria
Campaign Period
Maybank/Maybank Islamic Visa Cards

RM200 Cashback (capped at the first 50 eligible customers per card scheme every month)

Minimum retail spend of RM300 within the first 45 days from the card approval date

1 October 2023 - 31 December 2023

Maybank/Maybank Islamic Mastercard Cards
Maybank/Maybank Islamic American Express Cards
To be eligible for the prize, you must be either:
New-to-bank individuals; or
Existing customers of Maybank who are a resident of Malaysia aged 21 years at the time of applying and have yet to own any existing Visa, Mastercard or American Express principal credit cards issued by Maybank/Maybank Islamic
If you fall under the mentioned eligibility criteria, here are the steps to take part in this campaign:
Make an online application for any of the eligible credit cards (or more) via the Maybank2u website or the MAE App within the Campaign Period
Complete the e-application form and upload all the required supporting documents
Wait for approval from the bank
Once approved, perform a minimum retail spend of RM300 within the first 45 days from the card's approval date to be eligible
If you require any help or enquiries regarding this campaign, please contact Maybank's Customer Care Hotline at 1-300-88-6688 or +603 7844 3696.
Maybank Islamic Petronas Ikhwan Visa Gold Card-i, Benefits on the Road
We spend a lot of our time, tossing and turning around in our beds thinking about how to properly manage our finances, from electric bills to petrol expenses.
This Maybank credit card can chip a little of your burdens away with a chance to be able to receive free petrol vouchers when you have redeemed enough Maybank TreatsPoints on your gold credit card.
How do you earn these reward points? Read on.
More Points, More Rewards
Whenever you spend on weekends at any Petronas petrol station nationwide, there will be 8% cashback to be earned.
The weekday rate is not at all too bad, as you will be getting 1% cashback.
Oops, let's not forget - when shopping for groceries or any other retail (because that's the only time we can leisurely stroll along the junk food section), you will also earn 1x TreatsPoints, both locally and overseas.
Use your Maybank card when paying for your education, utilities, insurance and 0% EzyPay to earn 1x TreatsPoint as well!
As mentioned earlier, on top of redeeming Petronas petrol vouchers, you will also be able to exchange your reward points for other amazing prizes and air miles.
They can be redeemed via the Maybank TreatPoints Programme such as - household items, furniture, kitchenware, and the latest tech gadgets.
Maybank Islamic Ikhwan American Express Gold Card-i - Easy Application
Any regular Joe (read: Malaysian) can apply for Maybank Islamic Ikhwan American Express Gold Card-i as you will only need a minimum yearly income of RM30,000, and you would need to be at least 21 years old but not older than 65. For expatriates, you must be earning a minimum yearly income of RM60,000 to be eligible.
Also, there will be non-compounding charges on your monthly credit card debts. What does that mean? Simply, you will not be charged interest on the interest you're already charged for - which is typical for any credit card from other banks.
Maybank Islamic Ikhwan American Express Gold Card-i Finance Charge
What is the interest rate imposed on repayments?
| | |
| --- | --- |
| Conditions of Repayments | Tiered Interest Rate (Per Annum) |
| Prompt Repayment every month | 15% |
| Prompt Repayment 10 out of 12 months | 17% |
| Prompt Repayment of less than 10 out of 12 months AND New Cardmembers | 18% |
Previously, the finance charge was only imposed on the below that were not paid after the payment due date:
Retail transaction - finance charge is calculated from the posting date till full payment is made
Cash advances/withdrawal transaction - finance charge is calculated from the transaction date
The finance charge is now based on the prevailing tiered interest rate (above) and will be imposed on any of your outstanding balances including all fees and charges (except late payment charges).
These are carried forward from the previous statement until the outstanding balances are fully settled.
All fees and charges include:
Annual Fee
Cash Advance Fee
Card Replacement Fee
Statement Copy Fee
Sales Draft Retrieval Copy Fee
Any other form of service of the miscellaneous fee (if any) EXCEPT Late Payment Charges
A late payment charge of 1% will be imposed if the minimum payment is not made by the payment due date. This is subject to a minimum of RM10, whichever is higher up to a maximum of RM100.
This change on the Finance Charge will not have any impact if you do not have any unpaid outstanding balance. In fact, you will continue to enjoy a 20-day interest-free period, provided that the outstanding balances of your Maybank Islamic Ikhwan American Express Gold Card-i are carried forward from the previous month's statement cycle and are paid in full.