Wherever you are around the world, enjoy exclusive privileges when you travel, dine, shop or golf with Maybank's Islamic World Mastercard Ikhwan.
Maybank Online Acquisition 2023 Credit Cards Campaign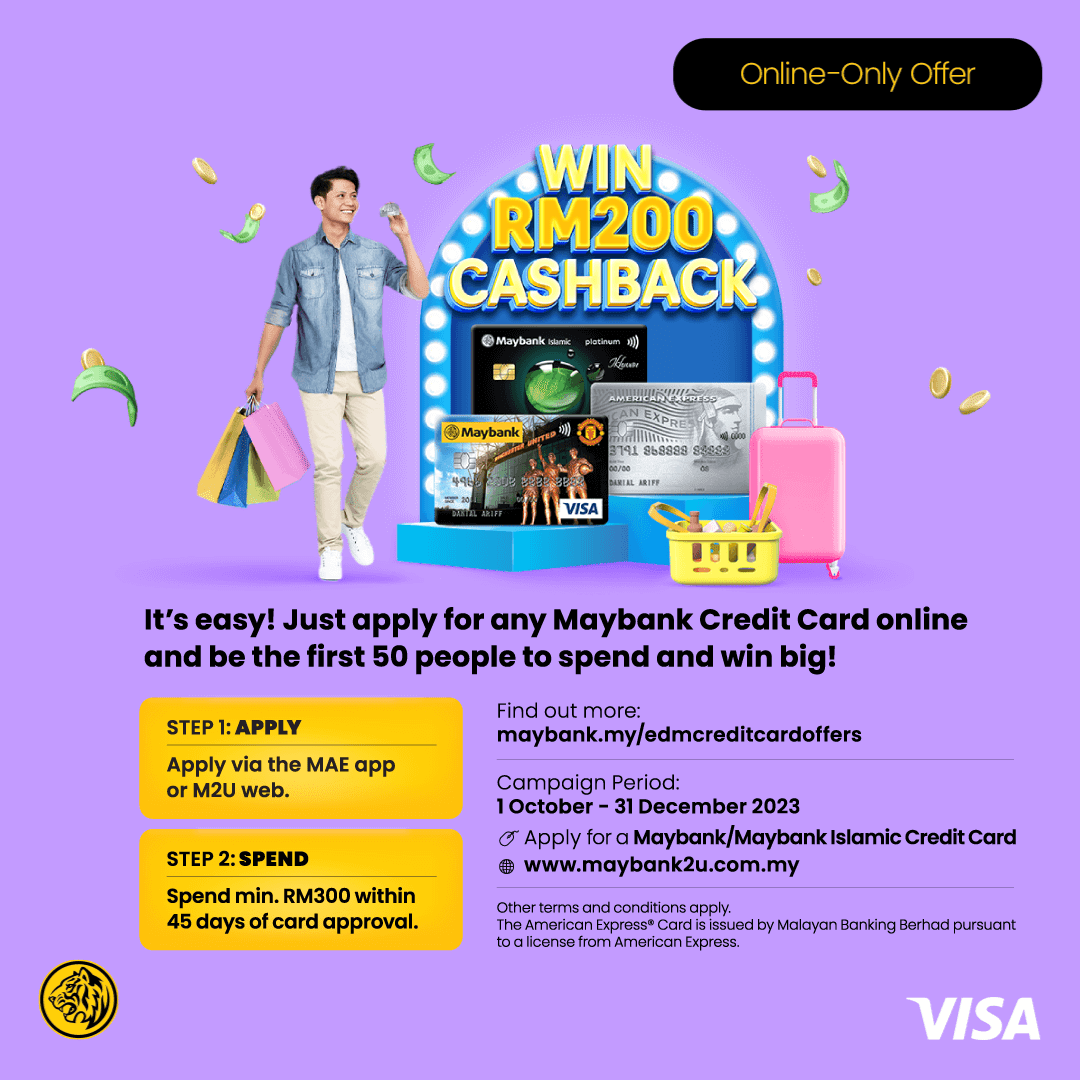 From 1 October 2023 until 31 December 2023 ("Campaign Period"), be the first 150 eligible customers (first 50 customers every month per card scheme) throughout the Campaign Period to grab an RM200 cashback prize. Terms and conditions apply!
Here's an illustration of the campaign mechanics:
Card Scheme
Prize
Spend Criteria
Campaign Period
Maybank/Maybank Islamic Visa Cards

RM200 Cashback (capped at the first 50 eligible customers per card scheme every month)

Minimum retail spend of RM300 within the first 45 days from the card approval date

1 October 2023 - 31 December 2023

Maybank/Maybank Islamic Mastercard Cards
Maybank/Maybank Islamic American Express Cards
To be eligible for the prize, you must be either:
New-to-bank individuals; or
Existing customers of Maybank who are a resident of Malaysia aged 21 years at the time of applying and have yet to own any existing Visa, Mastercard or American Express principal credit cards issued by Maybank/Maybank Islamic
If you fall under the mentioned eligibility criteria, here are the steps to take part in this campaign:
Make an online application for any of the eligible credit cards (or more) via the Maybank2u website or the MAE App within the Campaign Period
Complete the e-application form and upload all the required supporting documents
Wait for approval from the bank
Once approved, perform a minimum retail spend of RM300 within the first 45 days from the card's approval date to be eligible
If you require any help or enquiries regarding this campaign, please contact Maybank's Customer Care Hotline at 1-300-88-6688 or +603 7844 3696.
Get 10,000 TreatsPoints with Maybank Islamic World Mastercard Ikhwan
Your Islamic World Mastercard Ikhwan card rewards you right from your first card purchase. Regardless of the amount, 10,000 TreatsPoints will be rewarded to you.
Start collecting your TreatsPoints as 8,000 TreatsPoints can get you 1,000 Enrich Miles, KrisFlyer Miles and Asia Miles. This would mean that you are on your way to redeeming free flights for your next trip!
Here are ways you can earn TreatsPoints:
| | |
| --- | --- |
| 5X TreatsPoints | Every RM2 spend locally |
| 5X TreatsPoints | Every RM1 spend overseas |
| 1X TreatsPoint | On utilities, petrol, education, EzyPay and Insurance transactions |
Do note that no TreatsPoints are rewarded for Government bodies' transactions.
5X complimentary access at participating Plaza Premium Lounge
Exclusively for World Mastercard Ikhwan cardholders, you are entitled to 5 times complimentary access throughout the year to participating Plaza Premium Lounges in Malaysia and overseas, subject to terms and conditions. Please read through the T&C to find out more details about this privilege.
And if you have guests with you, your accompanying guest will enjoy 20% savings each. For globe-trotters who worry if you exceed the 5 complimentary passes, don't fret as you'll be given a 20% discount from the published walk-in rates.
With this privilege, you can enjoy up to three hours of lounge use with food and beverages, internet access, international newspapers and magazines, international TV channels, shower facilities with amenities and flight information. Enjoy that peace of mind before you take off because you've worked hard and you deserve it!
Mastercard Airport Experience (MCAE) by LoungeKey
Elevate your airport experience before boarding with exclusive dining offers and savings at top participating retailers at over 400 airports worldwide.
With only USD 27 per person per visit, you can enjoy:
Spa treatments before boarding
Retail therapy with exclusive savings at top participating retailers
Dining offers
Lounge Access with space to rest in more than 850 lounges worldwide
Enjoy complimentary travel takaful coverage with Maybank Islamic World Mastercard Ikhwan
Charge your full airfares to Maybank Islamic World MasterCard Ikhwan card, you will receive complimentary travel takaful coverage of up to RM2 million which includes travel inconvenience such as missed flight connections, luggage delay and lost luggage of up to RM3,000.
On top of that, this complimentary travel takaful coverage will also cover funeral expenses under the "Khairat Kematian" category for up to RM2,500 in the event of an unfortunate accidental death while travelling.
All are subject to the terms and conditions of the policy.
Get 24/7 Mastercard global concierge service
Another important feature of this Islamic World MasterCard Ikhwan card is the MasterCard 24-Hour Global Concierge Service. It connects you to a representative who speaks your preferred language in assisting with hotel bookings, car rentals, flight and dining reservations, medical emergencies or any other situations during their travel.
Charity donations via Waqaf and Zakat
True to the values that matter with an Islamic credit card that abides by Shariah laws, 0.2% (capped at RM100 per month) from cross-border spending on your Maybank Islamic World Mastercard Ikhwan credit card will be donated to Waqaf and Zakat managed by Maybank Islamic. What this means is that you give a portion of all your spending back to charity.
Finance charges of Maybank Islamic World Mastercard Ikhwan
What is the interest rate imposed on repayments?
| | |
| --- | --- |
| Conditions of Repayments | Tiered Interest Rate (p.a.) |
| Prompt repayment every month | 15% |
| Prompt repayment 10 out of 12 months | 17% |
| Prompt repayment of less than 10 out of 12 months AND new cardmembers | 18% |
Previously, the finance charge is only imposed on the below that are not paid after the payment due date:
Retail transaction - finance charge is calculated from the posting date till full payment is made
cash advances/withdrawal transaction - finance charge is calculated from the transaction date
The finance charge is now based on the prevailing tiered interest rate (above) and will be imposed on any of your outstanding balances including all fees and charges (except late payment charges).
These are carried forward from the previous statement until the outstanding balances are settled in full.
All fees and charges include:
Annual Fee
Cash Advance Fee
Card Replacement Fee
Statement Copy Fee
Sales Draft Retrieval Copy Fee
Any other form of service of the miscellaneous fee (if any) EXCEPT Late Payment Charges
A late payment charge of 1% will be imposed if the minimum payment is not made by the payment due date. This is subject to a minimum of RM10, whichever is higher up to a maximum of RM100.
The change made on the finance charges will not have any impact if you do not have any unpaid outstanding balance. You will continue to enjoy a 20-day interest-free period, provided that the outstanding balances carried forward from the previous month's statement cycle of your Maybank Islamic World MasterCard Ikhwan are paid in full.