Bring home an exciting reward with Maybank Visa credit cards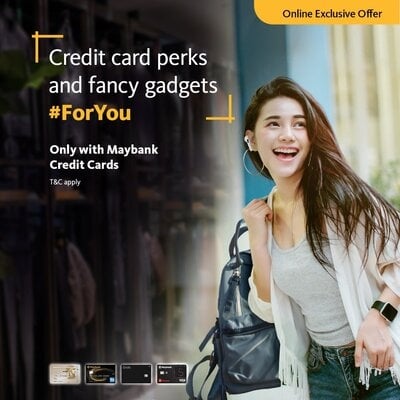 Valid until 30th September 2022, grab this chance to participate in the Maybank/Maybank Islamic Online Acquisition 2022 Credit Cards Campaign and bring home an exciting reward of the Ice Generation Gold Black (Medium - 3H), subject to the campaign's terms and conditions.
Capped at the first 600 customers every month, this campaign is applicable to only new-to-bank and existing Maybank customers that have yet to own a Maybank/Maybank Islamic credit card and are residents of Malaysia, you are eligible to participate in this campaign by:
Applying as the Principal cardholder for any one or more Maybank/Maybank Islamic Visa credit card(s) via Maybank2u at www.maybank2u.com.my
Complete the Maybank Credit Card Application Form online, and upload all required supporting documents via the website above
You also need to spend a minimum of RM300 on retail purchases within the first 45 days from the card approval date to be eligible for this campaign.
If you have any questions regarding the campaign above, do not hesitate to email us at [email protected]. We're happy to help!
When Manchester United wins, Maybank Manchester United Visa Cardholders win too!
Glory, glory Man United!
No matter who your favourite player is, Maybank Manchester United Visa is the ultimate dream for any die-hard Red Devils fan!
This may sound too good to be true, but for every Premier League match that Manchester United wins, you will get 5x TreatsPoints on ALL purchases on the match day!
A jolly good reason to be chanting and cheering them on at the top of your lungs for every game, even when you're watching at home while everyone else is asleep.
Lifetime fee waiver
Maybank Manchester United Visa promises you a zero annual fee for a lifetime, with no conditions, no minimum transactions, whatsoever attached!
This privilege is applied to both principal and supplementary cardholders.
More TreatsPoints
And that's not all, Maybank is also giving out generous 10x TreatsPoints when you swipe your Maybank Manchester United Visa credit card on purchases made at the United Direct Online Megastore.
So, shop for your favourite player's jersey, home kit, away kit, and what have you dreamed of!
Oh wait, there is more.
For every daddy (and some mommies) whose wagon is full of Man United stickers, you will enjoy taking a trip down to your supermarket as you will receive 5x TreatsPoints for spending on groceries.
Also, gas up your car tank at a nearby petrol station and get 1x TreatsPoint.
You will get 1x TreasPoint too when using your Maybank credit card on education, utilities, insurance and 0% EzyPay payment.
Pile up on your Maybank TreatsPoints, and exchange them for amazing gifts and prizes.
Enjoy Discounts at Old Trafford with Maybank Manchester United Visa
Inspire yourself to some of the greatest Premier League games and explore the expansive legacy of Manchester United at Old Trafford.
Get a 20% discount just by paying with your Maybank credit card for the Manchester United Stadium and Museum Tour - one of many smart ways to recruit your little ones to take on your side and cheer for Man United at every match!
Then, take a bite or have a pint at the Red Cafe at Old Trafford, you will get a 10% off on your food and beverages there.
And last but not least, another 10% discount when you shop for souvenirs at United Online Megastore and Outlet.
EzyPay and EzyPay Plus
Overspending can be daunting - after all those trips, souvenirs, groceries and what's not. Worry not.
Make that big retail purchase you have ever yearned for and then apply for Maybank EzyPay or EzyPay Plus to convert the payment into smaller instalments for up to 24 months.
---
Maybank Manchester United Visa Finance Charge
What is the interest rate imposed on repayments?
| | |
| --- | --- |
| Conditions of Repayments | Tiered Interest Rate (Per Annum) |
| Prompt Repayment every month | 15% |
| Prompt Repayment 10 out of 12 months | 17% |
| Prompt Repayment less than 10 out of 12 months AND New Cardmembers | 18% |
Previously, the finance charge is only imposed on the below that are not paid after the payment due date:
Retail transaction - finance charge is calculated from the posting date till full payment is made
Cash advances/withdrawal transaction - finance charge is calculated from the transaction date
The finance charge is now based on the prevailing tiered interest rate (above) that will be imposed on any of your outstanding balance including All Fees and Charges (except late payment charges).
These are carried forward from the previous statement until the outstanding balances are settled in full.
All Fees and Charges include:
Annual Fee
Cash Advance Fee
Card Replacement Fee
Statement Copy Fee
Sales Draft Retrieval Copy Fee
Any other form of service of the miscellaneous fee (if any) EXCEPT Late Payment Charges
A Late Payment Charge of 1% will be imposed if the minimum payment is not made by the payment due date.
This is subject to a minimum of RM10, whichever is higher up to a maximum of RM100.
This change on Finance Charge will not have any impact if you do not have any unpaid outstanding balance.
In fact, you will continue to enjoy a 20 days interest-free period, provided that the outstanding balances of your Maybank Manchester United Visa are carried forward from the previous month's statement cycle and are paid in full.