Not getting enough mileage from your petrol spending?
Here is one way you can maximise your Ringgit on fuel purchases and get additional privileges as well – introducing the PETRONAS Maybank Visa Platinum.
Maybank Credit Cards Campaign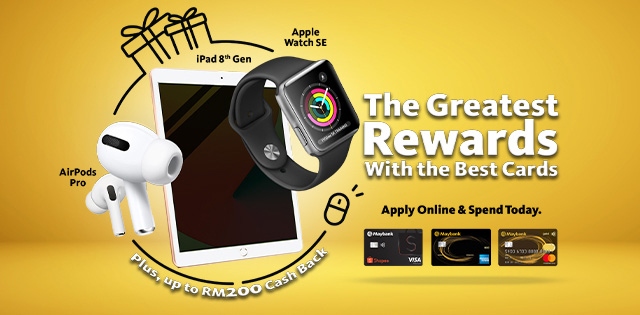 From 1 July 2021 until 30 September 2021, apply online for any Maybank credit cards ranging from Visa, Mastercard and American Express (AMEX), and get rewarded with awesome gadgets and cashback!
Apart from new-to-bank customers, existing Maybank and Maybank Islamic customers who do not own any Maybank credit cards are eligible to participate in this campaign too. Terms and conditions apply.
As a reference, the table below shows what you will be getting for this campaign:
Card type
Visa
Mastercard
AMEX
Reward 1: Cashback with a minimum spend of RM300 within the first 45 days from the card's approval date
Cashback
RM100 cashback
RM100 cashback
RM200 cashback
Reward 2: Exclusive rewards to Top Spender throughout the campaign period
Gadgets
Apple Airpods Pro
Apple Smartwatch SE (40MM)
Apple iPad 8th Gen (32GB and WIFI)
Limitation
Limited to Top 50 spenders
Limited to Top 50 spenders
Limited to Top 50 spenders
Extra TreatsPoints with PETRONAS Maybank Visa Platinum
As a joint venture between PETRONAS and Maybank, PETRONAS Maybank Visa Platinum credit card offers a fantastic reward program for spending at any PETRONAS stations in Malaysia.
For any purchases including petrol made at PETRONAS service stations on weekdays, cardholders will earn 5x TreatsPoints for every RM1 spent.
Similar spending on weekends will earn you 8x TreatsPoints. But the reward points don't just stop there!
You can also earn 8x TreatsPoints for every RM1 spent on groceries every weekend at the following hypermarkets - AEON, Giant and Tesco.
Now, that's the icing on the cake!
These reward points can then be used to redeem a wide variety of gifts such as vouchers, IT gadgets, travel packages, fashion items and more.
However, the following transactions are not eligible for TreatsPoints.
Government-related
JomPay
Want to earn more TreatsPoints? You absolutely can! Here are other types of transactions you spend at which would earn you 1x TreatsPoint:
Education Institutions
Insurance Providers
Utilities
Petrol (except Petronas)
0% EzyPay
Travel Privileges
PETRONAS Maybank Platinum Visa credit card also offers you many privileges of a Platinum Visa card including travel perks.
You will have access to personal concierge services to make hotel reservations, book a flight and make other trip arrangements.
For peace of mind, you will also receive much-needed help during emergencies such as cash advances, medical assistance and more.
With PETRONAS Maybank Visa Platinum, you can also enjoy discounted travel rates and earn TreatsPoints to redeem free Air Miles.
Save on Interest Payments with PETRONAS Maybank Visa Platinum
This credit card is also designed to help you save on interest payments with Maybank Balance Transfer.
This feature allows you to transfer outstanding card balances from other credit cards or charge cards to this Maybank credit card for easy management.
The best thing about this Balance Transfer plan is its low interest rates, ranging from as low as 0% to 0.75% per month with payment terms of 6 to 36 months.
You can choose to settle your outstanding card balances with five different plans.
Interest-free Shopping
Maybank EzyPay is also one of the benefits attached to this Maybank credit card.
This is a flexi payment plan which allows you to pay for large purchases charged to this credit card at participating merchants over a period of time.
Under this plan, you can stretch your payment terms up to 24 months at 0% interest.
Moreover, there is no penalty fee for early payment for maximum flexibility - a really interest-free shopping at its best.
PETRONAS Maybank Visa Platinum: Free For Life and Petrol
Anyone aged 21 years old and above with a minimum annual income of RM60,000 can apply for PETRONAS Maybank Platinum Visa credit card.
It is also easy to maintain as both principal and supplementary cards are free for life.
With such a lucrative reward point system for petrol spending at PETRONAS, you can easily earn points to redeem more free petrol with this credit card.
---
PETRONAS Maybank Visa Platinum Finance Charge
What is the interest rate imposed on repayments?
| | |
| --- | --- |
| Conditions of Repayments | Tiered Interest Rate (Per Annum) |
| Prompt Repayment every month | 15% |
| Prompt Repayment 10 out of 12 months | 17% |
| Prompt Repayment less than 10 out of 12 months AND New Cardmembers | 18% |
Previously, the finance charge is only imposed on the below that are not paid after the payment due date:
Retail transaction - finance charge is calculated from the posting date till full payment is made
cash advances/withdrawal transaction - finance charge is calculated from the transaction date
The finance charge is now based on the prevailing tiered interest rate (above) that will be imposed on any of your outstanding balance including All Fees and Charges (except late payment charges).
These are carried forward from the previous statement until the outstanding balances are settled in full.
All Fees and Charges includes:
Annual Fee
Cash Advance Fee
Card Replacement Fee
Statement Copy Fee
Sales Draft Retrieval Copy Fee
Any other form of service of miscellaneous fee (if any) EXCEPT Late Payment Charges
Late Payment Charge of 1% will be imposed if the minimum payment is not made by the payment due date. This is subject to a minimum of RM10, whichever is higher up to a maximum of RM100.
This change on Finance Charge will not have any impact if you do not have any unpaid outstanding balance.
In fact, you will continue to enjoy a 20 days interest-free period, provided that the outstanding balances of your PETRONAS Maybank Visa Platinum are carried forward from the previous month's statement cycle are paid in full.