Elevate your credit card game in sync with your income status with Public Bank MasterCard Platinum — a card that speaks your needs with benefits, privileges and uniqueness of its own.
Public Bank Mastercard Online Credit Card Acquisition Campaign 2023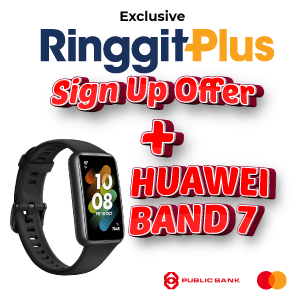 From 1 April until 30 June 2023 ("Campaign Period"), Public Bank is giving away a Huawei Band 7 to eligible applicants who apply for any participating Public Bank/Public Islamic Bank Mastercard credit cards via online channels such as PBe and RinggitPlus, perform spending criteria and an SMS registration, during the Campaign Period. Terms and conditions apply. Let's dive into the campaign mechanics below!
The participating Public Bank/Public Islamic Bank Mastercard credit cards include:
Public Bank Quantum Mastercard
Public Bank Platinum Mastercard
Public Bank World Mastercard
Public Bank Gold Mastercard
Public Islamic Bank Mastercard Platinum Credit Card-i
Public Islamic Bank Mastercard Gold Credit Card-i
On top of the current flash deal, don't miss this opportunity to win an extra gift! To get the Huawei Band 7, you must:
Be a new-to-bank Principal card member of the participating Public Bank Mastercard Credit Card or Public Islamic Bank Mastercard Credit Card-i.

Apply for the eligible credit card(s) via the PBe channel or RinggitPlus.
Spend an accumulative amount of RM2,000 and perform an SMS registration within 60 days from the card approval date to be eligible for this campaign.
To perform the SMS registration, please enter the following text and send it to 66300.
"PBSM<space>12-digit NRIC number"
The eligible applicants who successfully registered for the campaign will get a confirmation SMS from Public Bank.
Those who are not eligible to participate in this campaign include:
Existing Public Bank/Public Islamic Bank Principal card members; and

Former Public Bank/Public Islamic Bank Principal card members who have cancelled any of their credit card(s) within 2 years from the date of current application; and
Any of those who apply for the eligible PB Mastercard credit card via other channels other than PBe and RinggitPlus; and
Employees of the Public Bank Group, its advertising agencies, their immediate families or any other persons connected with the administration of the Campaign.
---
Collect VIP Points with Public Bank Platinum MasterCard
Public Bank MasterCard Platinum is a reward-based credit card that gives you VIP Points that can be redeemed with goods and services.
For every Ringgit you spent with your MasterCard Platinum credit card, you earn 1 VIP Point.
Collect enough VIP Points, you can redeem e-Vouchers to purchase items from the Public Bank reward catalogue or, at Public Bank e-Mall, a dedicated online shopping site for Public Bank credit cardholders.
Complimentary travel insurance
For those whose line of work entails business travelling and anyone who is fond of travelling, this Public Bank credit card is equipped with a complimentary travel insurance plan that includes a claim for inconveniences such as flight delays, luggage lost/delayed etc.
To qualify for this free travel insurance coverage of up to RM500,000, all you need to do is make a full travel arrangement such as purchasing flight tickets with your Visa Platinum credit card.
Voila! Never have to worry again.
Annual fee waiver
It is worth noting that Public Bank MasterCard Platinum credit card is issued free of charge in the first year.
This should encourage you to spend more and reap the benefits and privileges of being a Public Bank credit cardholder.
Plus, you can maintain not paying the annual fee for the subsequent years when you make a minimum of 12 swipes in a year.
Line of credits of Public Bank Platinum MasterCard
0% Balance Transfer
Recover your sleepless nights and hair falls for worrying over credit card debts with Public Bank Balance Transfer plan, easing your financial distress by offering a zero interest rate and low one-time upfront charges starting from 1.5% with repayment terms extended up to 48 months.
You can consolidate up to 4 credit cards and transfer them to your Public Bank credit card, subject to 80% of the total available credit limit.
The minimum transfer amount should be RM1.000, with repayment terms ranging from 6, 12, 24, 36 and 48 months.
Flexible Instalment Plans
Like what you see but can't afford the purchase? With Public Bank's Zero Interest Installment Plan (ZIIP), you have the privileges to swipe on the goods or services first and then repay at a later date, i.e. one month after the successful EPP conversion.
First thing first, check if your merchants are ZIIP-approved, or else you can opt for Public Bank Flexipay Plan, which is also a flexible credit card instalment plan for purchases made at non-participating merchants at a small fee.
But if you hurry, you can enjoy a 0% p.a. interest on your EPP conversion amount - always check out on Public Bank credit card promotions!
Cash Advance
Are you strapping for cash? Make your way to Public Bank branches or any ATMs nearby to withdraw some cash from your Public Bank Platinum MasterCard at a small fee.