Enter into a world of financial luxury with a twist of travelling perks with the Public Bank World MasterCard Credit Card, suitable for high net-worth individuals looking to simplify expenses in one premium credit card.
Public Bank Mastercard Online Credit Card Acquisition Campaign 2023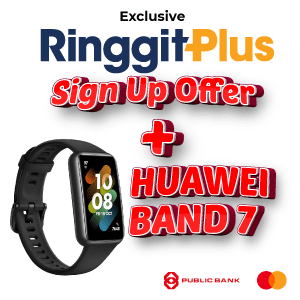 From 1 April until 30 June 2023 ("Campaign Period"), Public Bank is giving away a Huawei Band 7 to eligible applicants who apply for any participating Public Bank/Public Islamic Bank Mastercard credit cards via online channels such as PBe and RinggitPlus, perform spending criteria and an SMS registration, during the Campaign Period. Terms and conditions apply. Let's dive into the campaign mechanics below!
The participating Public Bank/Public Islamic Bank Mastercard credit cards include:
Public Bank Quantum Mastercard
Public Bank Platinum Mastercard
Public Bank World Mastercard
Public Bank Gold Mastercard
Public Islamic Bank Mastercard Platinum Credit Card-i
Public Islamic Bank Mastercard Gold Credit Card-i
On top of the current flash deal, don't miss this opportunity to win an extra gift! To get the Huawei Band 7, you must:
Be a new-to-bank Principal card member of the participating Public Bank Mastercard Credit Card or Public Islamic Bank Mastercard Credit Card-i.

Apply for the eligible credit card(s) via the PBe channel or RinggitPlus.
Spend an accumulative amount of RM2,000 and perform an SMS registration within 60 days from the card approval date to be eligible for this campaign.
To perform the SMS registration, please enter the following text and send it to 66300.
"PBSM<space>12-digit NRIC number"
The eligible applicants who successfully registered for the campaign will get a confirmation SMS from Public Bank.
Those who are not eligible to participate in this campaign include:
Existing Public Bank/Public Islamic Bank Principal card members; and

Former Public Bank/Public Islamic Bank Principal card members who have cancelled any of their credit card(s) within 2 years from the date of current application; and
Any of those who apply for the eligible PB Mastercard credit card via other channels other than PBe and RinggitPlus; and
Employees of the Public Bank Group, its advertising agencies, their immediate families or any other persons connected with the administration of the Campaign.
---
Public Bank World MasterCard Credit Card — Free for life!
It is worth noting that Public Bank World MasterCard Visa Credit Card is a free-for-life premium travel credit card ever issued by Public Bank.
This annual fee waiver is applicable to both Principal and Supplementary credit cardholders.
Redeem air miles with PB World MasterCard
If you are a frequent flyer, then this premium travel credit card is the right one for you.
Public Bank World MasterCard Credit Card is a reward credit card that gives Air Miles upon retail transactions at a fair conversion rate.
For every Ringgit swiped overseas and locally, you earn 3x Air Miles and 1x Air Mile respectively.
When you reached 8,500 Air Miles, you can redeem 1,000 Enrich Miles (if you are an avid fan of our national steel bird) or 2,000 AirAsia BIG Points (if you love flying with low-cost airlines).
So...you can thank these air miles conversions for sponsoring your flight ticket for the next trip!
Wide insurance benefits from Public Bank World MasterCard Credit Card
Free Travel Insurance
Get complimentary travel insurance coverage worth up to RM500,000, including compensation for travel inconveniences such as delayed flight or missed flight, and delayed luggage or lost luggage.
Just charge your travel arrangement to the World MasterCard credit card to qualify.
E-Commerce Purchase Protection
Shop locally or abroad with peace of mind knowing that your online purchases are covered by up to USD200 if:
Item(s) have not been delivered within 30 days of the scheduled delivery and/or incomplete delivery of item(s) and the seller has failed to refund
Improper functioning of the item(s) as a result of physical damage and the seller has failed to refund
Complimentary airport lounge access by Public Bank World
Enjoy 3x free access to participating Plaza Premium Lounges in Malaysia when you flash your Public Bank World MasterCard credit card at selected airports. Terms and conditions apply.
In the premium lounge, you get to indulge in the comfort of privacy and exclusivity while waiting for a boarding call — what a way to begin a journey, don't you think?
Line of credits of Public Bank World MasterCard Credit
Balance Transfer
Recover your sleepless nights and hair falls from worrying over credit card debts with Public Bank Balance Transfer plan, easing your financial distress by offering low one-time upfront charges, low minimum spending requirements and flexible repayment terms.
Cash Advance
Are you strapping for cash? Make your way to Public Bank branches or any ATM nearby to withdraw some cash from your Public Bank World MasterCard credit card at a small fee.
Easy Payment Plan
If you have been eyeing a high-valued item for a while now, why not convert to an easy payment plan by Public Bank? This way, you can manage your finances better by stretching the payment for a longer repayment tenure with low interest.