Frequently Asked Questions
When it comes to credit facilities such as credit cards or personal loans, banks or financial institutions will always perform a background credit check when you apply for the product.
Depending on your credit health, your application may or may not be approved – if your application is rejected, banks or financial institutions do not need to reveal their reasons for the rejection.
So if you are worried about having a credit card application rejected, here's how you can help yourself before you apply for a new credit card.
Why do banks reject credit card applications?
There is no single reason why banks reject applications, and their standards differ between banks – that's why one bank can approve your application, and another will reject it.
Generally, it all depends on your credit health – that is, the state of your financial well-being – and what's called a "debt service ratio" (DSR).
For starters, banks like to see what's known as "credit history" – an overview of your bill payments (utilities, credit cards, etc), outstanding debt (if any), and if you've ever missed a payment.
This not only gives the bank some visibility of an individual's outstanding debt compared to his or her salary but also how good a paymaster they are. From there, they can conclude if you are or are not a credit risk.
This is also the reason why fresh graduates or those with zero commitments may find it difficult to get a credit card or loan application approved. With no credit history, banks can't determine if you are/will be a good paymaster.
Besides that, a bank or institution will also look at what's called a "debt service ratio" (DSR). It is a figure (given in percentages) that shows how much of your monthly salary goes into paying off your financial commitments.
More importantly, the DSR allows a bank to see how much more debt you can take on, at your current income level.
The DSR formula is generally calculated as:
Total Financial Commitments per Month / Total Financial Income per Month x 100
A "good" DSR varies from bank to bank, as they would also have other factors to give a better overview of your financial health.
What happens when I get too many applications rejected?
The best way to understand is to consider the bank's point of view. 
If you have a poor credit score and have applied (and failed to get approved) for multiple lines of credit (such as credit cards) in a short span of time, you are giving the impression that you are in desperate need of money – but with no guarantees that you will be a good paymaster.
If you continue to apply, it becomes a vicious cycle – each rejection severely affects your credit score, which means that you are lowering your chances of getting an application approved with every rejected application.
Why should I care?
It's simple. If you are deemed not worthy of owning a credit card, what more for loans of bigger amounts, such as a car loan or a home loan?
Worse still, a poor credit score takes a long time to improve, because rejected applications stay in your report for 12 months. If you don't care about your financial health, the banks also won't care to help.
How do I increase my chances of getting a credit card application approved?
If you want to get a higher chance of approval, there are good news and bad news. The good news is that the process is simple and perfectly doable, but the bad news is that it takes time.
The best way to kickstart this is to find out how attractive your financial health is to the banks. A credit report gives you an easy-to-understand overview of your credit history, with a three-digit score to better visualise your credit health. 
A high credit score means good financial health, which in turn means a higher chance of approval. If you recently had an application rejected, it's best to hold off on any new applications for at least six months to allow your credit health to improve. 
However, here's how RinggitPlus can help. 
With our new product recommendation smart search powered by Experian—the world's leading global information services—we can provide you with a list of credit cards that you qualify for and arrange by your chances of approval. 
Clear visual cues make it easier for you to see which cards you will most likely be approved for. The underlying technology allows RinggitPlus to have its own credit reporting and scoring tool, which can be generated immediately based on the information provided by the applicant.
This tool can be used on the RinggitPlus platform before you apply for any credit card, which means you minimise your chances of being rejected (and thus hurting your credit health).
The best part? This smart search is free of charge. Simply click on "Find My Cards" to start the process in WhatsApp, and follow the instructions. 
You are required to give us your consent and upload a picture of your identity card (front and back) for verification.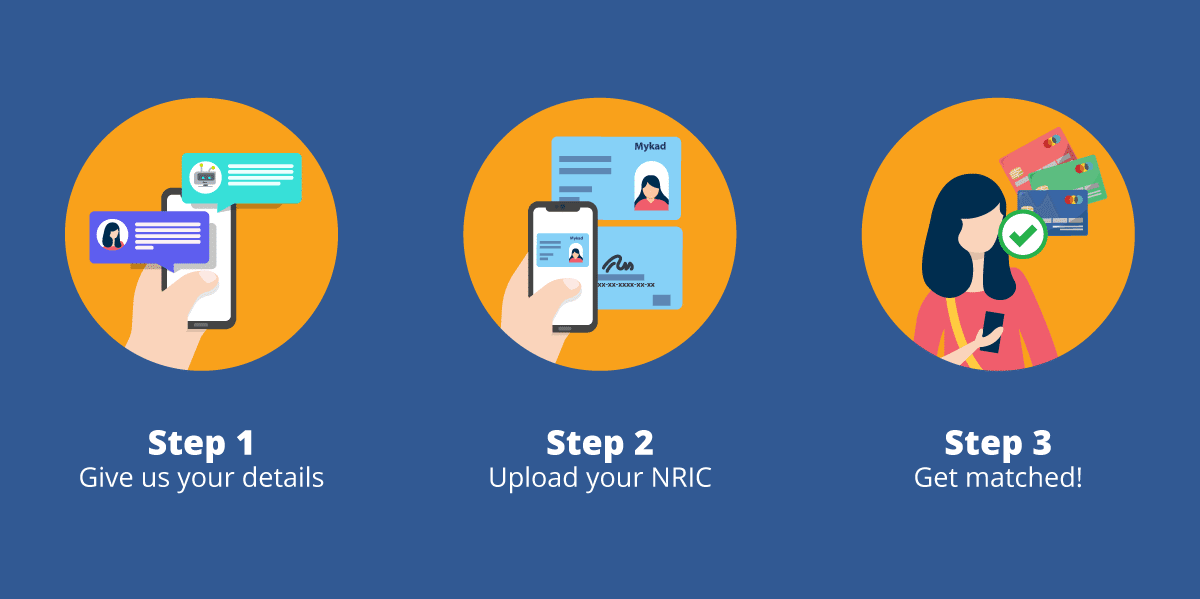 Is my personal data protected?
As an approved participant in the BNM Regulatory Sandbox, RinggitPlus strictly adheres to the Personal Data Protection Act 2013. 
Your data is never shared with any third parties and is securely stored.
If I have a high credit score, why should I use this service?
Even with a high credit score, applying for a credit card that isn't suited for you may result in a rejection.
Our technology recommends credit cards that you will have the highest chance of being approved for. Double-check to be sure!
If I apply for a credit card with the highest chance of approval, is it a guarantee that I will be approved?
The technology aims to pair applicants with the best-suited credit cards based on their preferences, income and financial commitments. 
The decision to approve or reject an application ultimately is at the sole discretion of the banks.
Do I have to pay anything for this service?
No, this service is absolutely free of charge.
What else do I need to know?
If you need any further assistance, please email us at [email protected]. We're happy to help!