RHB Islamic Rewards Credit Card-i with Motion Code™ Technology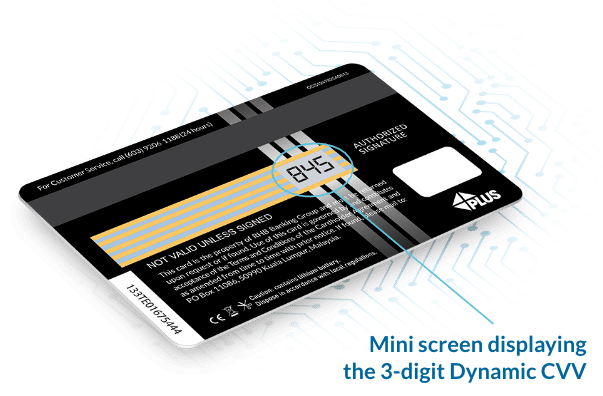 Introducing Motion CodeTM technology where shopping or transacting online with your RHB Islamic Rewards Credit Card-i is now more secure than before!
Powered by a battery within your credit card, an e-ink mini screen is embedded at the back of your card that displays the 3-digit Dynamic Card Verification Value (CVV).
This CVV security code automatically refreshes to a random new code every 4 hours. With this innovative solution, any stolen card information cannot be abused, stored or reused by potential fraudsters.
Adding on to having zero charges for this added security feature that protects you from online fraud, you will be able to enjoy 3X Reward Points on your online shopping.
Rewarding you with up to 10X Reward Points
Always feel restricted by your credit card's limited reward points? Be set free as RHB Islamic Rewards Credit Card-i can help you earn unlimited Rewards Points with every RM1 spent. The categories are:
10X Movie Tickets
4X Overseas transactions
3X Online transactions
2X Health & Takaful Insurance-related transactions
2X Retail Shopping transactions
1X Other Retail transactions
With unlimited reward points to earn, you can now enjoy the freedom to maximize your Reward Points by redeeming your favourite products, vouchers, frequent flyer miles and annual fee waiver.
Annual Fee Waiver
For the first year, the RHB Islamic Rewards Credit Card-i is free of charge.
But in the subsequent years, the annual fee is at RM200 and will be waived when you spend a minimum of RM20,000 in a year on your Rewards Credit Card-i. Additionally, the annual fee is waived for supplementary cardholders.
Bear in mind that the Sales & Service Tax of RM25 will be charged upon the anniversary date of your credit card.
Made for Halal Transactions
Please note that this Islamic credit card operates under the Shariah concept of Ujrah.
So keep in mind that you can only swipe your Rewards Credit Card-i on Halal goods and services.
RHB Islamic Bank will decline any payment charged to your credit card-i for transactions in the following situations:
Bars and Clubs
Purchase of Packages of Beers, Wine and Liquor
Cigar Stores and Stands
Gambling Transactions
Dating and Escort Services
RHB Islamic Rewards Motion Code Credit Card-i Flexible Line of Credits
There is a slew of benefits in a credit card when you use RHB Islamic Rewards Motion Code Credit Card-i efficiently.
After all, it is made to extend your credit when you require it, whether to pay for your personal needs or daily expenses.
RHB Islamic Rewards Motion Code Credit Card-i offers you:
Smart Pay for monthly auto payment of Telekom, Maxis, Digi, Astro and other bills

Smart Move Balance Transfer to consolidate all your credit card outstanding debts from other financial institution
Smart Instalment to convert your purchase into affordable monthly payments
CashXcess gives you some cash relief that can be paid over an instalment at a low rate