Overview of Citibank Credit Cards In Malaysia
Citibank has a long history in Malaysia. Offering a wide range of Mastercard credit cards, from the starter Classic package through to the exclusive and, dare we say it, poshest card on the market.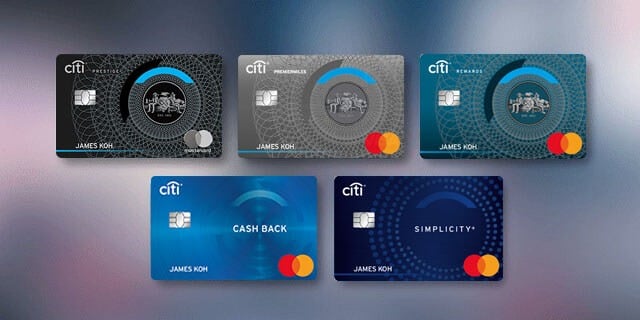 Citibank Credit Card Campaign FAQs:
For a limited time only, selected approved applicants of eligible Citibank credit card(s) will receive a free sign-up gift of the New Samsung Galaxy S23 Ultra.
This promotion runs from 27 March 2023 to 3 April 2023, subject to the campaign's terms and conditions.
Do I get any other gift if I don't qualify for the main gift?
Successful applicants, who do not qualify for the main gift promotion will still be entitled to a free gift such as follow:
RM600 Touch & Go E-Wallet Credit
Who is qualified for this promotion?
This campaign is open to new customers only. Existing principal cardholders or any applicants who had cancelled any of their Citi credit cards and re-apply within 12 months from the campaign's start date are not eligible.
How to be eligible for the free gift?
Once your Citibank credit card is approved, you must spend 8 times on retail transactions (no minimum spend is required) on the new card within 60 days from the approval date before being eligible for the free sign-up gift.
Which credit card(s) can I apply for?
You can apply for:
Citi PremierMiles Mastercard®
Citi Clear MasterCard
Citi Prestige MasterCard
Citi Cash Back Platinum MasterCard
Citi Cash Back MasterCard
Citi Business Platinum MasterCard
Citi Rewards MasterCard
Citi Simplicity Plus MasterCard
Lazada Citi Platinum Card
Where can I reach out for more information?
For any questions, please get in touch with us via email at [email protected]. We're happy to help!
---
How do I apply for a Citibank Credit Card in Malaysia?
A credit card application can be made online through 2 simple processes: (1) RinggitPlus WhatsApp Chatbot, and (2) Citibank Digital Form.
First, please head over to the Citibank credit card page on RinggitPlus to compare and apply for the best Citibank card for you.
Once you have chosen the right card, click the APPLY NOW button to start your application through our WhatsApp chatbot. Then, you will be redirected to the Citibank Digital Form to complete the application. 
Follow these 6 simple steps below to get your Citibank card application approved: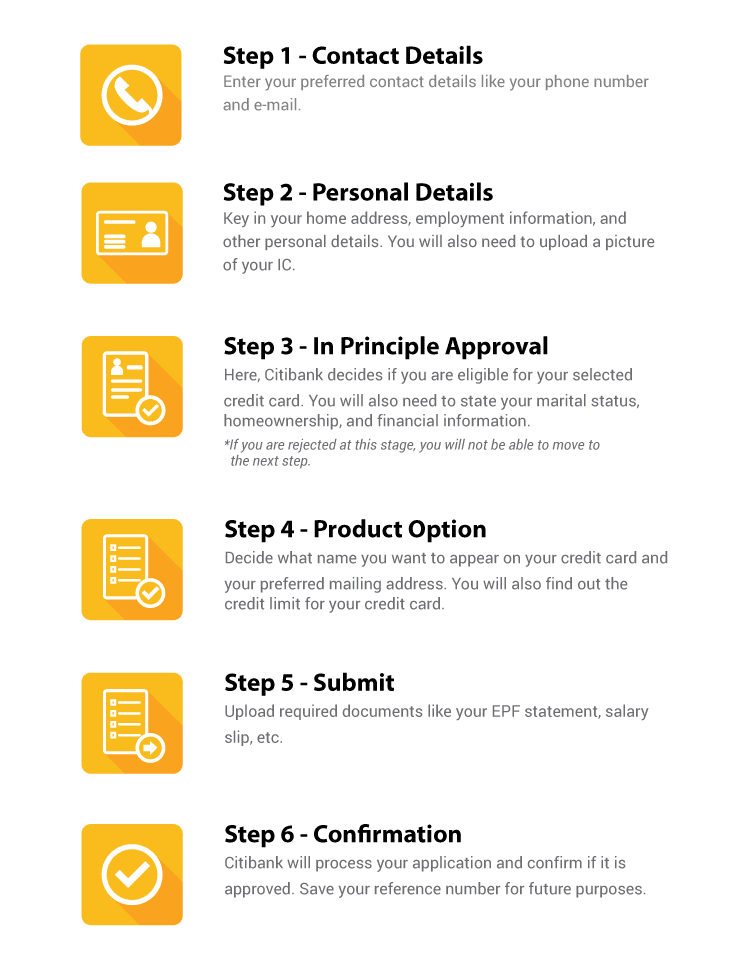 What are the Features and Benefits of Citi Credit Cards?
From worldwide privileges to comprehensive travel insurance, you won't be disappointed with the benefits that come with a simple plastic card by Citibank.
Citi Temporary CVV
Temporary CVV is a 3-digit security code that you can use to activate your new Citi credit card while waiting for the physical card to be delivered. 
To get this unique code, your Citi credit card must first get approved by the bank. Then, you may download the Citi Mobile® App and retrieve your unique temporary CVV code to activate your card. 
Once you've received your Citi physical card, the temporary CVV will then be replaced by the CVV found at the back of your card, and you still need to activate it. 
This new CVV will then be used for all your transactions and recurring payments moving forward. Here's how you can activate your new Citi credit card:
Via Citi Mobile® App
Via Citibank Online
Via Citibank Card Activation & PIN Creation Hotline
Citi Rewards Points
One thing that you should know about Citi Rewards Points is that they never expire, a rare feature among credit card issuers available in the market. 
When you spend every Ringgit with a Citi Clear Mastercard credit card on all retail transactions, you will be rewarded with 1 Citi Rewards Point, while selected spending categories can get you 3 Citi Rewards Points.
With the Citi Rewards Mastercard credit card, you can earn up to 5x Citi Rewards Points while shopping locally and overseas. This is especially rewarding for those who love to shop at big-name departmental stores as well as at local supermarkets.
For those who love to travel, the Citi PremierMiles Mastercard credit card offers plenty of value. 
Not only do you get 8x complimentary lounge access at participating airports, but you also earn PremierMiles points for every Ringgit you spend. You have the option to convert PremierMiles to air miles, pay for your purchases and even use them to pay off your annual fees.
Citibank Worldwide Privileges
If you're an avid traveller but just a little bit too concerned about your budget, having a Citi credit card that gives you savings on your travels might just be the thing that you need.
With Citibank Worldwide Privileges, you'll be getting a lifestyle upgrade when you are a Citi Cash Back Mastercard credit card member. 
Enjoy the privilege of having deals and discounts all over the world for hotels, restaurants, golf resorts, and the shopping mall.
Citibank Comprehensive Travel Insurance Coverage
Managing an emergency while abroad is a daunting task. 
With that in mind, Citibank covers you and your supplementary card members for a personal accident for up to 30 days when you buy travel tickets with Citibank credit cards.
For some other insurance coverage, you are entitled to travel inconveniences, medical expenses, loss and damage to personal belongings and home content insurance.
Citibank Balance Transfer via Instalment Plan
It's always a good idea to keep the outstanding balance of your Citibank card at the lowest interest rate where possible.
Citibank Balance Transfer via Instalment Plan is a credit card flexi-payment plan, that gives you a low and flat interest rate when you consolidate all the outstanding balances from other credit cards to your Citibank card. 
You can choose a comfortable repayment period that fits your needs, which is between 6 to 36 months. 
It also has a minimum transfer amount of RM1,000 and a 0% one-time upfront fee.
What are the interest rates for Citibank credit cards?
Citibank cards adopt a tiered interest rate in the range of 15% to 18% per annum. 
The interest rate charged will commonly be higher should you have a history of inconsistent repayments and lower interest rates if you are prompt in repayments.
What are the minimum monthly repayments for Citibank credit cards?
Citibank members are required to make minimum monthly repayments of 5% of the current balance or a minimum of RM50, whichever is higher. 
The monthly repayments of your Citibank card will have to be made on the stipulated due date.
Failing to do so may result in a late payment charge of a minimum of RM10 or 1% of the total outstanding balance (excluding interests and fees), whichever is higher and up to a maximum of RM100.
How much does it cost to get a replacement Citi credit card?
If your Citi credit card got lost, stolen or damaged, you can get a replacement credit card for RM50 per card within 5 to 7 working days from the date of issuance.
What is Credit Shield Select?
Credit Shield Select is credit insurance that settles all or part of your outstanding balance in the event of death, diagnosis of Critical Illness, or the first day of Hospitalisation subject to the policy's terms and conditions. 
You will only need to pay RM0.60 for every RM100 of your Citi credit card monthly statement to enjoy this insurance protection.
Am I eligible to apply for a Citibank credit card?
To apply for a Citibank card, the principal cardholder will have to be at least 21 years old, while the supplementary cardholder is to be at least 18 years old. 
The minimum annual income, on the other hand, differs from card to card.
APPLY FOR CITIBANK CREDIT CARD - ELIGIBILITY
Age of Principal Cardholder
Minimum 21 years old
Age of Supplementary Cardholder
Minimum 18 years old
Nationality
Anyone
Income Requirement (monthly)*
*Please note that the minimum income requirement for expatriates might be different.
What are the documents required to apply for a Citibank credit card?
You can compare and apply for a Citibank credit card online with RinggitPlus. Just click on the Apply Now button above.
To speed up your application, it's best to prepare the general documents required for the application like the following.
DOCUMENTS TO APPLY FOR CITIBANK CREDIT CARDS
Salaried Employee
Self-Employed
Salaried Expatriate
✔ Copy of your IC (both sides)
✔ Latest 3 months salary slip OR latest EPF statement
✔ Latest BE form with an official tax receipt
✔ Latest 6 months bank statements

✔ Copy of your IC (both sides)
✔ A copy of Form 9, 24 and 49 OR Business Registration Certificate
✔ Latest 6 months company's bank statements
✔ Latest B Form with an official tax receipt

✔ Copy of passport
✔ Latest 2 months salary slip*
✔ Copy of work permit valid for at least 6 months at the time of application
✔ Copy of letter of employment

*Number of months of salary slips required will depend on the nature of your work. Have your commission slips with you if available.
Top pick of Citibank Credit Cards in 2023:
"Shall there be any discrepancy on the latest card information such as credit card T&C, credit card benefits, fees & charges, information on Citibank website shall be deemed as latest and final."