The RinggitPlus Gift Redemption Process
So you've applied for a credit card with sign-up gifts, what's next? Once your application is approved by the bank, you'll need to fulfil the gift criteria stated in our terms and conditions. From there, the banks will send us a list of approved applications that are eligible for the sign-up gifts. This process will take around 2 months.
From then on, you will receive a gift redemption email if you are eligible for a sign-up gift. The email contains a designated code from us and instructions on how to claim your gift. Please refer to our comprehensive FAQs here to find out more. For a clearer picture, below is our sign-up gift redemption process.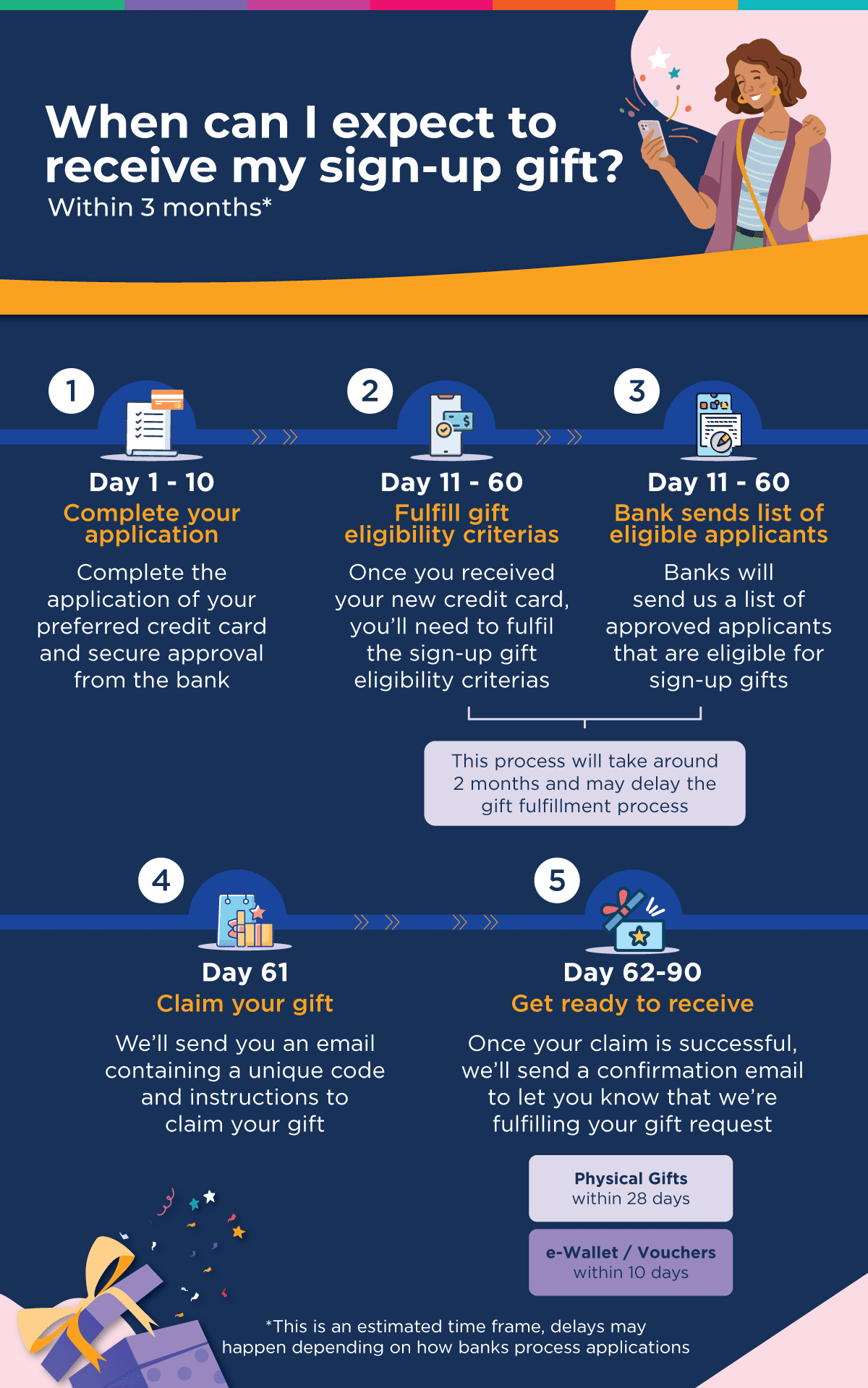 ---
Full Lists of Winners
| | | |
| --- | --- | --- |
| Date | Campaign Name | Winners |
| 15 May - 6 June 2023 | RHB RM5000 Cash Via DuitNow Flash Deal | See full list |
| 25 April - 2 May 2023 | HSBC Apple iPhone 14 Flash Deal | See full list |
| 10 April - 17 April 2023 | HSBC Samsung Galaxy S23 PLUS Flash Deal | See full list |
| 13 February - 27 February 2023 | RHB Apple Watch SE Flash Deal | See full list |
| 27 March - 3 April 2023 | Citibank Samsung Galaxy S23 ULTRA Flash Deal | See full list |
| 10 April - 17 April 2023 | Citibank Apple iPhone 14 Pro Flash Deal | See full list |
| 7 February - 27 February 2023 | Public Bank Amazfit GTS2 Mini Flash Deal | See full list |
| 20 March - 10 April 2023 | Public Bank Amazfit GTS2 Mini Flash Deal | See full list |
| 20 February - 27 February 2023 | HSBC Apple Watch Series 8 Flash Deal | See full list |
| 27 February - 6 March 2023 | HSBC Samsung Galaxy S23 ULTRA Flash Deal | See full list |