Overview of Standard Chartered Credit Cards in Malaysia
Catering to reward seekers, cashback lovers and avid travellers, get the best of both worlds: an international credit card brand with global and local benefits.
How Do I Apply for a Standard Chartered Credit Card in Malaysia?
You can apply for a Standard Chartered credit card online through 2 simple processes: (1) RinggitPlus chatbot application, then (2) Standard Chartered Digital Form.
Interested in applying for a credit card? Head over to the Standard Chartered credit card page on RinggitPlus to compare and apply for the best Standard Chartered credit card for you.
Once you have chosen the right card, click APPLY NOW button to start the chatbot application.
Next, you will be redirected to Standard Chartered Digital Form. Follow the six steps to complete the application: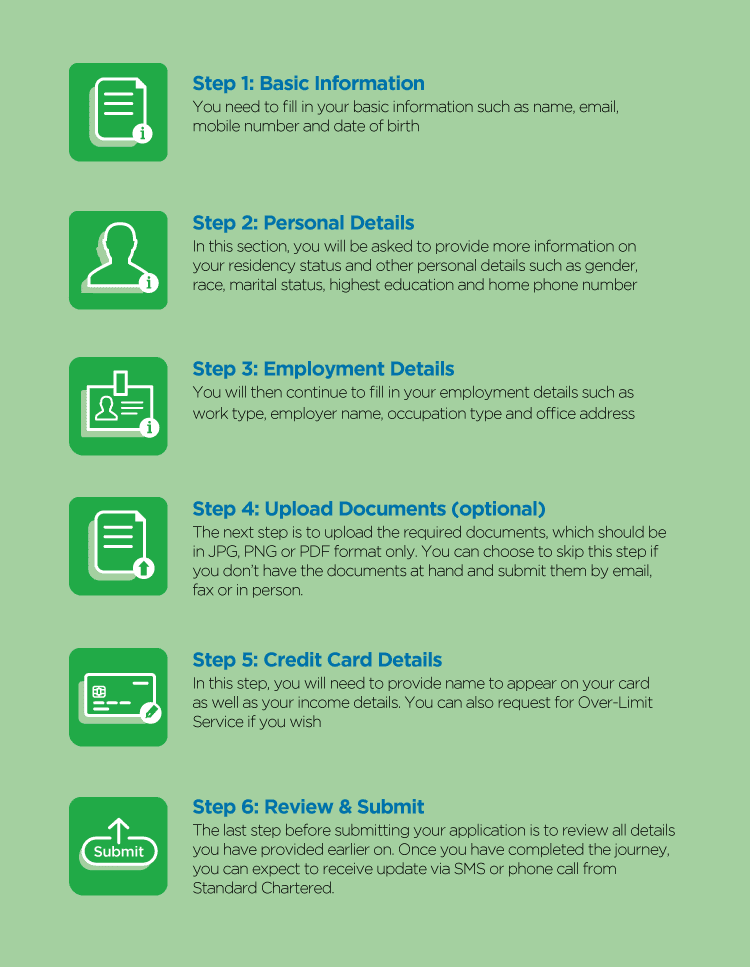 Standard Chartered Credit Card Malaysia: Rewards and Travel
Earn 360°Rewards Points by spending minimum RM1 with Standard Chartered Visa Platinum and Standard Chartered Platinum MasterCard Basic credit cards on selected spending categories, locally and overseas. Check your Standard Chartered credit card point balance on your monthly statement or call Standard Chartered 24-hour Phone Banking Hotline at 03 7718 9999.
You will be spoilt for choice with the Standard Chartered card rewards program as you can redeem your points with a wide variety of gifts. You can control the flexibility of your credit card point redemption by combining points with cash payment if you want to save your points for another big-ticket item purchase.
That's not all, you can also redeem your points with air miles from your favourite airlines that are partnered with Standard Chartered. Better yet, get yourself a travel credit card like the Standard Chartered WorldMiles World MasterCard to collect and redeem WorldMiles directly.
Standard Chartered Malaysia Credit Card: Cashback
Maximise your monthly spending on petrol or any retail transactions with Standard Chartered cashback credit cards. The Standard Chartered JustOne Platinum MasterCard and Standard Chartered Liverpool FC Cashback will let you enjoy high cashback rates that will bring you even more value and savings.
You can choose to redeem your cashback with gifts or have the cash credited back to your account. All you need to do is accumulate a minimum RM100 cashback to redeem for items or convert it to cash.
Standard Chartered Bank Credit Card: Deals and Promotions
Each Standard Chartered credit card comes with a variety of promotional features and benefits that run every month and year. All you need to do is spend on any of your credit cards and you could be rewarded with luxury cars, mobile gadgets, Liverpool FC merchandise, big shopping discounts, and a 1 for 1 offer - with a little bit of luck, there will definitely be something for everyone!
Standard Chartered Bank Malaysia Credit Card: Security Features
Like all secure credit cards, your Standard Chartered card is built in with a secure payment method, known as Personal Identification Number (PIN) to protect you against fraudulent activity. Your online payment is also protected via Verified by Visa or MasterCard SecureCode.
Standard Chartered Credit Card: Balance Transfer Plan
Are you anxious looking at your monthly statement every month with your outstanding balance incurring more interest even after you have partially paid it? Worry no more as your SCB credit cards offer a balance transfer plan at a one-time low interest rate and flexible repayment tenure.
Now, when you sign up for this balance transfer plan, you will save on interest charges and reduce your monthly installment amount. Therefore, no minimum payment is allowed, otherwise, you will go back to paying high finance charges of up to 18% p.a.
Standard Chartered Credit Card: FlexiPay Plan
An easy payment plan gets you the product or service that you have been craving for a long time by just converting the purchase amount made via your credit card into smaller monthly installments at flexible repayment period.
The minimum amount to be converted is RM500 and you need to apply for Standard Chartered FlexiPay Plus within 30 days from the date of your transaction to enjoy a flat and low interest rate.
How to Apply for Standard Chartered Credit Card Online?
Anyone can apply for a Standard Chartered card online in Malaysia here on Ringgitplus, provided that you meet the minimum requirements such as follow:
Hold a valid identity card such as MyKad or Passport
Earn a minimum income of RM24,000 per annum
If you have both requirements ticked, then you should be preparing these documents before making your way to the online application form:
For salaried employee:
Latest 1-month salary slip, 6-month salary slip for commission earner
Latest 1-month bank statement
Latest EPF statement, or
Latest Borang BE (full submission to LHDN)
For self-employed:
Latest 6-month bank statement
Business Registration Certificate
Form 9, 24, 49
Latest Borang B / BE (full submission to LHDN)
Standard Chartered may request for additional documents at its absolute discretion if your assessment did not meet the requirement.
Best Standard Chartered Credit Cards Malaysia: