Overview of Standard Chartered Credit Cards in Malaysia
Catering to reward seekers, cashback lovers and avid travellers, get the best of both worlds: an international credit card brand with global and local benefits.
Standard Chartered Credit Card Campaign FAQs:
For a limited time only, qualified applicants of eligible Standard Chartered credit card(s) will get a free sign-up gift of either the following:
Apple iPhone 15 Pro (For every 20th qualified applicant based on the bank's approval list, capped at 10 units)
Apple AirPods with Charging Case (Guaranteed)
This campaign runs from 27 November 2023 to 4 December 2023, subject to the campaign's terms and conditions.
Who is qualified for this promotion?
This campaign is open to new customers only. Existing principal/supplementary cardholders(s) and those who have cancelled their Standard Chartered credit card(s) within 12 months before the flash deal application are not eligible.
How to be eligible for the free gift?
Apply, get approved by Standard Chartered, subsequently activate the new card and make at least 8 retail transactions with a minimum of RM800 as the sum of these transactions within 60 calendar days upon the approval date.
Which credit card(s) can I apply for?
You can apply for:
Standard Chartered Simply Cash Credit Card
Standard Chartered Smart Credit Card
Standard Chartered Journey Credit Card
Standard Chartered Visa Platinum Credit Card
Where can I reach out to you for more information?
For any questions, please get in touch with us via email at [email protected]. We're happy to help!
---
Standard Chartered Credit Card Application Journey
You can apply for a Standard Chartered credit card online through 2 simple steps: (1) RinggitPlus WhatsApp Chatbot, then (2) Standard Chartered Digital Form.
On the RinggitPlus WhatsApp Chatbot, you are required to provide your IC (front and back) to proceed with a credit check and card selection.
Next, you will be redirected to the Standard Chartered Digital Form to complete the application via these six steps: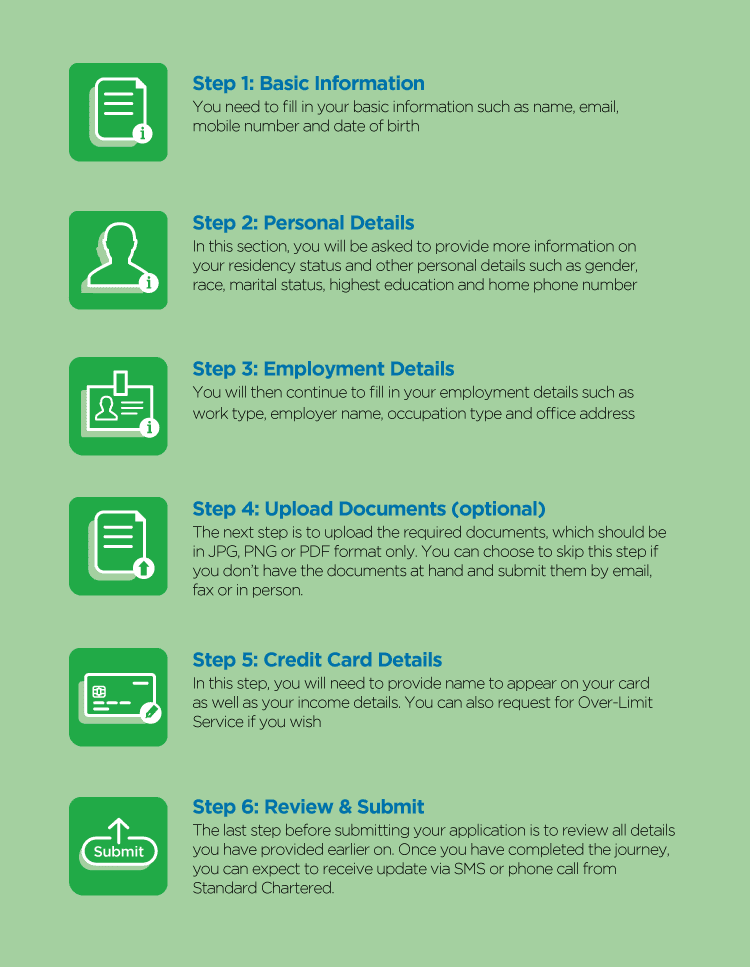 Standard Chartered Credit Card Malaysia: Rewards and Travel
Earn 360° Rewards Points with Standard Chartered Visa Platinum and Standard Chartered Platinum MasterCard Basic credit cards. 
Check your card point balance on your monthly statement or by logging into SC Online Banking.
You will be spoilt for choice with the rewards program as you can redeem your points with a wide variety of gifts. 
You can control the flexibility of your credit card point redemption by combining points with a cash payment if you want to save your points for another big-ticket item purchase.
That's not all, you can also redeem your points with air miles from your favourite airlines that are partnered with Standard Chartered credit cards in Malaysia. 
Better yet, get yourself a  travel credit card like the Standard Chartered Journey Credit Card to collect and redeem Miles directly.
Get Cashback with a Standard Chartered Bank Credit Card
Maximise your monthly spending on petrol or any retail transactions with Standard Chartered cashback credit cards. 
The  Standard Chartered Simply Cash Credit Card and Standard Chartered Smart Credit Card will let you enjoy up to 15% cashback which will bring you even more value and savings.
You can choose to redeem your cashback with gifts or have the cash credited back to your Standard Chartered Bank credit card account.
Standard Chartered Credit Card Promotion
Enjoy a variety of Standard Chartered credit card promotions all year long with The Good Life Privileges!
Each Standard Chartered credit card also comes with its own promotional features and benefits.
Security Features of Standard Chartered Malaysia Credit Card
Like all secured credit cards, your Standard Chartered card is built in with a secure payment method, known as a Personal Identification Number (PIN) to protect you against fraudulent activity. 
Your online payment is also protected via Verified by Visa or Mastercard SecureCode.
Standard Chartered Balance Transfer Plan
Are you anxious looking at your monthly statement every month with your outstanding balance incurring more interest even after you have partially paid it?
Worry no more as your SCB credit cards offer a balance transfer plan at a one-time low-interest rate and flexible repayment tenure.
Now, when you sign up for  Standard Chartered Balance Transfer Plus, you will save on interest charges and reduce your monthly instalment amount. 
Therefore, no minimum payment is allowed. Otherwise, you will go back to paying high finance charges of up to 18% per annum.
Standard Chartered FlexiPay Plan
An easy payment plan gets you the product or service that you have been craving for a long time by just converting the purchase amount made via your credit card into smaller monthly instalments at a flexible repayment period.
The minimum amount to be converted is RM500 and you need to apply for  Standard Chartered FlexiPay Plus within 30 days from the date of your transaction to enjoy a flat and low-interest rate.
How to Apply for a Standard Chartered Credit Card?
Anyone can apply for a Standard Chartered card online in Malaysia here on RinggitPlus, provided that you meet the minimum requirements such as follows:
Hold a valid identity card such as IC or Passport
Earn a minimum income of RM24,000 per annum
APPLY FOR STANDARD CHARTERED CREDIT CARD ONLINE - ELIGIBILITY
Age of Principal Cardholder
21 to 65 years old
Age of Supplementary Cardholder
18 to 65 years old
Nationality
Anyone
Income Requirement (monthly)*
*Please note that the minimum income requirement for expatriates might be different.
Documents for Standard Chartered Credit Card Online Application
If you have both requirements ticked, then you should be preparing these general documents before making your way to the online application form.
DOCUMENTS FOR STANDARD CHARTERED CREDIT CARD APPLICATION
Salaried Employee
Self-Employed
✔ Copy of your IC (both sides)
✔ Latest 3 months salary slip OR latest EPF statement
✔ Latest 6 months bank statements
✔ Latest BE Form with an official tax receipt

✔ Copy of your IC (both sides)
✔ A copy of Form 9, 24 and 49 OR Business Registration Certificate
✔ Latest 6 months company's bank statements
✔ Latest B Form with an official tax receipt

Note: Standard Chartered may request additional documents at its absolute discretion if your assessment does not meet the requirement.
Best Standard Chartered Credit Cards in Malaysia 2023:
Get rewarded with up to 15% cashback every month on Petrol, Ewallet and Groceries plus Dining spend.
Enjoy 0% instalments over 3 months on any purchase above RM500. This in-trend credit card rewards you with 6% cashback on your digital lifestyle spending too.
Earn 5x rewards points each time you swipe on dining, department stores, and overseas purchases. Spend a minimum of RM1,500 a month to get an extra 5,000 bonus points.
Enjoy a faster way to earn AirMiles and great travel privileges such as unlimited Plaza Premium Lounge access, complimentary airport ride transfer, travel medical coverage and more with the Journey Credit Card.
A credit card for beginners that waives the annual fees for life and gives reward points for every Ringgit spent. To manage your finances right, you need to begin right.