What is a petrol credit card?
A credit card for petrol is basically a petrol cashback card or a petrol cash back credit card – in other words, a credit card that gives you cashback specifically for petrol. 
Malaysians spend a lot of their time on the road, and petrol credit cards go a long way towards saving some money from our monthly petrol expenditure.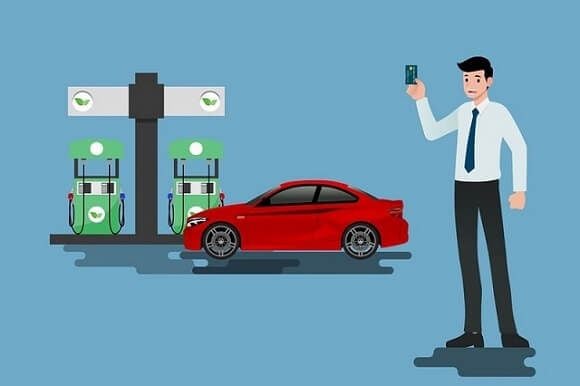 Petrol price in Malaysia - lessen your burden with a petrol credit card!
For anyone who often drives to work, fetches your children from school, or whenever you're out and about, it strains your wallet as you have to fuel your car constantly. 
And with the hefty petrol price in Malaysia nowadays (not including other expenses such as tolls), it's a no-brainer that you find yourself stressed about your daily expenses.
According to our weekly petrol price updates, the petrol price in Malaysia has remained the same for RON95 and Diesel since 2018. 
Due to the significant price changes within the global market, our government has no choice but to implement weekly petrol prices instead.
So for our reader's easy reference, we include the recent updates on petrol price Malaysia here. 
Do bookmark this page so you can refer to it from time to time.
[Updated: 23 June 2022]
RON95: RM2.05 / litre
RON97: RM4.84 / litre
Diesel: RM2.15 / litre
Now that you're well informed about the petrol prices, have you thought about getting a petrol credit card? 
This type of credit card can significantly help you save a good amount of money on fuel every month. 
Let's take a look and compare some of the best petrol credit cards in Malaysia below.
What is the best petrol credit card Malaysia has to offer?
As a petrol rebate credit card is essentially a cashback credit card, you should take into consideration the same factors as an ordinary cash back credit card when choosing the best credit card for petrol.
Check the amount of credit card petrol rebate you get, the monthly cap, and whether you need to pump on certain days of the week to determine what is the best petrol card Malaysia.
You should also be aware that some of the best credit cards for petrol in Malaysia are specific to certain petrol stations, which is why you hear of cards being referred to as a Petronas credit card, Petron cashback credit card, and so on. 
For example, the Maybank Islamic Petronas Ikhwan petrol cashback credit card gets you 8% cashback on weekends on any Petronas spend. 
Similarly, the Public Bank Petron Visa Gold gives cashback from 0.5% up to 5% on your weekday and weekend spending at Petron service station.
Best Petrol Credit Cards

 

Highest cashback rate
8% cashback on Weekends only with a total monthly spend of RM500 and above
8% cashback on Weekends only with NO minimum spend
5% cashback with a total monthly spend of RM801 and above
Highest cashback amount
RM15 per month
RM50 per month
RM50 per month
Max spend to earn highest cashback amount
RM225 per month
RM625 per month
RM1,000 per month
Eligible spend to earn highest cashback rate
Fuel spend at all petrol stations

Fuel and non-fuel spend at Petronas only
Fuel and non-fuel spend at Petron only
Eligible Cardholder(s)
Principal and Supplementary
Principal and Supplementary
Principal and Supplementary
If you don't fancy limiting yourself to one petrol station only, get a credit card for petrol that offers cashback for general petrol expenditure.
Regardless of which brand of petrol you prefer, there is always an option for you to look at. 
If you don't have an option on the petrol brand of your choice, then you can always opt for a non-partnered card and still get Cashback or Rewards when you refuel your ride.