Best Personal Loans in Malaysia 2019
Everyone has goals to achieve in their lives and a lot of times, they require money to kickstart the journey. We can gain money from any means possible such as employment, selling of products or services, own savings, as well as loans.
Some people are lucky enough to fund their goals with one or more combinations of the above methods. But, what about others who has limited options or whose limited options are not viable?
Oftentimes, they shy away from the last option, which is loan. If we look at this objectively, applying for a personal loan is practical for several reasons.
While it has some level of risks, but those can be avoided when managed prudently. Let's dive right into what can you get from a personal loan application.
>>What are the Types of Personal Loan Available in Malaysia?
>>When Should I Get a Personal Loan?
>>Debt Consolidation: Personal Loan vs Balance Transfer
>>How Do Banks Decide to Approve or Reject My Application?
>>Will My Credit Score Affect My Personal Loan Application?
>>How Do I Apply for a Personal Loan in Malaysia?
>>What are the Documents Required to Apply for a Personal Loan?
>>Frequently Asked Questions About Personal Loan


What are the Things to Look Out for When Applying for a Personal Loan?
All the financial terms and jargon can be intimidating and often overwhelming. Let us help you with some or a few common personal loan terms which could get you some relevant and important information.
Here are some commonly used terms in personal loans:
Per annum (p.a.)– The amount of interest rate you will be charged per year for the duration of your loan. For example a RM10,000 loan at 11% p.a. stretched out over five years will amount to RM5,500 in interest charges. This means you will have to pay back RM15,500 in the course of five years. The longer it takes to settle your loan, the more you will have to pay.
Principal– The initial amount of money that you loaned. Going by the same example above, the principal amount would be RM10,000.
Tenure– The period of time you are expected to pay back your loan in full. The longer your tenure, the more interest you have to pay.
Installment– The amount you have to pay each month. This is calculated based on the principal plus interest divided by the number of months in your tenure.
Default– In banking terms, it means that a person has failed to pay their monthly installments. This is a scenario we want to avoid.
Penalties– In the event that you are unable to make your monthly installments, you will be penalized with additional charges. Most banks apply a 1% penalty but always check beforehand!
What are the Types of Personal Loan Available in Malaysia?
There are two types of personal loans in Malaysia:
1. Secured Personal Loans
These personal loans are backed with a guarantor or collateral in the form of a fixed deposit account, property or unit trusts attached. This is to serve as another layer of security should the loan applicant fail to make repayments.
In such circumstances, the bank has the right to seize the collateral or shift responsibility of repayment to the guarantor. Secured personal loans cater to applicants who do not have a good credit history, but it can also be used to secure lower interest rates on personal loans.
2. Unsecured Personal Loans
A more common type of personal loan which does not require the applicant to pledge any collateral or guarantor. Unsecured personal loans are generally for people who need cash in advance and urgently.
Therefore, the application and approval process for unsecured personal loans is generally faster. While it's convenient, unsecured personal loans come with higher interest rates.


Which One is the Best Personal Loan for Me?
It depends on where you stand financially and how urgent you need the cash. If you require emergency cash to foot a huge unforeseen bill and you are confident that you're able to pay it back in the next couple of years, an unsecured personal loan is your best bet.
But if it's to purchase something you can't afford, taking a personal loan is not only unwise but rather irresponsible.
Apart from personal loans, there are other categories of loans you can apply for if you want to make a big purchase such as a house or car. This way, you don't have to dig deep into your savings, which can be used for more fruitful investments.
---
Debt Consolidation: Personal Loan vs Balance Transfer
When you have multiple debts of different sizes, banks, due dates, tenures and interest rates, it can be a strenuous task to keep track with the repayments.
A debt consolidation loan is great for managing multiple outstanding debts. For instance, you can consolidate more than one credit card debts of RM15,000 and a personal loan debt of RM10,000 into one RM25,000 loan.
By combining your debts into one loan facility, you can simplify repayment at your comfort level. With a lower interest rate and longer tenure, you can pay lower monthly installments and have more disposable income.
In terms of considering the type of debt consolidation loan, you will commonly be presented with two options - personal loan or balance transfer. Although they both have competitive interest rates, however, they work differently.
Let us help you out with the comparison:
[Last Updated: 21 November 2019]

Debt Consolidation: Personal Loan vs. Balance Transfer
Criteria
Hong Leong Personal Loan
Hong Leong Balance Transfer Programme

Interest Rate
5.50% - 6.50% p.a.

6.99% p.a.

Loan Repayment Period
24-60 months 

6 - 12 months

Loan Amount
5.50%: RM5,000 to RM49,000
6.50%: RM50,000 to RM250,000

from RM1,000 up to max credit limit

Debt Type
Loan & Credit Cards
Credit Cards Only
Scenario: Personal Loan vs. Balance Transfer
Criteria
Hong Leong Personal Loan 


Hong Leong Balance Transfer Programme

Interest Rate
5.50% p.a.

6.99% p.a.
Maximum Loan Repayment Period
60 months

12 months

Loan Amount
RM5,000
RM5,000
Monthly Repayment

RM106.25

RM445.79

Total Payments (including interests / profits)
RM6,375
RM5,349.50
Total Interests / Profits Paid
RM1,375
RM349.50  

Comparison Notes: Personal Loan vs. Balance Transfer
Criteria
Hong Leong Personal Loan

Hong Leong Balance Transfer Programme

Interest Rate
Lower @ 5.50% p.a.

Higher @ 6.99% p.a.

Loan Repayment Period
Longer
Up to 5 years

Shorter
Up to 1 year

Monthly Repayment

Very low, monthly repayment spaced out over a longer period of time. The lower repayment amount of RM106.25 is more affordable and realistic to commit to every month.
High, prevailing credit card rates will also apply if fail to fully settle repayment. The high repayment amount of RM445.79 keeps you from having extra disposable income every month.
Once you have decided to opt for personal loans, check out our reviews on some of the best personal loans in Malaysia.
---
What's the Difference Between Islamic Loan and Conventional Loan?
| | |
| --- | --- |
| Islamic Loan | Conventional Loan |
| Islamic loan is governed and regulated by Bank Negara Malaysia and Shariah Advisory Council of Bank Negara Malaysia (SAC) | A conventional loan is governed and regulated only by Bank Negara Malaysia |
| Avoids interest-based transactions by buying something on the borrower's behalf and selling it back to the borrower as profit | Lenders lend some amount to the borrowers and make profits by charging interest rates from the loan amount |
| Any individual can apply for the loan except those whose occupations are not deemed "halal" (i.e. gambling, alcohol-related business) | Any individual can apply for the loan |
| The bank must bear some risk to earn returns | Borrowers bear all risk of the loan |
| Low late payment charge (based on the Ta'widhconcept with a maximum rate of 1% per annum) | Higher late payment charge (the bank can charge compounding additional interest) |
| The bank can't cancel the contract at its sole discretion | Under certain situations, the bank can cancel the contract at its sole discretion |
Personal Loan Interest Rates and Comparison Table
| | | | | | |
| --- | --- | --- | --- | --- | --- |
| Bank | Interest Rate  | Minimum Monthly Income | Loan Amount | Borrowing Period | Can Government/GLC apply? |
| KOWAMAS | 3.99% (flat) | RM1,500 | RM3,000 - RM200,000 | 24 - 120 months | Yes |
| RHB | 4.50% p.a. (flat) | RM2,000 | RM2,000 - RM200,000 | 24 - 120 months | Yes |
| Al Rajhi Bank | 4.99% p.a. (flat) | RM5,000 | RM10,000 - RM150,000 | 24 - 96 months | Yes |
| Affin Islamic Bank | 5.50% p.a. (flat) | RM2,500 | RM2,500 - RM150,000 | 24 - 120 months | Yes |
| Citibank | 5.88% p.a. (flat) | RM4,000 | RM5,000 - RM150,000 | 24 - 60 months | No |
| Bank Islam | 5.99% - 8% p.a. (flat) | RM2,000 | RM10,000 - RM200,000 | 12 - 120 months  | Yes |
| HSBC Amanah | 6.00% p.a. (flat) | RM5,000 | RM6,000 - RM120,000 | 24 - 60 months | No |
| KFH | 6.00% p.a. (flat) | RM3,000 | RM5,000 - RM250,000 | 24 - 120 months | No |
| CIMB | 6.88% - 14.88% p.a. (flat) | RM2,000 | RM2,000 - RM100,000 | 24 - 60 months | No |
| AEON Credit Service | 7.92% p.a. (flat) | RM2,000 | RM1,000 - RM100,000 | 6 - 84 months | Yes |
When Should I Get a Personal Loan?
You may need to apply for a personal loan in different phases of your life. Here are a few life stage scenarios in which applying for a personal loan will help you financially.
I am a working student and interested to further my studies.
Taking up a personal loan for prospective working students makes the most sense since there is a requirement of a minimum annual income.
You are free to choose whichever course to enroll in at many universities. Having said that, the course should be accredited and the university is a reputable one.
Bank disbursed the full borrowing amount to you at one go, so you can plan out the payment of your fees. Do also remember to set aside some funds for other expenses such as books, transportation as well as visa and flight tickets (if you are studying abroad).
I am recently engaged and want the wedding of my dreams.
Congratulations! Wedding expenses are expensive but because it's a once in a lifetime event, many are willing to pay extravagantly for the wedding of their dreams.
Personal loan comes with flexible repayment, which gives you the flexibility for any fine-tuning on your budgeting. On top of flexible repayments, personal loans can be affordable with relatively low-interest rates and long repayment terms.
I am buying my first home and there is some renovation work to be done.
A down payment is required for you to secure a property you are eyeing on. You may not have enough in your savings account and you don't want to miss the opportunity in buying the perfect home, hence a personal loan is a mighty solution for you.
As mentioned, banks give you your borrowing amount in one lump sum so it is up to you on how you want to spend them. Set aside budget with a little extra for your home renovation and interior design.
Okay, now I have multiple debts. I want to consolidate my debts into a single loan.
Debt consolidation is best for those who have multiple debts on credit cards, car loan and home loan with different repayment terms and interest rates.
Using a personal loan, the bank will buy and combine all your existing debts from other creditors into one separate single loan and in exchange, you will only have to repay one total amount with one repayment period to only one bank.
This simplifies debt repayment for you and on top of that, you get to build good credit by being a good paymaster (someone who pays monthly instalments on time).
Also, because debt consolidation spreads out your total repayments over a longer period, the interest rates are lower. With that, you are able to have some savings especially when your other debts have higher interest rates.
A good example would be that credit cards' interest rates are typically between 15% - 18%, while personal loan interest rates can be significantly lower.
I am expanding my business.
Sometimes you will require extra capital especially when your business is expanding and cash flow is interrupted. Getting a personal loan with easy application and at affordable rates is a great solution to help you out.
Besides, a personal loan is typically an unsecured loan which means that you do not need a guarantor or collateral for your loan. So in an unforeseen event that you default on repayment, you won't risk burdening a relative or a friend and losing an asset.
I need extra cash for an emergency.
In an unfortunate event where there is a medical bill where you have to pay first, a fast approval loan is perfect. There are personal loans that can be approved and disbursed within 24 hours to 72 hours.
Do keep in mind that fast loans also come with big risks due to high-interest rates with shorter repayment tenure, plus some loans are attached to collaterals. Banks place important on whether can commit to monthly repayment. So should you suddenly face difficulties in repayment, work it out with the bank for a new agreement.
I would like to fulfill my bucket list in traveling the world.
While opting for a personal loan to fund your travel is not the best solution, it is still an option nevertheless. The money disbursed to you ultimately belongs to you and you have the freedom to decide how to spend it.
Ensure that you do your research when shopping for personal loans, and select one where the repayment terms are most affordable for you. Your travel budget should include paying for travel insurance to avoid forking out more money for any travel mishaps.
How Do Banks Decide to Approve or Reject My Application?
Banks place high consideration on whether you can repay the debts by using a debt service ratio. Debt service ratio basically determines the amount you can borrow.
Here's how to calculate debt service ratio:
Total Monthly Expenses / Total Monthly Net Income x 100% = Debt Service Ratio
Best chances of personal loan approval = Below 60%
---
Example:
Total Monthly Net Income: RM5,000
Total Monthly Expenses: RM3,000
Based on the calculation above, your debt service ratio is 60%.
---
To increase the possibility of loan approval, net income has to be significantly higher than expenses every month.
Hence, banks also consider your credit history when reviewing your loan application. A credit history shows a record of your debt repayment, which indicates your ability to commit to repayment.
Your credit history can be found in your credit report provided by Bank Negara Malaysia which reveals greater insights into your spending habits.
To determine an individual's credit-worthiness for loan eligibility, banks also refer to the Central Credit Reference Information System (CCRIS) which is managed by the Credit Bureau of Bank Negara Malaysia. The credit report provided by CCRIS contains all credit information from all financial service providers in Malaysia.
The other credit report that banks use is by CTOS Data Systems Sdn Bhd (CTOS) which is privately managed and they collect your information from public sources.
The main information derived by the credit report generated by CTOS is your credit score.
Will My Credit Score Affect My Personal Loan Application?
Yes, credit scores are decision-making tools that play a role in helping banks decide whether you are qualified for a personal loan.
A credit score is a 3-digit numerical rating where a good credit score can increase your chances of getting a loan approved with better interest rates and faster loan approval.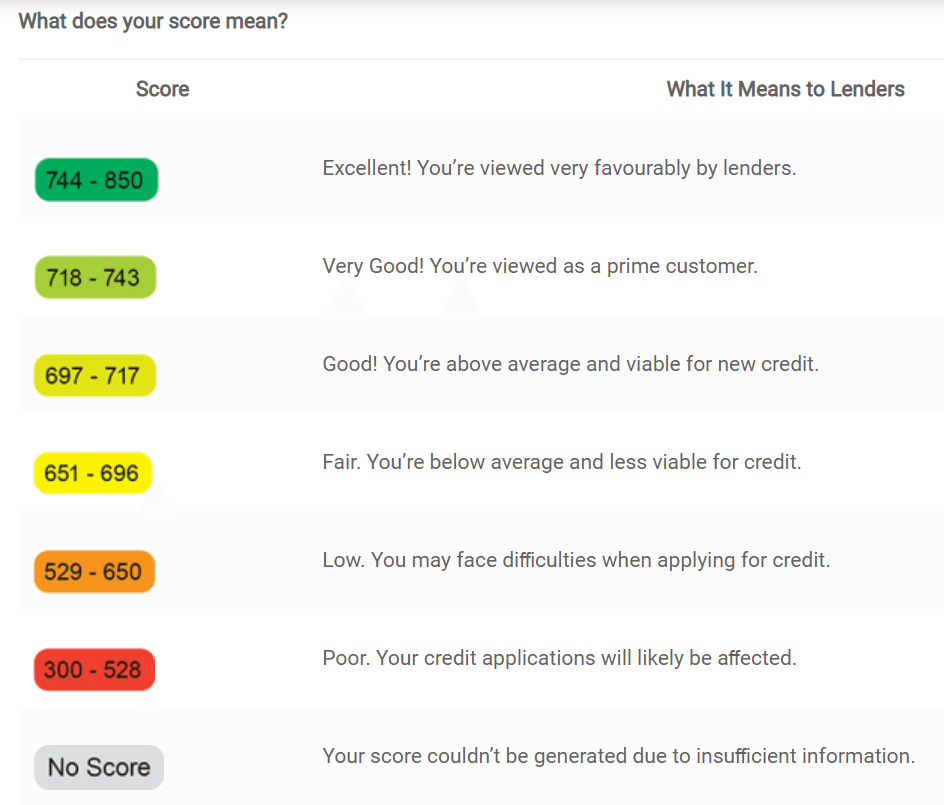 Source: CTOS
The credit score is calculated based on the information provided by CCRIS and CTOS. There are five factors that make up your CTOS credit score: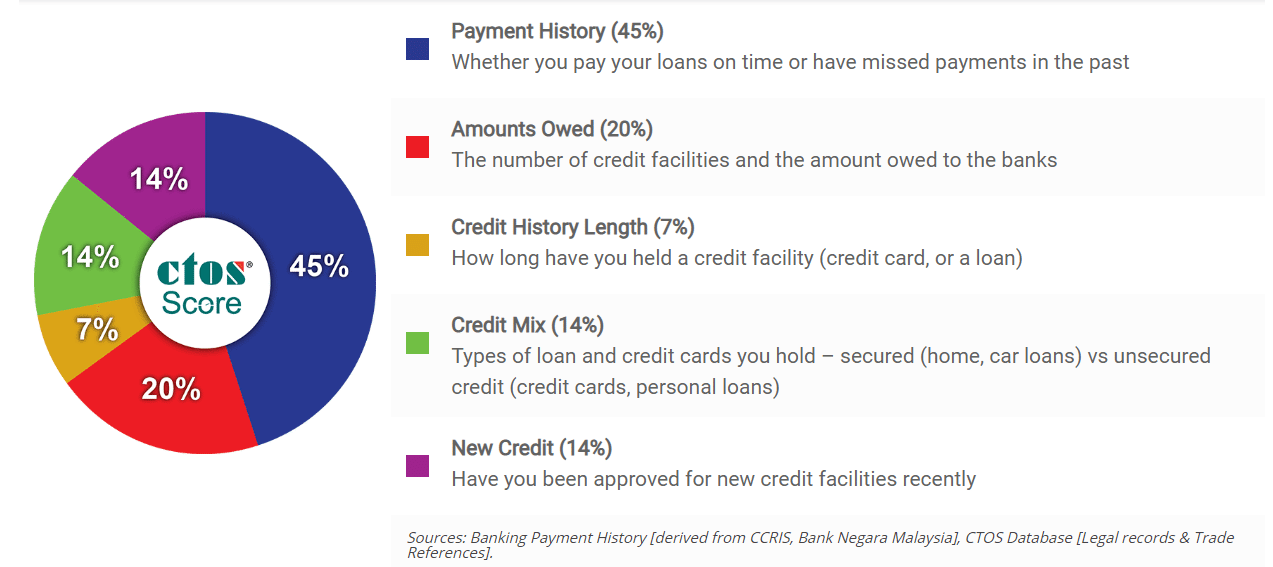 Having a poor credit score is not the end of the world. To rebuild your credit score, start making repayments on credit cards, loans and bills on time. Secondly, keep your Debt Service Ratio low by keeping your debts more than 60% lower than your expenses.
Will a personal loan affects my home loan application?
Whether it is loans or credit cards, any outstanding balance in your existing facility(s) can affect your credit standing. A poor credit standing will lower the chances of approval if you are considering applying for a housing loan. When a bank assesses a loan application, they will likely go with applicants who are financially healthy.
How many personal loans can I apply?
There is no limit to the number of personal loans you can apply; it is best to keep your options open. Keep in mind that banks will look into many factors before stamping approval on your loan applications.
Factors such as credit score, monthly net income, debt repayment habits and debt servicing ratio are part of their due diligence process on your credit profile. If your Debt Service Ratio is too high, your subsequent loan application will most probably be rejected.
How does a joint loan work?
People opt for a joint loan when the primary borrower is unable to meet the minimum ratio of debt servicing on their own. In this sense, a secondary applicant is required to share the responsibility, and will be accountable for the full repayment too.
However, a joint loan is an uncommon situation in a personal loan application. Banks will usually require a guarantor for applicants who did not meet the minimum requirements. Like a joint loan, the burden of repayment will fall on to the guarantor if the primary borrower is defaulted or delinquent.
Another way to apply for a personal loan is to go for a secured personal loan, where you only need to securitize a collateral on your loan. This collateral will serve as a layer of security should you delinquent or defaulted on your repayment. As such, the bank has the right to seize the collateral to compensate for the outstanding balances.
Which Bank is Easier to Get Personal Loans in Malaysia?
The success rate of your personal loan application is depending on a few things such as your monthly income, credit score and ability to repay the loan on time.
For example, if the amount of your monthly repayment consumes a big portion of your monthly income, it would create doubts that you're able to repay the loan.
Our loan calculator will help you find out how much you should pay every month from your personal loan. As a result, you can estimate the success rate of your personal loan application,
Another way to get easy loans is to apply for fast approval personal loans which typically approve your application in 24 hours to 3 working days, such as RHB Easy-Pinjaman Ekspres, CIMB Xpress Cash Financing-i and Hong Leong Personal Loan.
How Do We Use the Loan Calculator?
Let our loan calculator helps you to get instant information about your monthly repayment. Simply fill the amount of personal loan that you want to borrow, your monthly income and your preferred tenure.

*Loan calculator of bank Rakyat Personal Financing-i for Pensioner
How Do I Apply for a Personal Loan in Malaysia?
It's always a relief when there's emergency cash whenever a large unexpected bill comes in.
Hence banks are realising the needs for having competitive interest rates, fast approval loans with minimal paperwork required to speed up your personal loan application process.
If you are planning to apply for a personal loan in Malaysia, here are a few things that will help you to compare and apply for some of the best personal loans Malaysia has to offer.
Personal Loans Application procedure:
There are various options available when applying for a personal loan but the method may differ from bank to bank.
Walk-in– If you prefer face-to-face interaction, you can simply walk into the bank and ask about personal loan applications. Do remember to bring along your MyKad and income slip.
Banks usually offer customers with fast approval personal loans that require little documentation for your convenience's sake.
Phone-in– Some banks provide personal loan application via phone banking. In the phone call, you will be given a set of easy instructions to follow on how to go about your application.
The bank would then email or mail you (your preference) the application form along with the request for copies of required documents needed for the personal loan application.
Online application– You can apply here on Ringgitplus and let us do all the work for you.
What are the Documents Required to Apply for a Personal Loan?
To smoothen the process of your loan application, make sure that you've compiled all of the required documents. Depending on the bank, the required documents will differ from one bank to another but you can find the general information below.
Documents
General Loan Application
Loan Application for Salaried Individuals
Loan Application for Self-employed
Loan Application for Senior Citizen/Pensioner
Application Form

Valid proof of ID / Passport

.
Photo (passport size)
.

.

Resident proof

Income proof
- Latest 3 months salary slip
- Form 16
- Latest 6 months
- 1 year bank statement
- Latest 3 months salary slip
- Form 16
Latest 2 years income tax returns
Pension returns or bank statement
Others
.
- Current working contract
- Payment track record & sanction letter (for any existing loan)
- 3 Years salary statement/shop establishment
- Documents to prove office address and ownership (i.e utility bill)
.


After Application
There are multiple ways your approved loan will be disbursed to you. Some banks may require that you open a savings account with them (if you don't already have one). While some banks will pass you a cheque or do an interbank Giro transfer.
How long is the wait? Some banks offer on-the-spot disbursement, while other banks promise a same-day disbursement. However, most banks can take anywhere between 1-14 working days.
Don't be disheartened when your personal loan application is rejected. There are plenty of other banks offering personal loans with competitive rates.
Apply for a few other banks when you're starting on your personal loan applications!


5 Questions to Ask Yourself Before Applying for a Personal Loan
Personal loans are a good way to get quick cash for whatever you may need it for. But for many, the need may come urgently where they are too hurried to pay much attention to the terms and conditions.
The good thing about personal loan products is that they are almost similar in features.
Before signing the Letter of Offer, make sure you ask yourself and the bank five salient questions about the personal loan which you are about to commit.
#1: Is a personal loan necessary?
First, ask yourself if you really need to apply for a personal loan? As they come with several fees and charges, on top of high interest rates, consider if there is another option besides a personal loan at present. Can you use your savings? Is it possible to pay with a credit card? Would a credit card balance transfer help?
If you have truly exhausted every possible option to obtain fast cash other than a personal loan, then you will need to consider the technicalities of a personal loan once you get down to it.
#2: Do I need a security/particular relationship with the bank to qualify?
Depending on the loan products with the bank in question. Some easy personal loans require a fixed deposit, investment fund or unit trust as collateral, while some only need a guarantor.
You may also come across other prerequisites such as lower income,low interest rate and fast approval. There are also loans for civil servants or government-linked company workers.
Take your time and do your research to find the best personal loan for you.
#3: How much interest will I be paying?
Anyone applying for a personal loan is usually for a longer period of time and thus, it will be important to consider how much interest you will be paying for the duration of the loan.
Unlike credit card interest charges, personal loan interest rates are always set against the principal amount – that means the rate is fixed for every year of the loan tenure.
So the longer the tenure, the more you interest you'll end up paying.
New Bank Negara guidelines have reduced tenures of personal loan financing to a maximum of 10 years. However, most loans to non-government sector employees are not affected as tenures are usually capped at 7-8 years.
Even at this number, the level of interest paid for a 6-year loan can be extremely high.
Here's an example of a loan amount of RM10,000 with a 9% p.a. interest rate with varying tenures:
Rate: 9% p.a.

Loan amount: RM10,000

Tenure

24 Months

48 Months

72 Months

Principal repayment

416.67

208.33

138.89

Interest payment

75

75

75

Monthly repayment amount

491.67

283.33

213.89

Total interest paid

1800

3600

5400
Since the interest charge is calculated based on the principal amount, you will be charged the same amount of interest every year no matter how much of the principal you've repaid.
As illustrated above, the interest charged on a six-year tenure for a RM10,000 loan is more than half the borrowed amount – even though the monthly repayment between 4 and 6-year tenures differ by only a small amount.
When doing a personal loan comparison, you can make your life easier by using a personal loan calculator to see the final amount to be paid. There are many personal loan calculators in Malaysia that you can find online, including ours in our Personal Loans page.
You simply need to input your monthly income and the amount you wish to borrow – we'll do the rest and show you all personal loans that you can apply for, and what's their individual interest rates.
Even the best personal loan rates will rack up a large amount if you opt for a long tenure. Keep this in mind the next time you are considering a personal loan!
#4: How much should I repay every month?
Looking at the interest charged above, if you can afford to repay your loan quickly, it would be highly recommended to do so. Consider all commitments and find a figure you'd be comfortable with.
However, if the minimum is all you can afford to repay, it will be inevitable to choose the longer repayment schedule: paying more interest but with a lower risk of defaulting.
#5: What other fees and charges will I incur?
Many are shocked to find that the disbursed loan amount is lower than what they had applied for after deducting the bank's "fees and charges".
If you were to apply for a loan at exactly the amount you need, the shortfall may cause some inconvenience.
There may also be penalties for early settlement or late payment. Some banks even require that you take out Takaful insurance on the loan and this will cost you a tiny bit more every month.
Always check the bank terms for one or more of these most common fees and charges:
Processing fee
Stamp duty
Early termination fee
Late payment penalty fee
Insurance fees
Personal loans can become an even bigger burden than any other loan product because of late payment fees and high interest rates. Always consider these four vital points before signing on the dotted line.
Frequently Asked Questions About Personal Loan:
1. Can I apply for a personal loan if my salary is less than RM1500 a month?
There aren't many personal loan options for those earning less than RM1500 a month. In addition, they are usually tied to high interest rates. Minimum income ranges are there for a good reason: to ensure you repay the money you have borrowed.
One way to see if the bank will approve your application is to weigh in your options carefully as a monthly income of less than RM1500 makes it difficult for you to meet your monthly installment payment and budget for living necessities.
2. How much money can I borrow?
There are many factors that will influence the amount of money a bank will allow you to borrow.
The bank will take into consideration your salary, occupation, living expenses, and a host of other information that makes up their credit report.
After all, your personal loan approval depends on how 'attractive' an applicant you are to the bank. You may have a large income but if you have loads of outstanding debts (such as credit cards and car loans) you might be considered a credit risk.
Conversely, having a personal loan may also affect an upcoming home loan application.
Remember that many banks are happier to lend money to people who are existing customers. Check the personal loan interest rates for the bank that manages your current or savings account before you start applying to all the banks in Malaysia, and enquire if you can get preferential rates for a bank personal loan.
You'll never know if you don't ask!
3. Can I take out a loan to settle my existing loans or credit card debt?
Yes, you can. A personal loan is disbursed in one lump sum, leaving you free to do whatever you wish to do with it. Consolidating credit card debt with a personal loan does make sense, and has some benefits.
Not only does it simplify repayment (especially with multiple card debt) into a single amount every month, this injection of funds from a personal loan can free up some income for day-to-day use.
On top of that, given that credit card interest rates can go as high as 18% p.a. on the outstanding amount, you could end up paying less interest with a personal loan – just be careful of the fixed rate and how much interest the loan will charge.
4. Can I apply for a personal loan if I am blacklisted on CCRIS?
You can still apply for a personal loan but whether you receive the loan or not is still dependent on the bank.
If you have a bad record with CCRIS or any other credit checking agency, it's very unlikely that you will be approved. In fact, applying to every bank in Malaysia for a loan might further damage your credit rating.
If you're in trouble with money, the first thing to do is talk to the bank that you have trouble paying.
They would much rather agree on terms that you can manage to pay off your existing loans than to take drastic action against you. If you're staring bankruptcy in the face, talk to AKPK – they can help.
5. Which personal loan is best for me?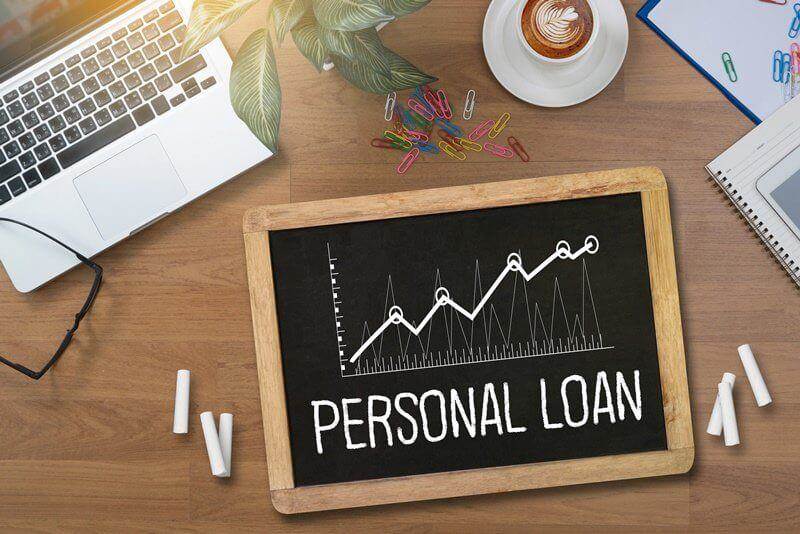 Looking for the best personal loan in Malaysia can be time-consuming if you don't already know what you really need. There are several options of personal loan you can compare and apply on Ringgitplus, depending on your income range, urgency, job sector and personal preferences.
Low Interest Rate Personal Loan
Government or GLC Personal Loan