If you're sending money overseas often enough, you'll definitely want to know how to do it as cheaply, easily and securely as possible. Here's your guide to the available transfers services available right now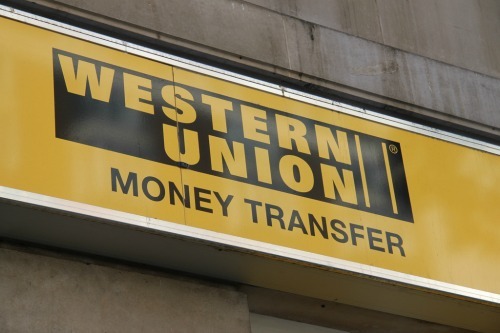 1. Western Union
Since it's a well known brand that many trust and recognize, there's less apprehension using it to send money, especially large sums overseas. However, in most instances you'll need to find an agent location, so it may not be as convenient as other services. You may have the option of making an online transfer via Maybank – Western Union Money Transfer Service (or other participating banks) but you will need to have an online account with the bank first.
One of the benefits of sending money via Western Union whether through an agent or online is that your recipient may be able to collect the money almost immediately. You can also track your transactions and provide many options for recipients to collect the cash (e.g. direct bank-in to their accounts, via mobile wallets or self-collection at agents' office).
The transfer fee range varies by country and amount of transfer which can be as little as RM9 to as much as over RM450 (for transfers above RM8,600 sent to countries in the Americas, Europe and Africa).
2. SuperRemit
This option caters especially for transfers to China, the Philippines and Indonesia. You can send money in real-time and the beneficiary of the funds will not have to pay extra for retrieval. In fact, money will be transferred directly into their account.
Furthermore, those sending money via SuperRemit pays only a flat rate of RM10, RM15 and RM25 for transfers to Indonesia, the Philippines and China, respectively. Note though, there are limits on how much each customer can send per day. To China, the limit is USD3,000, to Indonesia; RM50,000 and the Philippines; PHP100,000. Thus, if you need to send larger amounts, you may have to space out your transfers or look for other options.
You'll have to do this over-the-counter at Hong Leong Bank branches though as no online transfer option exists at present. This is certainly one of the cheapest options, but the drawback is that you can only use it for these three countries.
3. MoneyGram
With this online transfer service you can send money to over 200 countries and what's really helpful is that you can estimate your fees before sending. This will help you compare between agents before you send. Moreover, the service is transparent regarding fees and exchange rates. You also have the option to send money directly to a bank account, mobile wallet or to the nearest agent for your recipient to pick up (depending on transfer destination).
However, do note that you'll have to make payment in cash at an agent's location, thus there is a convenience factor to think about. Still, you should know that the recipient will have access to the funds you've sent within minutes (subject to operating hours and regulations).
4. Opening a Foreign Branch Bank Account
Opening another account with the same bank within different regions will make it easier for you to transfer funds between accounts at a much cheaper rate and save more on exchange rates as well. HSBC Global Transfer and Global View and Citibank offer such a service where premier-level accounts may enjoy waived transfer fees (between accounts).
However, this would only work if you plan to send money repeatedly to one destination only. For instance, if your child or relative is stationed in the UK, you may use a UK bank account to send money to them. The recipient will not have to pay any fund retrieval fees and you can send them money anytime when you activate your online banking facility.
Read Also: Why Malaysians Should Think About Making Money Overseas
5. Foreign Telegraphic Transfers
Sending money through a bank via foreign telegraphic transfers is the most common method and depending on the destination of your transfers, can be a convenient option for one-time transfers. Banks charge a service fee of RM10.60 (including GST) plus a transaction fee that varies by country and bank as well as intermediary bank fees (typically in US Dollars). It's not the cheapest option per se, but you will typically enjoy lower conversion rates. You can do it over the counter and via online bank accounts. What's good about telegraphic transfers is that it is one of the fastest ways to send money overseas, so you can choose this option during emergencies.
Whatever you do, just don't put actual cash money in an envelope and send it via snail mail!
For some of these transfer options, you may need your own bank account or online account. If you don't already have one, discover some of the best personal savings accounts in Malaysia right here on our comparison page!