Overview of Maybank Credit Cards in Malaysia
From AMEX to MasterCard and Visa, Maybank credit cards offer dining and hotel discounts, travel and golfing privileges, petrol and grocery cashback, TreatsPoints and many more - all at zero annual fees!
Maybank credit card is a product by Maybank Bank, the biggest Bank in Malaysia, founded in 1960. There are currently 25 different Maybank credit cards that you can choose from on Ringgitplus, each having its own benefits.
Benefits of Maybank credit cards
The benefits of a Maybank credit card are abundant. For starters, you can enjoy the advantages of swift contactless payment via Visa PayWave or MasterCard PayPass with the contactless Maybank credit cards.
Some Maybank cards are designed to absorb your daily expenses with cashback. You can check out Maybank American Express Cash Back Gold, Maybank FC Barcelona Visa Signature, and Maybank Islamic Petronas Ikhwan Visa Gold Card-i for high to unlimited cashback.
If you like having both cashback and rewards benefits in a credit card, look for Maybank 2 Cards Gold for fresh graduates, or Maybank Visa Signature for an upgrade. Moreover, Maybank cards like the Maybank World MasterCard and Maybank Visa Infinite give you air miles benefits, which you can use to redeem cheaper or even free flight tickets from their favourite airlines.
Travelling is fun - only when everything goes according to plan. Expect the unexpected with grace and calm as Maybank Malaysia credit cards are equipped with a travel insurance protection plan. When you need travel advice, emergency cash, ticket bookings or so on, Maybank premium cardholders can just ring the Visa or MasterCard Concierge Services or AMEX Global Assist for assistance.
Maybank credit card promotion and rewards
Have you heard of Treats Fair? It is an annual event for Maybank principal cardholders to redeem a wide range of rewards items. Even if you miss out on it, the Maybank credit card point redemption program is open all year long, via e-catalogue or on-the-spot redemption. But remember, your TreatsPoints will expire after 3 years, so hurry up and redeem if you haven't.
Well, here is a little something for everyone: food lovers can enjoy up to 50% discount on food and beverages when dining at selected SPG Hotels and Resorts in Malaysia. Meanwhile, avid golfers can practice their swing at discounted green fees at their favourite golf club; whereas frequent travelers have free access to the airport lounge and its facilities.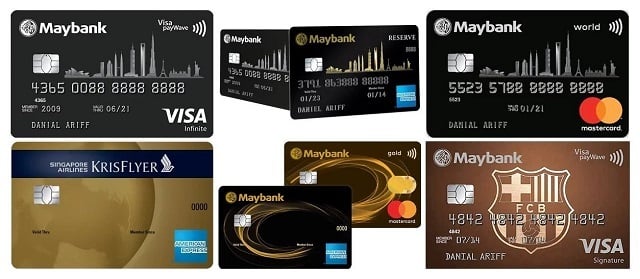 Maybank easy payment plans
With interest rates starting from 0% and repayment period up to 36 months, Maybank 0% balance transfer plan is available for both conventional and Islamic credit cards. Converting your retail purchases into smaller instalments is simple and cheaper with two choices of Maybank easy payment plan.
You can also withdraw money from your Maybank card via Cash Advance, or loan against your card via Cash Treats or EzyCash.
Two is better than one
Get the best of both worlds in a single application: apply for an AMEX and get a complimentary Maybank Visa or MasterCard credit card, with both cards sharing one statement.
There are a tonne of benefits of owning a Maybank 2 Cards, apart from earning cashback and TreatsPoints. You can discover a wide range of exclusive deals, discounts and promotions from shopping, dining, travel to beauty & health, entertainment and credit facilities!
Maybank credit card application
If you're wondering how to apply for Maybank credit card, look no further. Submitting an online application is easy to do and it's easy to check your application status this way as well. Just make sure you fulfill the Maybank requirements and have the prerequisite documents ready at hand.
Compare top 5 Maybank Credit Cards: