For our money, online banking has got to be one of the best inventions of the past century. Banking is such a necessity for everyone, and being able to do it from the comfort of your own home is just so much better. Nobody misses having to go through traffic, find parking, deal with crowds, and waiting for their number to get called up. Online banking is the best.
But as great as it is, doing our banking through the bank's official dedicated mobile app is oftentimes way better. In fact, there might be certain advantages of switching to banking apps that you might not be aware of.
Better Authentication
Whenever you log into you banking website, often it won't just ask you for your password. Before completing any transactions, it's typical for them to ask for authentication by sending you a code to your phone, confirming an answer to a security question, or sending an email to validate your identity.
With a dedicated banking app, this authentication can happen right on your phone. You no longer have to switch between the PC and your device to wait for an SMS code for example. The app can detect it automatically. Even better, apps like the Citi Mobile App by Citibank also provides fingerprint authentication which is both way more secure than passwords, and much faster than waiting for codes.
Better User Experience
Online banking websites are great at what they offer, but the buttons, windows, and text boxes are designed for use with a mouse and keyboard. What this means is that sometimes it can be difficult to navigate to where you want to go. There might be too many things happening on screen or ads to click out of.
But the smaller screen size of a mobile app means a much more economical design and you only see what you need to see. Mobile apps also are put together with a touchscreen in mind, which means navigating is a lot easier. You just need to swipe and tap to get to the right screen. Banking apps also are much more focused on the banking activities you can do, so they often have dedicated icons that take you right to your most-performed banking task.
Your Phone is Always With You
Another thing about using online banking websites is that you need to have a computer with you to access the site. Sure you can use your phone's web browser for this purpose, but sites can load much slower on mobile and you might not get some essential features in the mobile version.
With a mobile banking app, you can check your account balance, do fund transfers, and pay your bills from wherever you have a data connection. You don't have to whip out your laptop or spend time waiting for the mobile version of your bank's website to load.
Better Promotions and Offers
Online banking websites sometimes will show you offers and promotions that you're eligible for. These can be quite handy if you're always on the lookout for good deals. These promotion alerts are even better on a mobile app, though.
Because with apps you can get notified of new promotions even when you're not doing any banking. These promotions can also include deals the bank makes with other apps you already have in your phone, like ridesharing coupons, delivery service discounts, or movie ticket promotions.
Location Services
One thing that banking websites cannot deliver to you at all is location-based services. Since it's usually assumed that a web browser is used by a static machine like a laptop or desktop, having location-based facilities for it would be a bit silly.
But with a banking app that lives in your phone, having the app point out where the nearest ATMs or branches of a particular bank can be very useful indeed. The Citi Mobile App is one such banking app that does this and they also let you view live foreign exchange rates for when you're travelling overseas and in need of local currency.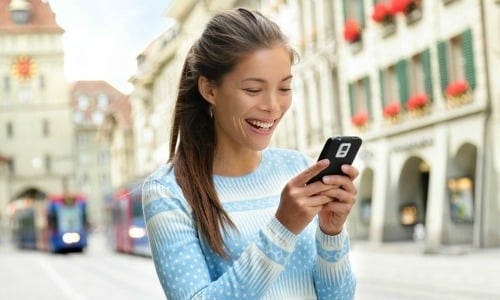 Faster, Safer, and More Useful
While using online banking websites are handy, we think switching to banking apps is a much better way for you to do your banking. It's more secure, you can get more done, and not only do you not need to leave the house, you don't even need to get out of bed. If you're curious about the other great features of the Citi Mobile App, check out their official website right here.