How to check your EPF statement online
Many of us are visual learners, so we at RinggitPlus decided to make a video tutorial on how you can get your EPF statement in 6 easy steps – watch the video below!
All you need is available online
Before making an application for a bank loan or credit card, you'd need to prepare some supporting documents such as a copy of your MyKad, latest salary slips, and EPF statement. You have your NRIC in your wallet, and you'll gleefully find your salary slip on your desk every end-of-month, but how do you get your latest EPF form fast? In fact, how to check EPF account balance?
Usually, you'd have to visit the nearest KWSP centre or EPF kiosks to print it out, but that's a terribly good way to waste your time! Nowadays, you can go on the KWSP website and open an i-Akaun. This lets you check your EPF account balance (from Account 1 and 2), and print out your latest statement. But first, you'd need an activation code to start using your online KWSP account.
How to get EPF i-Akaun Activation Code?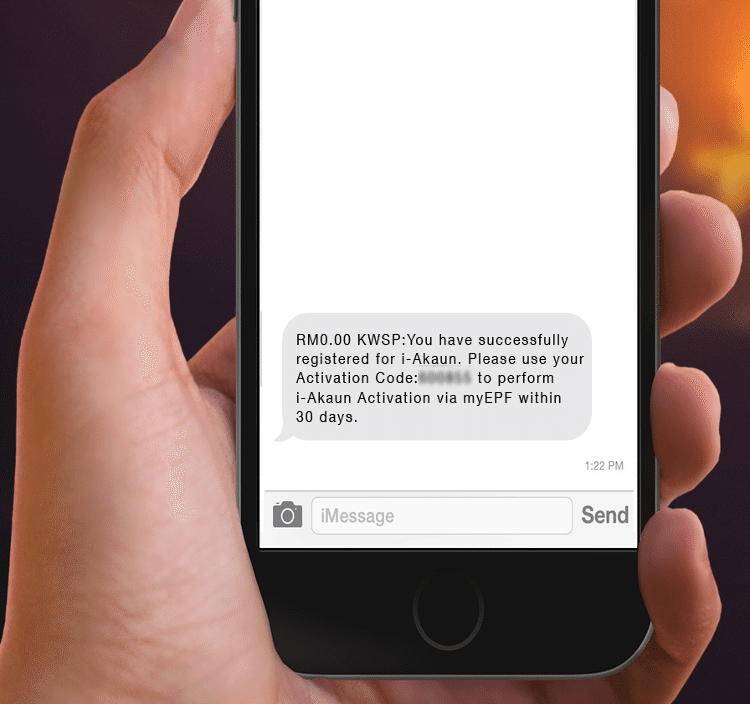 Get an activation code by calling KWSP at
03-8922-6000 and answer a few simple questions to confirm your details. The code will then be sent via SMS once you have confirmed your mobile number. You will then receive an SMS similar to the one on the right.
Alternatively, you can also get your EPF activation code by printing it out at an EPF kiosk in various locations nationwide.
How to activate KWSP i-Akaun?
Go to the KWSP homepage. Login as an i-Akaun member. You'd have to activate the account first, click on "i-Akaun activation" below the User ID field.
Enter your MyKad number and activation code. Next, fill in your new account personal and security details – confirm a username, password, and 3 secret questions and answers. Lastly, pick one out of the 5 images plus a secret phrase and you're done. It's that easy – you don't even need to check your EPF number to do it, so it doesn't matter if you forgot your EPF number.
How to print EPF statement from KWSP?
Let's go back to the
i-Akaun login page. Enter your new username and password – your secret phrase will appear to authenticate your session.
At your i-Akaun homepage, click 'MyAccount' on the top navigation bar. You can now choose from all years' EPF statements to view. Remember, the bank will always ask for the latest copy when applying for their banking products. At the bottom of your online EPF statement, there is an option to print a copy – and there you have it!