Time and time again, we've been reminded about the importance of having a good credit report. Last week, we created a simple guide on clearing your name if you had been blacklisted by Bank Negara. But what if, you never knew you were blacklisted in the first place? Having a squeaky clean credit rating is important but even if yours is a little blotted; the first step in clearing it is by finding out what is causing your rating problems.
Financial institutions or creditors are not the only ones allowed to view your credit report. You can too! It's time to face your financial report card as we're going to show you how you can obtain your credit report or CCRIS report.
How do I get my credit report?
Getting you credit (or CCRIS) report is as simple as heading down to Bank Negara (BNM) with your MyKad. Unlike the days of old where you'd have to wait in line and apply for the report at a counter; everything is now machine operated. All you need to do is find the credit kiosk and insert your MyKad into the slot. You will then be prompted to place your right thumb for fingerprint identification. And that's really all you need to do. Just like the EPF kiosk; your credit report will print in a jiffy and you're done!
If you can't make the trip to BNM, you can e-mail/fax your application in writing together with an application form and supporting documents such as a copy of your MyKad or passport (for non-citizen), driver's license, and utility bills. As your report will be sent to your nearest financial institution, this process will take up to 4 weeks and will be sent to your home. It's not as convenient as heading to a kiosk but not everyone may be in close enough proximity to a BNM office or branch.

To keep track of your credit performance, it is advised you obtain your credit report once in every 6 months. The photo below shows how your credit report will look like.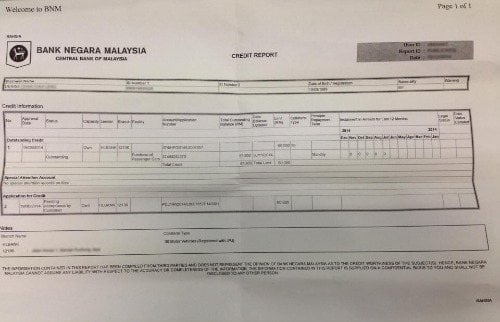 Why should you get your report?
Having your credit report means you will be able to keep track of your financial scores and will be able to remedy anything that may be amiss. Especially if you were a guarantor for anyone or if you have a large number of loans to keep track of. Avoid keeping yourself in the dark and don't be afraid to know your credit ratings and performances. Because only you can make a difference through prompt payments and full settlement. At least, when your new credit card application gets rejected, you know what causes it and who should take responsibility over it.
Now that you know how easy it is to get your reported printed; there's little reason not to get it done. But we're not at the end of the blacklist story yet – there's a reason we've mentioned how being a guarantor puts you at risk of blacklist and in our next article in the BNM series, we'll tell you exactly what it means to sign up as a guarantor.