OCBC has unveiled a new savings account that allows you to split your funds into two sections. One part of the OCBC nuon Account works like an ordinary savings account which you can withdraw funds from, whereas the other comes with a higher interest rate of 2.8% and is dedicated just to saving.
With the OCBC nuon Account, you can split your money between a Spend Pot and a Save Pot. You can use your Spend Pot to withdraw money, transact with your debit card, or access funds through Internet or mobile banking. Money in your Spend Pot earns you the nuon Account's base interest rate of 1.0%p.a.
Meanwhile, money in your Save Pot has to be moved back to your Spend Pot before you can use it for withdrawals, payment, and so on. It is a mobile banking feature that allows you to keep some money aside and away from impulse purchases or overspending.
The best part about the Save Pot is that it offers a bonus interest rate of 1.8%p.a. on top of the nuon's base rate, earning you a higher interest rate of 2.8%p.a. altogether. Moreover, there is no lock-in period or withdrawal penalty for the Save Pot.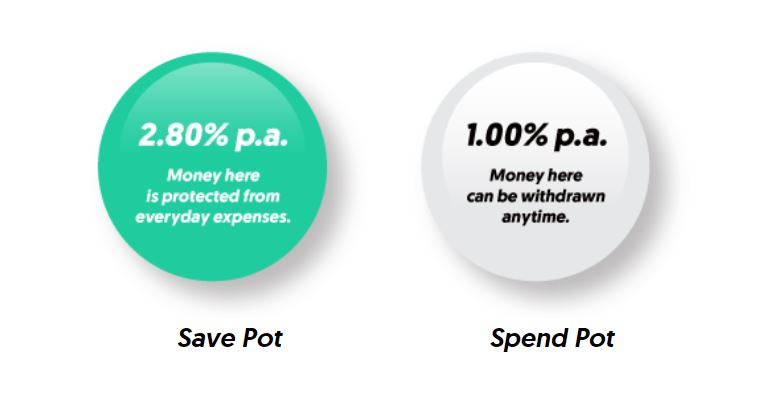 You can easily move money in and out of your Save Pot through the OCBC Mobile Banking application on your mobile phone. According to OCBC, the minimum denomination for adjusting the Save Pot is RM1, and the maximum amount that you can place into the Save Pot is your total account balance.
Meanwhile, the OCBC nuon Debit Card has a very valuable offering for overseas transactions. OCBC states that there are 0% bank mark-ups for foreign transactions or online spend in foreign currencies using the OCBC nuon Debit Card. Cardholders need only pay the Mastercard exchange rate for transactions made overseas with no add-on charges – a valuable benefit for frequent travellers.
Given that there also aren't any tiered rates, additional conditions, or large deposits required to unlock the Saving Pot's 2.8%p.a. interest rate, the OCBC nuon Account also stands as a decent contender for one of the best high-interest savings account in Malaysia.
(Source: OCBC)