We're no stranger to how powerful Google is as a search engine. With access to an abundant wealth of data, they can conduct comprehensive surveys and analysis to uncover insights about how people do things online. Recently, we partnered up with them to take a closer look at how we Malaysians interact with banks, what financial products we find most popular, and how our mobile devices factor into it all. The end result is an infographic that uncovered some interesting facts. Let's see what we found out!
Be sure to check out our CFO Hann's take on the infographic from his recent appearance on Bloomberg TV Malaysia to learn more insights into our behaviour online!
Going Mobile & Comparison Websites
A few really interesting things came to light here. With the rising popularity of mobile devices and smartphones it was no surprise that more than half of Malaysians using the internet, access it while on-the-go. What was a surprise though is the fact that the past year has seen a 68% growth in mobile search for financial products as well.
Of course, we also love that Google uncovered that 7 out of 10 Malaysians compare financial products online at RinggitPlus.com and that we are one of the top populations to use comparison sites in Asia!
All of this clearly show that:
Malaysians are constantly connected;
Convenience is important to us;
We are progressively starting to research new banking and insurance needs on our phone.

Credit Cards and Digital Banking
Another interesting thing the data reveals is that Malaysian online banking customers are 12 times more likely to interact with their banks than non-digital customers. Which makes sense since we learned above that we're doing more business on our phones. It also helps that plenty of banks now offer robust support and online banking features that help customers do business better via the web.
There was a 30% increase in looking for credit cards online, too, and the top three search criteria people look for are all very sensible:
No annual fees
High cash back
Free signup gifts with no minimum spend
Islamic Banking
Also, there has been a 60% growth in Islamic banking searches. The analysis uncovered that people who search for Islamic banking products look for different things compared to conventional banking.
In particular, they look first for loans in general, followed by personal loans, with credit card searches coming in a distant third. This signals that people interested in Islamic banking are a lot less likely to check out Shariah-compliant credit cards than they are Islamic personal loans.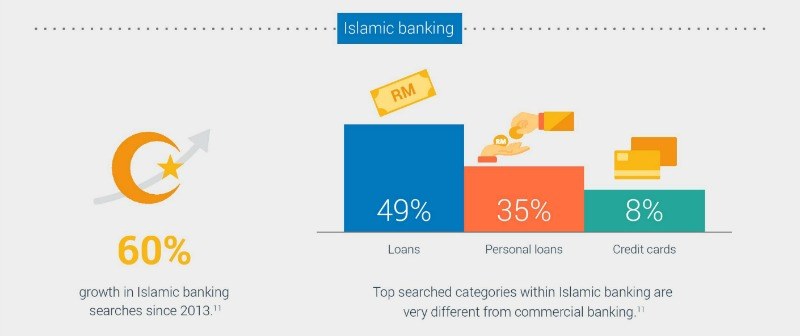 Conclusion
Ultimately, we feel that our joint findings together with Google Malaysia has put figures and data onto what we've known about ourselves all along: Malaysians love a good bargain. From finding good deals and discounts, to comparing product features, we are relentless when it comes to spending our money smartly. To that end, we hope RinggitPlus will continue to serve you in your quest to look for the best financial products and getting more for you money. Check out the full infographic below!
Do you have anything to add to the article? Share your thoughts with us in the comments section down below!