Renting is not a concept uncommon to Malaysians. We rent homes and rooms for shelter; cars when we're on holiday; and books or movies when we don't intend to read or watch them more than once. Renting is a great way to help us afford things we can't buy outright or at times when we simply do not want the commitment of owning. But amongst the list of usual rental items; we found some surprising rental items available online should you need it.
Whilst we are not as high in the unusual stakes as some other countries where you can rent even funeral caskets; robots; wives to do your cleaning; and even fake, invisible girlfriends: the landscape of commerce is constantly changing, so who knows what we will be able to rent in the country soon? For now, these six items were surprising enough.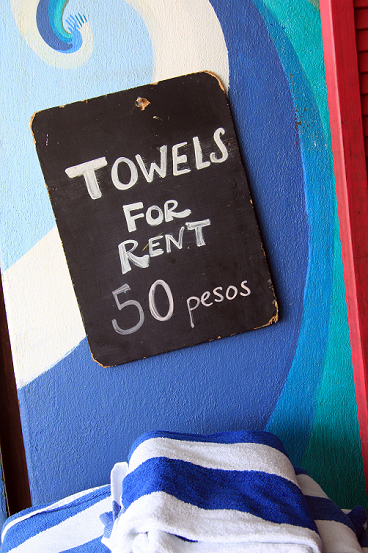 1. A Hospital Bed
If you have an elder, bedridden relative or a sick person in the family – being able to stay home is a luxury but regular beds aren't built to accommodate invalids. Having an actual hospital bed is extremely useful and it's actually really an awesome thing that people are offering hospital beds for rental if you cannot afford to buy one. Our search yielded a lot of results for those selling hospital beds but at an average of RM1,600 a bed; we doubt it is an accessible amount to many. It was great to then find a listing on Mudah, which showed us that you can rent a hospital bed for RM10 a day with a minimum of a month's rental.
2. A Laptop
Laptops are now an almost necessity but if your laptop just died on you and you haven't the extra RM1,500 to buy yourself a new one; having a rental laptop will be a great way to get work done and tide you over until you can buy your very own machine again. But not just laptops; you can rent desktop computers too. Many stores are now offering this convenience and the price will depend on the size and specifications of the computer. A quick search online showed us prices start between RM70 – RM100 for 3 days and get cheaper the longer you rent. Monthly rates are significantly cheaper than daily at RM250 – RM280.
3. A Designer Dress
Looking the part of the Mak Datin has never been easier with your rental Badgley Mischka cocktail dress or Monique Lhullier gown. Rent-a-Dress Malaysia allows you to rent designer dresses for a rental fee as low as RM100 plus a deposit of 100% of the rental fee so in essence; you pay the rental fee x2 with 50% returned when you return the dress. Why would you want to rent a dress you can't afford to buy? Well, we all like to be princesses for a day even if it is in a borrowed/rented dress.
4. Toys
Kids tire of toys fast (with the exception of perhaps their favourite busuk bunny or teddy bear) and these items are certainly not cheap! Instead of buying them toys that end up in the rubbish heap; why not rent these items? We found an awesome toy rental website that is sure to make all your child's playtime dreams come true. Rent-a-toys (not the most original nor grammatically correct names but there's definitely no confusion regarding what they are about!) allows you to rent toys from small trucks right up to huge playhouses. Rental rates start as low as RM10 but deposits vary according to the price of the item. So no more buying toy scooters and slides that your child will grow out of within a year – just rent it!
Of course, do take care of the rented toys as Rent-a-toys cautions you in their FAQ not to do any of the following:
Natural wear and tear are acceptable.
We only can't accept like example:
Throw form 10 floor apartment.
baby Ride Walker but adult ride until walker spoil.
Intentionally spoil like Smash with hammer and …. [sic]
We're not sure why any parent or child would smash a toy with a hammer nor take turns riding in a baby walker but we're guessing it must have been a real problem for them to highlight it.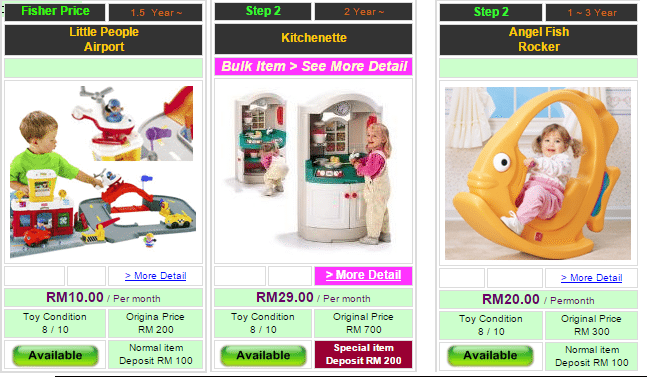 5. A Guard Dog
Not just any dog; but you can rent an honest-to-goodness trained guard dog for your home or business. Many websites are offering this service but none offered price info unless we called them up (perhaps putting up the prices made people wonder if they would have enough money to guard after paying? Just kidding – don't let the dogs out). But before we bit the bullet and called; lady luck gave us a wink in the of a useful Mudah ad. According to this ad; hiring a guard dog will cost you RM800 per month but this will be subject to where you live.
6. A Friend
We saved the best for last. If you're worried about your social life being deader than the Friends series; help is at hand to revive it. At Rent-a-Friend (Geez, what is with these names?) you can rent a new pal for just $10 (RM37) an hour. Do anything you like from seeing a movie; rock-climbing or using him/her as a wingman/wingwoman at the bar to cruise for dates. The possibilities are endless as long as your wallet is. Although, the site is international – we found many Malaysians listed on it just waiting to be your new-found BFF.
Of course, don't get any ulterior ideas. Rent-a-Friend mates are purely platonic. The site strictly tells you:
RentAFriend.com is strictly a platonic Friendship website. RentAFriend.com is NOT a dating website, and NOT an Escort agency. Services on RentAFriend.com are strictly for FRIENDSHIP purposes only.
Got it!
So there you have our list of surprising items you can rent in Malaysia. Do you know of any more? Let us know and we'll expand the list!