Malaysians can lay claim to the fact that we have a lot to choose from when it comes to food. This attribute is prominent that some of us could not survive in a foreign country without any of our local food and its diversity.
However, the rise of globalisation provided different ways to savour local flavours despite being miles away from the country of origin, much to the delight of Malaysian students and workers overseas. Yet, there is still one question might stick to our head: How much do these foods cost overseas?
Previously, we have explored the price of Nasi Lemak at several countries. Now, we will explore other Malaysian foods to find out how much they are priced at overseas.
Roti Canai
We start our list of expensive overseas local food with one of the main Malaysian staples: Roti Canai. Most of us can agree that this simple dish is one of the go-to foods for almost every meal due its low price and ease of access at all hours of the day. While this is the case in Malaysia, the price for a simple flatbread with curry and sambal may not be what many Malaysians expect it to be when they are overseas.
| Base Price | AUS | USA | UK |
| --- | --- | --- | --- |
| RM1.20 – RM1.80 | A$6.50 (RM20) | $4.99 (RM17.98) | £4 (RM21.73) |
Things to Note: You may think that it is just a simple flatbread with the three basic sauces (dahl, curry, and sambal), therefore it should not cost more. However, you may want to read the menu carefully to see what this dish comes with. Some Malaysian restaurants overseas provide Roti Canai with a bowl of chicken curry, which could explain the reason for the sizable price differences.
Satay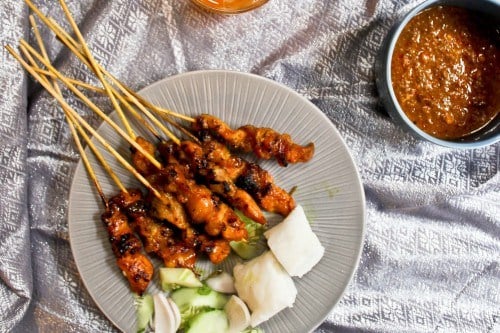 Image source from The Spurge
We continue our list with another common Malaysian entree: Satay. This unsophisticated charcoal-roasted meat with peanut sauce is another Malaysian go-to comfort food. Most of the time, the satay dish is sold as either in a set of two sticks of meat or five sticks of meat instead of 10s and 20s, making it more of a finger food for diners and not exactly something that you will eat as a square meal.
| Base Price (Per stick) | AUS | USA | UK |
| --- | --- | --- | --- |
| RM0.80 | A$3.90 (RM12) | $1.70 (RM6.62) | £1.38 (RM7.53) |
Things to Note: One of the few things you need to know is that the price of meat goes up and down every six to eight years in each country. Australia news channel ABC reported last year (2017) that the price of beef was at a record high but experts state that the price will go down soon according to seasonal and external factors, which will affect Satay prices too, naturally.
Chicken Rice
A hawker stall mainstay, the chicken rice is given a spot on this list of Malaysian food that are made pricey when brought overseas. Chicken rice has been the center of many discussions and debate, ranging from steamed chicken versus roasted chicken to which country has the best chicken rice. Debates aside, most of us would agree that chicken rice sold in the West would cost a lot more.
| Base Price | AUS | USA | UK |
| --- | --- | --- | --- |
| RM6.50 – RM8 | A$9 (RM27.77) | $9 (RM35) | £7.9 (RM43) |
Things to Note: This food is where the price falls within the same range of each other (even after adjusting for different currencies). While it might seem a little expensive to us from the perspective of the ringgit, those prices in their respective countries actually fall within the affordable price range. In fact, the price of chicken rice in the UK is quite similar to the price of Fish and Chips. Just like how fish and chips is a quintessential staple in the UK, the same can be said for Malaysian chicken rice.
Curry Mee / Laksa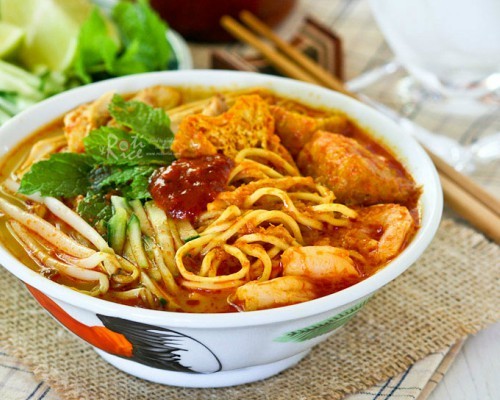 Image source from Roti N Rice
There is something about noodle soup that leaves a person warm and satisfied during cold weather. For us Malaysians, we like our bowl of noodles drowned in a spicy and rich curry broth with a little helping of sambal for extra spice. We are further spoiled for choice when we can choose the type of noodles and configuration for our own curry laksa, ranging from mee hoon and kuay teow to chicken and prawns. However, the type of noodles and other ingredients can be limiting and expensive when it is made overseas.
| Base Price | AUS | USA | UK |
| --- | --- | --- | --- |
| RM6.50 – RM7 | A$10.80 (RM33.33) | $10 (RM38.92) | £8.50 (RM46.34) |
Things to Note: Once again, this is where certain ingredients may cost more in certain countries. One of these ingredients is cockles as they do not only vary in terms of pricing and availability according to countries, but also the process of cleaning the cockles can be tedious. Some key ingredients like yellow noodles may be substituted due to strict regulations in some countries like Australia.
Penang Rojak
For this next entry, we opt for a slightly healthier option to balance our list of expensive Malaysian food overseas. If anyone were to ask about any other dish that represent Malaysia best, that dish will be Rojak. This fruit and/or vegetable salad with shrimp crackers with a drizzle of sauce made with shrimp paste is a quintessential past time snack or side dish. While we can be proud of our dish being sold overseas, we are not very sure if we are proud about its price tag.
| Base Price | AUS | USA | UK |
| --- | --- | --- | --- |
| RM5 | A$ 15.50 (RM47.83) | $6.25 (RM24.33) | £ 9 (RM49) |
Things to note: Here is where the cost of living may play a role. Global database Numbeo stated Australia as the country with the 12th highest cost of living, 11 place ahead of the UK (23rd) and 13 place ahead of the US (25th). Some cities in Australia like Melbourne and Sydney are considered as some of the top five most expensive cities in the world due to housing reason. As such, this could mean that rent and other overhead makes up for the majority of the cost.
Ice Kacang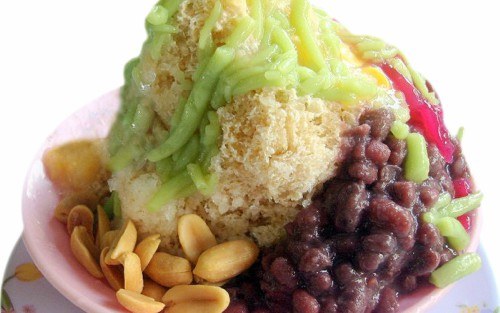 Image Source from Food Advisor
We conclude our list with one of Malaysia's famous desserts, Ice Kacang. This bowl of shaved ice continues to entertain our sight and sweet tooth with different syrups like Gula Melaka and toppings like sweet corn, peanut and grass jelly. As such, it is an excellent treat for a hot summer day and the typical Malaysian weather. Like any Malaysian food sold overseas, this colourful desert manages to entertain the people's tastebuds, along with it's slightly higher than average pricing.
| Base Price | AUS | USA | UK |
| --- | --- | --- | --- |
| RM3.8 – RM5 | A$ 8.20 (RM25.10) | $4.99 (RM24.33) | £4.8 (RM38.16) |
Things to Note: The ingredients in ice kacang may defer according to respective countries to incorporate local flavour or compensate for certain ingredients that are hard to get. For example: a Malaysian-inspired restaurant in America that serves Penang Cuisine has replaced the Gula Melaka with brown sugar so that it will fit the taste that locals prefer.
The Price of Being Homesick
We are not here to discourage people from getting Malaysian food if you are out the country. In fact, we encourage you to be proud that our foods are now available overseas for other people to try and if you are feeling adventurous, you can even try your hand at making and selling it overseas.
Having said that, we encourage you to explore other culture's cuisines when you travel as it is not an experience that you can get everyday. Just remember to have enough funds in hand so that you can enjoy your food adventures to the fullest. Not a fan of carrying too much cash abroad? That's where a credit card can come in handy. You can travel around safely, track your expenses easily, and also enjoy cashback rewards with selected cards.
Easily compare between cards with our comparison tool, just take your time to carefully go through the type of credit card that suits your spending style best. All the best in looking for the right one!
This article is compiled from Zomato, Food Advisor and Penang Cuisine.