Much wow, such amaze. With 2018 being the year of the Dog, it is only fair for us to feature this bizarrely popular cryptocurrency that has recently made it in the news for hitting a whopping USD$ 2 billion market cap. Not bad, considering that Dogecoin is started as a currency that's meant to poke fun at the rise of investors favoring digital assets utilising cryptography for security.
As you may wonder how did Dogecoin succeed in penetrating the tough and bullish cryptocurrency trading market, perhaps it would be best to look at how did it all started in the first place and what brought it to its current status today.
What is Dogecoin?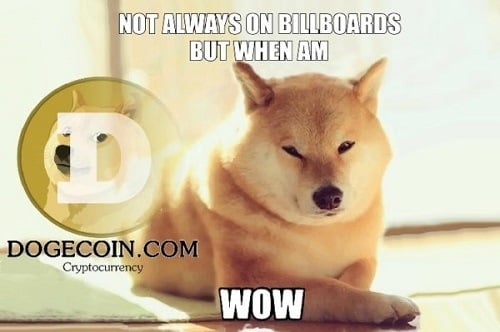 Image courtesy of Dogecoin.com
Dogecoin (DOGE, Ð) was co-founded by Jackson Palmer, a group product manager who works at Adobe and Billy Markus, an IBM software programmer. Markus modified an existing litecoin wallet to pay homage to a famous, existing Internet meme known as Doge, a dog of shiba-inu breed with a curious expression juxtaposed with a collection of miscellaneous, Comic-Sans-tinged text in the background.
Introduced on December 6, 2013, Dogecoin's objective is to reach a broader demographic while distancing away from the controversial history of another form of cryptocurrency, especially bitcoin.
How Did Dogecoin Perform in the Cryptocurrency Market?
Believe it or not, it only took Dogecoin 72 hours to increase its value by nearly 300 percent. Originally priced at US$0.00026, it rose to $0.00095 with many Dogecoins mined per day. Having said that, 3 days after its value surged, Dogecoin experienced its first major crash by dropping up to 80% in value due to the exploitation of large mining pools requiring minimal computing power to mine the much sought-after coin. This crucial flaw has since then been addressed and miners are now prevented from over-mining the Dogecoins.
Fast-forward to 2018, the dogecoin's market cap soared to more than $2 billion, surpassing ethereum, an open software platform based on blockchain technology which enables developers to build and deploy decentralised applications. As a result, Dogecoin rose up the ranks to become the second-largest cryptocurrency by market cap and the rest was then, history (and potential financial destruction) in the making.
As creator Jackson Palmer quips
"I have a lot of faith in the dogecoin core development team to keep the software stable and and secure, but I think it says a lot about the state of the cryptocurrency space in general that a currency with a dog on it which hasn't released a software update in over 2 years has a $1B+ market cap."
What Do I Need to Prepare for Dogecoin Mining?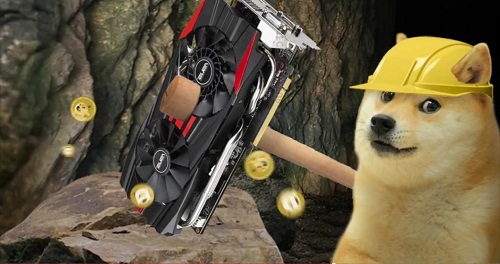 Image courtesy of Zipso.net
As the supply of Dogecoins will remain uncapped, your concern now will be as to what are the things that you will need to do should you harbour an interest in mining cryptocurrency. Among the essentials that would help you get started with mining would be a powerful PC and cheap electricity so if you are staying in a country where the pricing and tariffs are low, consider half the battle won.
These days, cryptocurrency mining is now performed with specialised ASIC (application-specific integrated circuit) devices that you attach to your computer. The pros of using these ASIC devices is that it has been optimised to perform the calculations required by the bitcoin protocol so it is so far the best in terms of speed and efficiency.
Read Also : A Brief History of Money: From Barters to Bitcoin
Do note that this equipment will perform best if it's situated in a thermally-regulated place so if you can't afford to let these devices work in an air-conditioned space, cooling fans are then something that you would need to look into.
What Are The Other Cool Stuff About Dogecoin That I Should Know?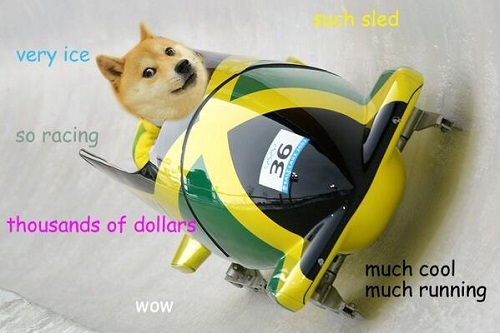 Did you know that there is an active Dogecoin community that is heavily involved in charity donations? Among the charity's that have been supported by the Dogecoin community include Doge 4 Kids and Doge 4 Water. Apart from that, Dogecoin also organised a donation drive to send the Jamaican bobsled team to the Winter Olympic.
Hence, if you are interested in Dogecoin mining, rest assured that there is a strong presence of civic-mindedness among the community members so chances are you won't need to worry about getting ripped off (although such incidences do happen so if a proposition sounds too good to be true, it is best to tread it with extra care and wariness).
Should I Invest In Dogecoin?
Whether you should take a chance in including it in your investment portfolio or forgoing it in favour of more secure, established digital assets, it is all up to your personal preferences. The qualities of Dogecoin is the same as any other Bitcoin, in which at the time of writing, it is vulnerable to widespread speculation and instability. As such, if you are seeking for stability when you make an investment, it is perhaps best to stick to safer, regulated financial instruments with guaranteed returns.
Pre-determined profit sharing is one of the qualities that make fixed deposit accounts irresistible and succinct to say, an FD earns you interest at an agreed rate based on the sum of money deposited.
Don't have a fixed deposit account yet? We can fix that; just head on here and use our <a href="https://ringgitplus.com/en/fixed-deposit/"target="_blank"> comparison tool
to discover the original underdog when it comes to financial investments. Happy hunting!
Are there any other cryptocurrencies that you would like to add on to our list? Let us know in the comment section below!