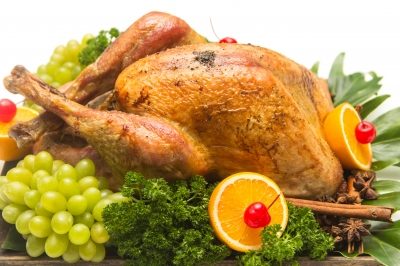 What if, for just one night on December 25th an infinite amount of money was made available to you? Perhaps you'd find your home filled with these insanely expensive holiday accompaniments.
The world's most expensive dinner  
What would the holidays be without some good food? If you were looking to splash unlimited cash, you may want to hire this guy to be your chef. In 2012, Ben Spalding, a chef in the UK, offered customers a 4 course meal with some of the most expensive ingredients. The shopping list made this particular dinner worthy of it's £125,000 (RM664, 611) price tag.
The meal consisted of caviar, truffles, Wagyu beef heart, a £37,000 (RM196,725) bottle of Champagne from the early 1900's, a limited edition Japanese watermelon (£2,600 or RM13,824) Almas caviar (£5,000 or RM26,584), a 150-year-old balsamic vinegar; the world's most expensive melon, the Yubari King from China (£2,500 or RM13,292); and a whole white truffle (£3,500 or RM18,609) and Luwak Coffee (made from beans of coffee berries excreted by the Asian Palm Civet cat).
Now that you've got a dinner fit for the most extravagant royal, you'll be sure to want a nice tree to set the mood.
The priciest tree
We don't suggest you steal the one from the hotel but you can always borrow their interior decorator. And in the case of this tree, their jeweller too. The most expensive Christmas tree is said to be found in the Emirates Palace in the United Arab Emirates (UAE). Valued at over $11 million US dollars, the tree doesn't have the usual tinsel and lights. It makes it's own lighting with a collection of genuine emeralds, rubies, diamonds, pearls, sapphires and other precious stones.The tree itself with it's fancy ribbons is already worth a whopping $10,000 but it's the jewellery that adds the additional millions.
Looks to us like they've just got a jeweller to throw some random necklaces and accessories here and there.
Santa's on a rampage
What is Christmas without gifts? But seeing as to how we're now not considering price tags; it's time to break the bank. Website veryfirstto features some of the most expensive gifts you can think of to line the bottom of your $11 million dollar tree. For the man who's always wanted to fly; there's the £153,000 (RM813,484) Martin Jetpack. The Martin Jetpack can be flown by a pilot or via remote control. If you're looking for a more feminine gift, how about having the lawn covered in 1.2 million rose petals for them to wake up to? For a pittance of £70,000 (RM372,182), you can have this done for you on a lawn of up to 600sqft. Price is of course adjusted according to the size of your lawn. Why anyone would want this is beyond us but hey, if you have little else to do with your money…
Or how about a gift for the power couple? In a landmark tour package, you can now buy a trip to 20 of the most iconic film locales the world over for just £198,000 (RM1,052,740). The tour includes a visit to the 'Notting Hill' Bookshop in Notting Hill, London; the scene of 'Braveheart', Glen Coe, Scotland; 'Amelie's apartment in Montmartre, Paris, France and the apartment of the 'Last Tango in Paris', Paris, France amongst many others around the world. It's not just amazing places you'll be seeing but you will get there on business class flights and be pampered in luxury suites everywhere you go.
The food has been laid; gifts wrapped and the tree all aglow. Perhaps, to complete your ridiculously pricey dinner you could have Beyonce ($2 million per show) or Mariah ($250,000 per song) give a private performance of carols.
But do you really need a diamond tree, coffee from faeces, millions of rose petals and a celebrity for you to have a merry Christmas?
We didn't think so.
Have a great Christmas!
*Pictures courtesy of Freedigitalphotos.net.