When it comes to current affairs, we Malaysians do not have it easy. With information about the latest fuel prices available with a simple tap, it is mostly likely for us to rant about how the prices of petrol and diesel in Malaysia goes up a couple of cents every other week. Yet, if we just took the time to look beyond our borders, we could be just as critical too.
Many a time have we heard of Singaporean cars, driving over just to fill up on a tank of petrol in the past. Never mind that the cost of them driving over to Malaysia would definitely be enough to buy them at least 3 plates of chicken rice, to and fro.
Let us look at the prices of fuel in a few of our neighboring countries to see where we really stand.
Malaysia
In Malaysia, vehicles use a variation of octane 95 and octane 97 fuels, or better known as RON95 and RON97. On the other hand, diesel vehicles use a Euro5 rated diesel fuel which is the European standard to minimise pollution.
As it currently stands, the latest fuel prices released on the 29th of March reflects no change from the previous week. RON95 and RON97 fuel prices were maintained at RM2.20 and RM2.47 per litre, while diesel fuel sat at RM2.18.
Singapore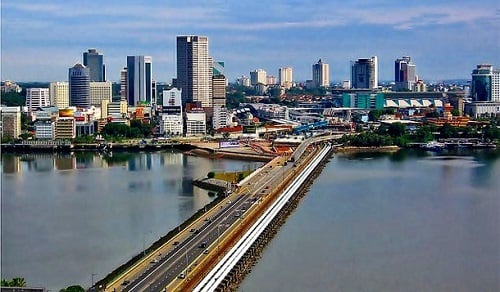 Fuel prices in Singapore vary from one brand to another. However, despite having a slight variation in price, the overall market is still very competitive. In Singapore, petrol stations carry three types of petrol and a single type of diesel fuel. Most petrol stations sell RON92, RON95 and RON 98, while Shell Singapore distributes V-Power Nitro+, on top of the regular RON95 and RON98.
For the sake of comparison, let us stick to RON95 and diesel in order to have a closer line of comparison. Taking the average petrol prices of the latest RON95 fuel in Singapore, it would cost approximately SG $2.21 (RM6.54) per litre, which is a large gap when compared against the cheaper petrol prices in Malaysia.
The diesel fuel price in Singapore, is significantly cheaper than its petrol counterparts. On average it cost approximately SG $1.64(RM4.85)per litre but still no where near Malaysian diesel fuel prices.
*Singapore fuel prices and conversion rate of SG $1 to RM2.96 true at the point of writing
Thailand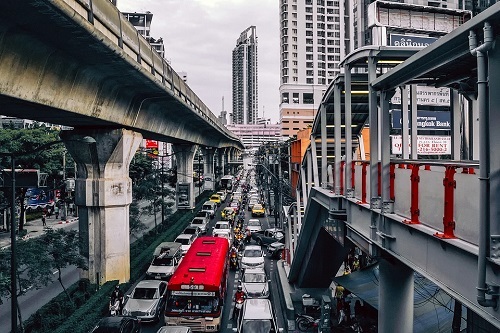 While most countries use octane rated fuel, Thailand petrol stations carry a different variation fuel called gasohol and a standard RON95. Gasohol is a mixture of fuel and ethanol which is said to reduce pollution and more importantly, cheaper. The gasohol ratings are usually E20 or E85.
An E20 gasohol fuel contains a ratio of 20% ethanol to 80% of petrol, while the E85 contains 85% ethanol to 15% of petrol. However, most cars in Thailand use gasohol 95 which is 10% ethanol and 90% gasoline.
Different petrol stations in the country, indicate a different price point and very few outlets supply gasoline 95. Even large brands like Shell, indicated that it sells
V-Nitro Power Gasohol 95 which is more commonly used in Thailand as compared to the RON95. In order to have a standard basis to compare fuel prices between countries, gasoline 95 would be the best form of standardisation.
The latest petrol prices indicated on PTT petrol stations website for gasoline 95 is currently being sold at THB35.16(RM4.35) per litre. Comparing that against the current fuel price of RM2.20 for RON95 fuel in Malaysia, Malaysians are still paying about half the price of the petrol price in Thailand.
According to Shell Thailand's website, the current price of diesel is sitting at THB27.74 (RM3.43), which equates to approximately 50% higher than the diesel prices in Malaysia, after foreign exchange conversion is taken into account.
*Thailand fuel prices and conversion rate of THB100 to RM12.36 true at the point of writing
Indonesia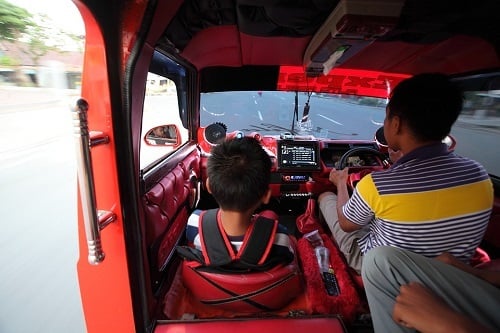 After comparing fuel prices to two countries and realising how blessed we are, let us take a look at our Indonesian neighbours and verify if we truly are the cheapest amongst the four. In Indonesia, there are four types of petrol being used. There is RON88, RON90, RON92, and RON95.
Shell Indonesia indicated different fuel prices for different states. Among the reasons for the different prices within the country is due to the logistics costs to supply fuel to the different portions of the country.
The rural areas cost a lot more to transport fuel as compared to those with the proper infrastructure. In Jabodetabek, it offers all three variations of petrol and diesel, whiles Bandung and North Sumatera does not have Shell Regular. As confusing as it may sound, Shell Regular is the equivalent of RON90, Shell Super is RON92 and Shell V-Power would be similar to RON95.
As of the last updated price on March 10, fuel prices are set at IDR8,500 (RM2.30), IDR 9,350(RM2.53), and IDR10,550(RM2.85) for its RON90, RON92 and RON95 variations respectively. Comparing Indonesia's RON95 to Malaysia's RON95, makes Malaysian fuel prices cheaper, once again by approximately RM0.65 per litre.
Diesel prices are close to RON95 prices at IDR 10,450(RM2.82), which is relatively cheaper as compared to the other countries but still more expensive than Malaysia, which charges RM2.18 per litre.
*Indonesia fuel prices and conversion rate of IDR10,000 to RM2.70 true at the point of writing
Is Car Ownership Costs in Malaysia Truly Less Than Our Neighbours?
While we have won the battle of the cheapest fuel amongst our neighbouring countries, let us dive in a little deeper to compare the cost of owning a car between these four countries. Only then can we have a clear picture which one of these countries are actually better off in terms of total cost to buy and maintain a car in the long term.
In order to make the comparison valid and fair, we will take the same car model across all four countries and calculate the total cost of the on the road. A Toyota Vios is probably a mid-range car that would apply to all four countries and stand as a basis for common cost comparison.
Malaysia
To get a car on the road, we would need to have road tax, insurance and the price of the car itself. Based on the Toyota Vios homepage, the middle range Vios 1.5G- Automatic, without all the extra sports bumpers and skirting will cost RM87,980. Having de-tariffed the price of motor insurance last July, we will have to take make an assumption and use a figure of RM2,500 to account for the needed motor insurance.
Last but not least, is the road tax that cost RM90 annually for a car capacity of 1500cc. That would add up to a grand total of RM90,570 to get a Toyota Vios on the road.
Singapore
In order to acquire a car in Singapore, you first have to apply for a certificate of entitlement (COE). The COE is valid for ten years and can only be acquired via bidding which happens twice a month. For car imports, a car is also subjected to a carbon emissions test to evaluate if additional taxes will be imposed for cars with heavy carbon emission. If the car falls below the level of 160g/km the car owners are entitled to a rebate ranging from SG $5,000 (RM14,743) to SG $20,000(RM58,973). Exceeding the 211g/km, on the other hand, would incur a surcharge of SG $5,000 to SG $20,000.
According to the official price on the Toyota homepage, the Toyota Vios 1.5G is retailing at SG$92,488 (RM272,700) including COE. Based on official figures, the car emits 131g/km which makes it eligible for the carbon emission rebate if you were importing the car. However, as we are purchasing it as a local, we will be looking at the official price on the page at SG $92,488.
The estimated price for road tax will cost SG $686 and an additional SG $1,300 for the annual motor insurance. That would bring the car to a grand total of SG $94,474 (RM278,591). Without the conversion of foreign exchange, the price of the car price seems to be on par. However, after conversion and considering the high price of fuel, the cost of owning a car in Singapore becomes three times the price, making the car highly unaffordable.
Thailand
Up north, the people of Thailand can buy a Toyota Vios G-1.5 at a price of THB 729,000 (RM90,233). Similiar to the prices in Malaysia, buying a car in Thailand also requires you to have an insurance and road tax. The only additional cost you incur is from swapping the temporary red car plates, to the official white car number plates. This cost THB2,500(RM309) which is done within three months of obtaining your car.
Based on the cubic capacity of the car, the annual road tax would cost approximately THB2,250 (RM279) a year. On top of road tax, a comprehensive insurance cover as quoted by DirectAsia.com would cost approximately THB7,473 (RM925) a year. Adding the initial cost of the car and the other necessities, would come up to THB738,723 (RM91,436), which is very similar to the cost of purchasing a car in Malaysia. While the car price may be similar, driving in Malaysia is still cheaper due to the fuel prices which amount to almost half the petrol prices in Thailand.
Indonesia
Buying a car in Indonesia is fairly straightforward for a local but gets a little complicated if you are a foreigner. A foreigner is required to have a permanent residence status, ITAP or temporary residency, ITAS. Besides residency status, foreigners are also required to produce a letter from the employer to certify one's status. Other than that stipulation, owning a car requires you to have an insurance policy, a hefty payment for vehicle registration and annual road tax.
According to the Indonesian Toyota webpage, the Toyota Vios 1.5 G CVT will cost IDR 311,100,000 (RM84,190), not including the road tax and insurance. The price of a motor insurance policy is relatively similar to Malaysia, with a comprehensive cover costing approximately IDR7,699,000 (RM2,083.50).
The title transfer fee or vehicle registration for a brand new car will cost 10% of the purchase price, costing IDR31,100,000(RM8,419). On top of that, one must also pay for annual road tax which cost approximately 2% of its value, IDR6,222,000(RM1,684).
While the cost to purchase one may be the cheapest among the four countries being compared, the taxes, registration, and insurance push its total to IDR356,121,000(RM96,374), making it a little more expensive than owning a car in Malaysia or Thailand. But given, its low fuel prices, it is definitely cheaper to drive one In Indonesia, compared to Thailand or Singapore.
Owning Transport vs Ride Sharing
Combined with the idea of ride sharing gaining popularity and the cost of living increasing from year to year, it would have crossed some people's mind if they should lighten their burden by not owning a car. With petrol prices and parking charges being a hefty additional cost, using a ride-sharing app could be better for some.
Some people even believe that in the future even lesser people would own a car as there would be less of a need to own one. That could become a reality when self-driving electric cars operated by ride-sharing apps become so cheap, there would be no point in having a car of your own. Until then, let us explore the cost of Grab in the four countries, with trips to 10km to determine which enjoys the best rates for ride sharing.
Malaysia
Parking charges in Kuala Lumpur can be expensive if you do not know where to park. There are a few places in the city centre that charge a little lower, starting from RM3 to RM4 per entry, and rates as low as RM2 for every subsequent hour.
Should you decide to use a ride hailing app like Grab, it cost RM1.00 as its base fare and charges between RM1.10 and RM1.30 per km, depending if it is used during rush hours or non-peak time frames. If you had to take a trip with a 10km distance, you would end up paying approximately RM12.00 during non-rush hours. With rates like those, it would make sense to leave the car at home and just hop into a Grab for most if not all your short destinations.
Singapore
Even if you had opted to drive, car park prices are rather exorbitant. According to SG Carmart, parking in Orchard Central would cost SG $2.14 for the first hour and SG$1.07 for every subsequent hour before 6PM. After 6PM, the rates lower to SG $4.82 for the first three hours, but increase after the third hour to SG $1.61 per hour.
It is no wonder why many are forced to stick with its very efficient public transport. Especially with ride-sharing options available, this makes public transport less costly. According to Grab Singapore's page, the base fare starts at SG $2.50(RM7.37) and cost an additional SG $0.50(RM1.47) per km. A short ride of 10km would only cost SG$7.50(RM22.10) which is almost equivalent to the car park cost of a couple of hours.
Thailand
In Thailand, parking charges range anywhere between 20THB (RM2.47) to 100THB(RM12.36) per hour in Bangkok. Depending on the number of hours you park, it is relatively reasonable and comparable to the prices in Malaysia, leaving only the cost of fuel as the big variable.
With the exception of Bangkok, most of the other states are not very well connected via public transport. Having your own transport practically becomes a necessity. Even if one takes public transport, the charges for Grab starts at 60THB (RM7.42) as its base fare, and 5THB(RM0.62) for every kilometre travelled. In other words, for a short 10km ride, it should cost you approximately 110THB(RM13.60). Due to its heavy base fare, taking short trips make it rather expensive.
However, Thailand has the option of GrabBike which charges a base fare of 40THB(RM4.95) and 6.5THB(RM0.80) per km, which endures a minimum charge of 50THB(RM6.19). If you were taking an extremely short trip, GrabBike would make sense but if you were taking a 10km trip, it would cost you a total of 105THB (RM13), which is not very different from getting into a car.
Indonesia
The Jakarta Post reported that the parking fees in the city cost IDR5,000 (RM1.35)an hour, and it could be the cause of the horrendous traffic in its capital city. Having the lowest parking rates of the four countries and fuel prices that are comparative to Malaysia, it is difficult to see Indonesians swapping to public transport anytime soon.
While the official Grab website only states a minimum charge of IDR10,000(RM2.71) for trips, NaikOnline states that a 10km ride in Jakarta cost approximately IDR34,000()RM9.20), which breaks down anywhere between IDR3000 to IDR3,400 per kilometre. At the very least, having a ride-sharing option that is the cheapest among the four countries opens up the opportunity to swap between driving yourself and taking public transport.
Having said that, Indonesia also has the GrabBike option that takes you on a motorcycle, just like Thailand. It charges IDR1,750(RM0.49) per km, a IDR2,500 surcharge during peak hours, and has a minimum charge of IDR 5,000(RM1.41).With the heavy traffic congestion in Jakarta, this option would make far more sense as a cheaper and more convenient alternative as to driving.
Even a 10km ride would cost IDR17,500 (RM4.92). Even with the additional surcharge, it would bring you to a grand total of IDR20,000(RM5.62). Although the country does not have the cheapest cars or fuel amongst the four being compared, it does have a cheaper ride-sharing option that could make a world of difference to one's wallet.
Malaysians Have it All
Many people may complain and do not realise it, but Malaysians seem to enjoy the cheapest fuel price and the lowest price of owning a car among our neighbouring countries. While we do not have the cheapest ride sharing rates, we do have the option to share a ride with others to bring the cost down even further. Grab's low base fare also encourages people to take the short trips at a low cost unlike the high base fare experienced in Thailand.
If one is hoping to sell one's car to fully utilise a ride-sharing platform and public transport, the country's public transport infrastructure must be able to support such an endeavour or you will incur heavy expenses in the long run, with no returns. At the very least, owning a car allows you to sell it off for some returns. If you decide to shop for a car, be sure to compare motor insurances available as the detariffication could get you a cheaper comprehensive cover when comparing from one insurance to another.