Our motor insurance is one of those things we may not be thinking too much about, since we often just take the ones offered by the dealership. Unlike other types of elective insurance like life insurance or medical, we tend not to scrutinise the kind of coverage we get from motor insurance.
What Does Your Basic Motor Insurance Cover You For?
Some people take the unfortunate view that they would rather not get motor insurance at all. but since it's required by the law, they just get the cheapest option they find without really considering what that might mean for them should an accident happen. Your basic mandatory motor insurance (also known as third party insurance) protects you from having to pay for the damages of another car in the event of an accident. That's all it does. But you can also get basic riders and plans that protect you a little bit more. Fire & Theft plans can cover you from damages and loss caused by fire and theft, whereas comprehensive plans can cover your own vehicle as well as another car in the event of an accident.
These types of protection are all well and good, but the biggest fear for most of us is what we would do if we ever got involved in an accident. If you or anyone close to you has ever been in an accident, you'd know that it can be quite a shocking and overwhelming experience. Anyone would certainly appreciate more help and there's plenty to think about besides just paying for damages. That's why it's good to look out for value-added services when you choose to buy your Motor Insurance.
As part of their journey to truly put their customers first, to Allianz Malaysia has identified 7 main touchpoints which cause the most problems for their Motor Insurance customers:
Based on those insights, they've developed a whole host of services that you just won't get from a regular motor insurance. It's called Allianz Road Rangers, their nationwide motor accident assistance program. The program is made up of a comprehensive ecosystem of dedicated workers whose job is to assist you through the process of dealing with a motor accident from start to/ finish. With Allianz Road Rangers, you get: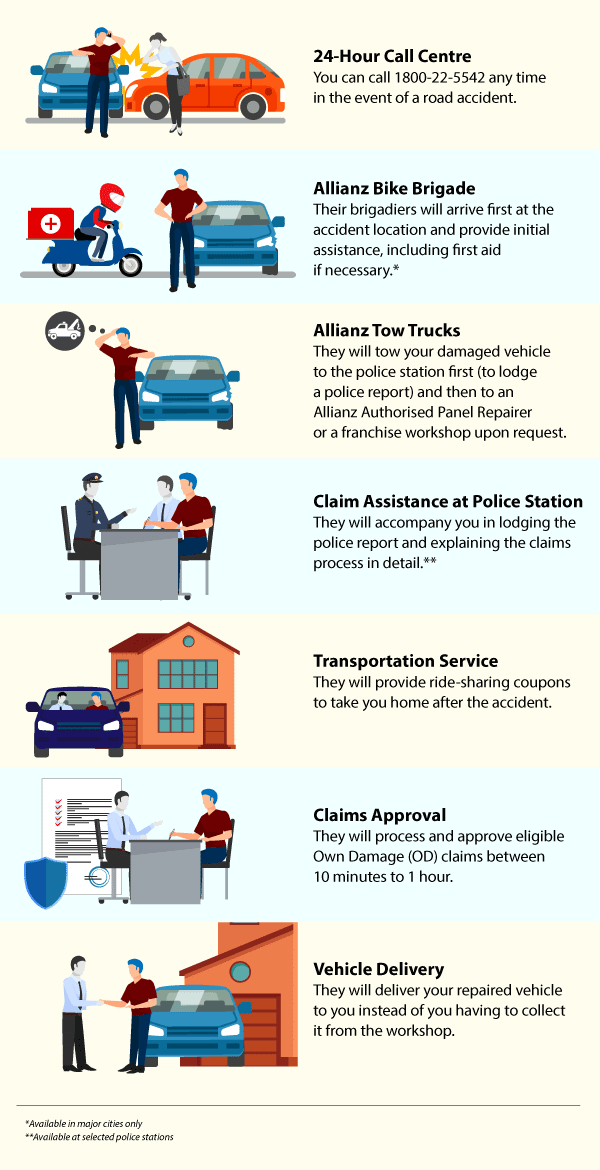 All these added value elements show a truly comprehensive process which takes care of the customer as well as their vehicle. Not only is your car protected, but you also get all the help you need to make things go as smoothly as possible from the moment the accident happens, all the way to getting you home, and getting your car back again from the workshop. The best part of Allianz Road Rangers? It's free of charge to anyone who has an Allianz Malaysia Motor Comprehensive (Private Car) policy. If you're not sure, there's a handy tool to check here!
So when you're looking for motor insurance, remember to keep in mind that not all policies are equal even if they might seem that way. Because coverage isn't just about the money, it's also about being cared for and having the peace of mind to focus on the important things in your life instead of worrying about what can go wrong. To find out more about comprehensive insurance, check out Allianz for protection from A to Z.