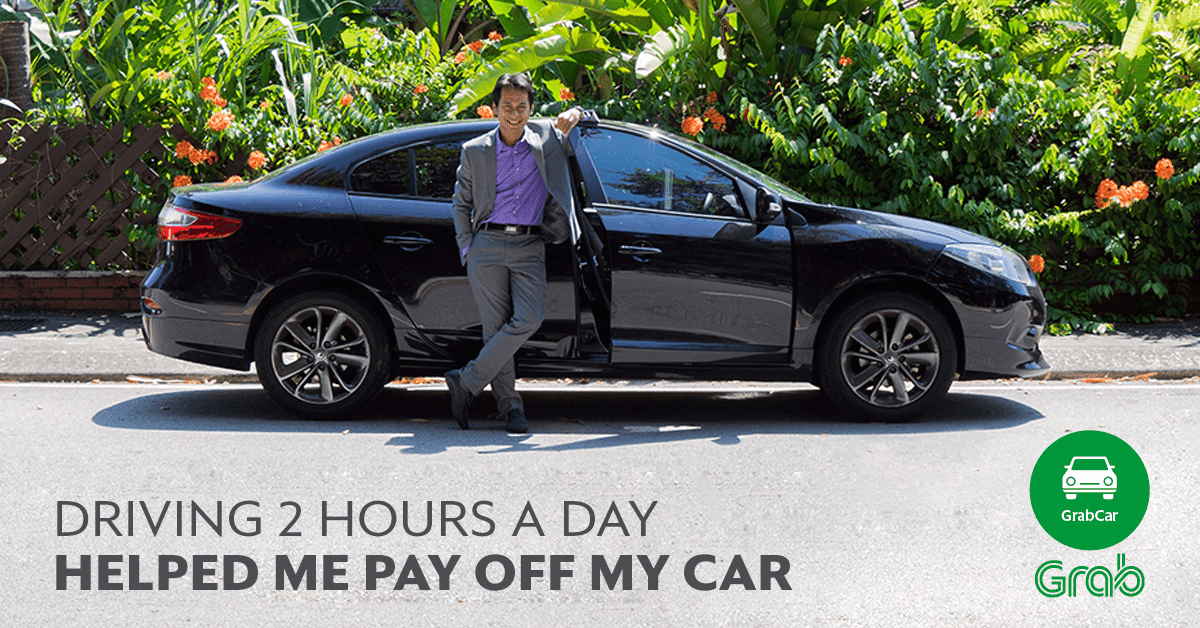 The past year has not been easy on Malaysians and their wallets. With the onset of taxes, removal of subsidies and instability of workforce management, stretching your dollar is just not the same anymore, especially when you desire the little pleasures in life like a new car or a well-deserved holiday.
And sure, there is a variety of second or part-time jobs out there to help you attain them easily, but let's face it! Having a second or part-time job requires a certain type of dedication and commitment that perhaps not many are in the position to undertake for various reasons such as inflexibility of their current or part-time jobs.
But this is where Grab plays a role.
Not just poised to providing a safer and alternate option of transport, GrabCar, which is available on the Grab App (formerly known as MyTeksi), offers a flexible and viable option for those who want to earn some serious money without minimal time commitment, something which other ride-sharing app platforms just cannot provide.
So how does it work, you may ask. Pretty easy actually.
Earnings and Incentives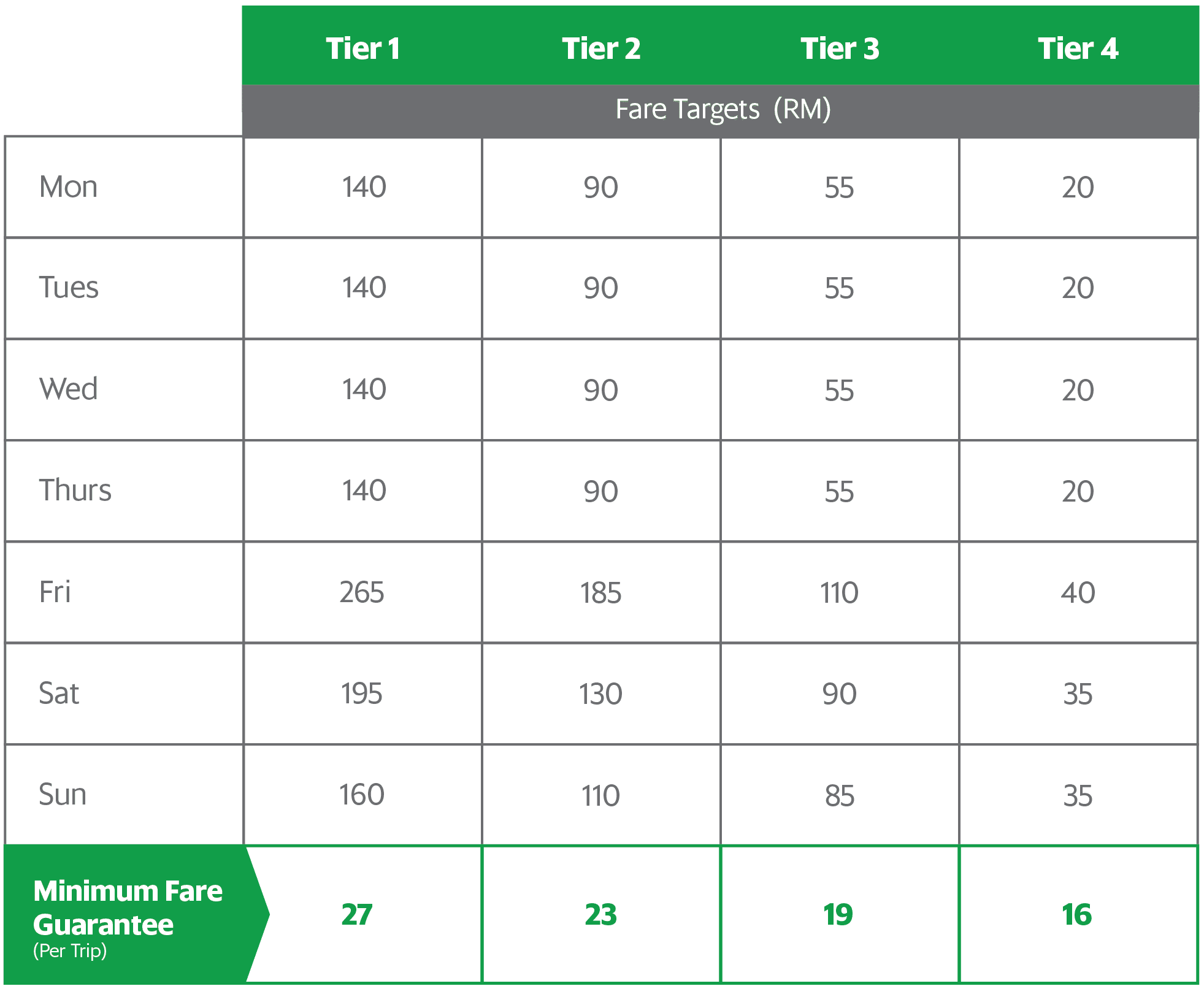 Table I: Updated Grab Incentive
With the updated Grab incentive, the focus is not on the hours behind the wheel, but on how many jobs are completed. For example, on normal weekdays (Monday – Thursday) you only need to accept one job while on the way to work and two after. With the minimum fare of RM7 per job, you will already hit the tier 4 target and receive a bonus incentive which rounds each job to RM16, making your daily earnings RM48.
Next, the weekends (Friday – Sunday). When you accept five to six jobs a day with the same minimum fare of RM7 and with each job rounded up to RM16, your daily earning will total to somewhere between RM90 to RM96.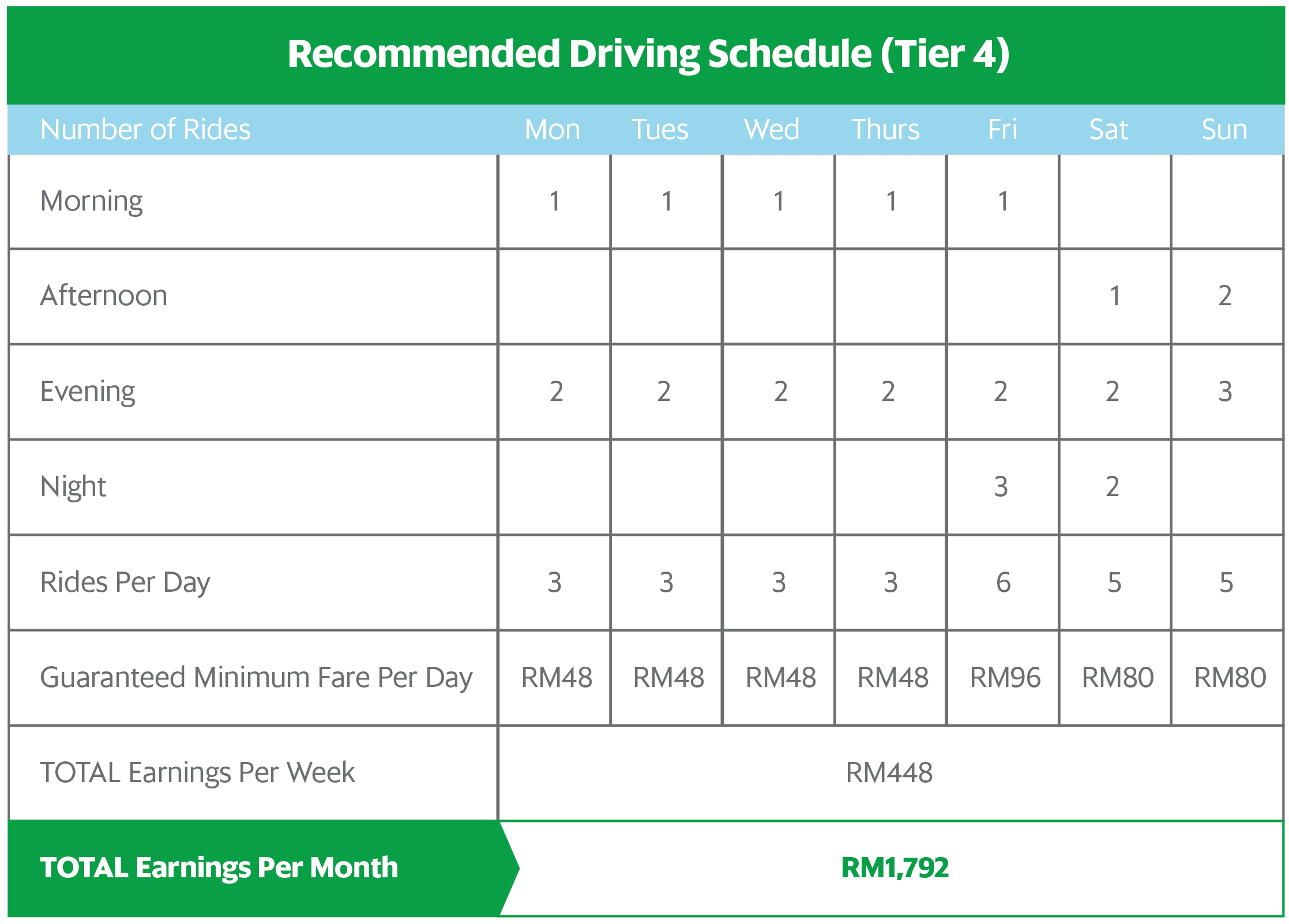 Table II: Recommended drive schedule to achieve minimum weekly earnings with an average of 2 hours of driving a day
Yes, we are aware you have limited spare time but with just 14 hours a week (that's as low as 2 hours a day!) you can take home a minimum of RM1,792 guaranteed gross income per month.*
But what can you possibly do with RM1,792?
So let's break it down further. With this amount, you can easily pay for:
Monthly installments for a brand new Mazda 3 2.0 SkyActiv Sedan GL or a top-line Honda HR-V;
Monthly rental at condos such as Neo Damansara or Fahrenheit 88, Bukit Bintang (and places like these are usually in demand for transport);
A brand new iPhone6S or Samsung S7 Edge within two months;
A trip to Bali or Bangkok every month!
Your possibilities are endless just by sitting in your car for a few hours a day while listening to your favourite music and meeting new people.
GrabHacks to Earn More
In fact, here are a few tips to consider to earn more!
1) Target high demand areas during bonus hours
Bonus Hours, which usually coincides with office rush hours, are when Grab guarantees the minimum fare earned, therefore, you can definitely earn more with lesser drive times.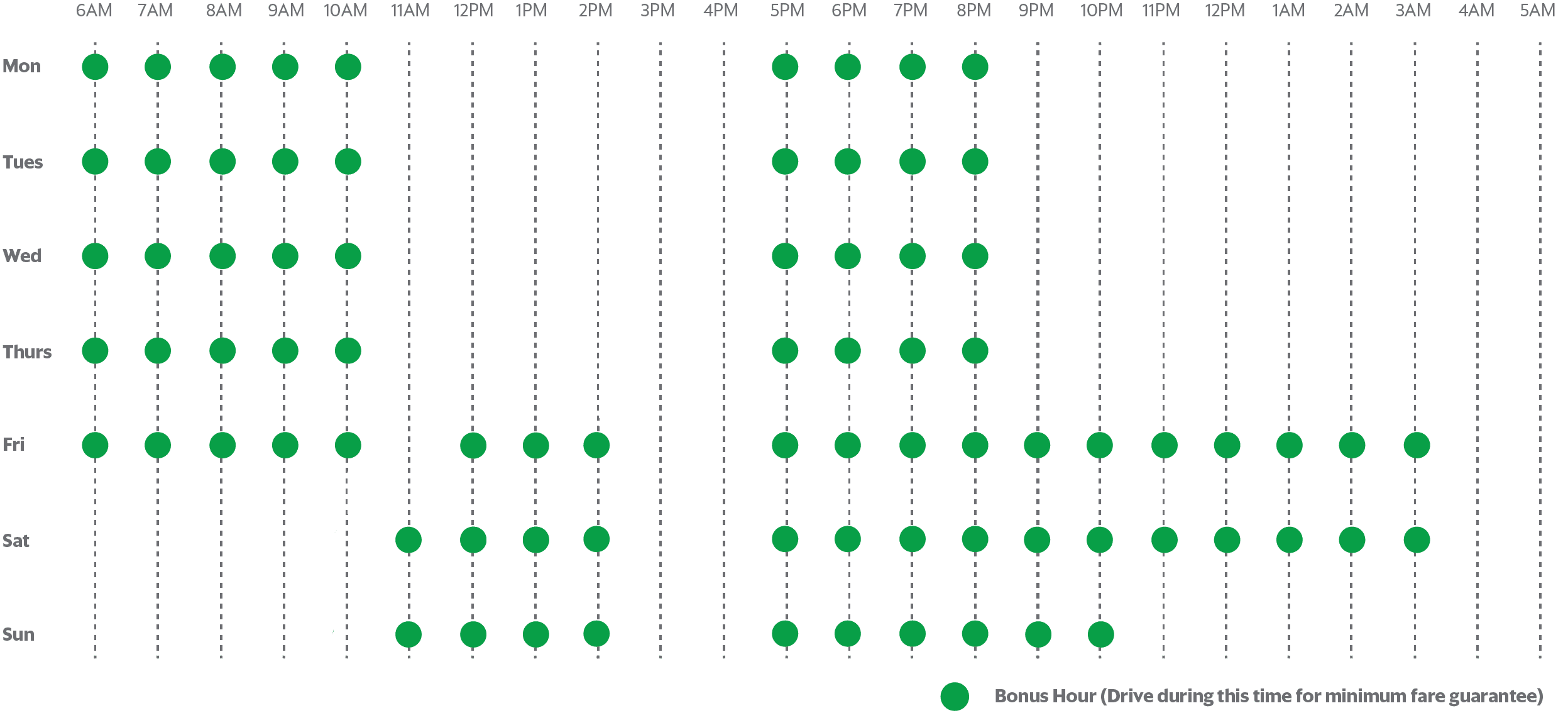 Table III: Bonus Hours
2) Minimise your cost
Another tip to maximise your earnings is by reducing your cost. Since it is now cheaper to fill your tank with petrol than to enjoy a glass of milo ais at your nearest mamak, it'll be best to make full use of it while it lasts!
3) Refer your friends and family
Want in on a good deal to make more money? Get your friends and family to sign-up as well and you could earn up to RM175 per referral.
Signing Up Has Never Been So Easy!
Simply follow the simple steps below and register online:
Step 1: Visit the Sign Up page;
Step 2: Register, key in details and upload the necessary documentation (NRIC, valid driving license, cover note for insurance and profile photo);
Step 3: Attend a quick driver briefing.
For more information about Grab, visit the main web page.
_*Gross income does not include petrol fee and Grab commission applicable on base fare, and not incentive. _