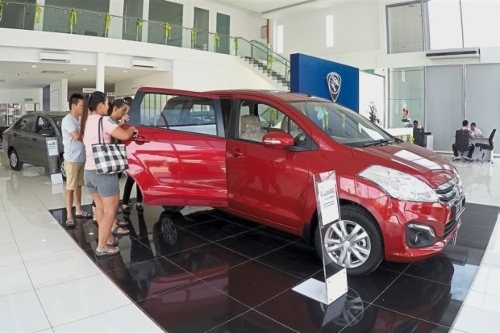 Car dealers have reported an overwhelming amount of sales and bookings this month, with stocks of some models already selling out. Many dealers are attributing this to two concurrent events: the ongoing tax holiday thanks to the zero-rated GST, and the Hari Raya celebrations.
Since 1 June, car sales and bookings have surged as much as 50–100% across brands such as Kia, Toyota, Volkswagen, and Proton. Automotive dealers are seeing a marked increase in customer walk-ins at showrooms as well as roadshows, and some dealers are receiving three times as many bookings as they would on an average month.
"It is because of the tax-free period now that people are more willing to spend their money to buy a new car," Kym Looe, executive director of car dealer Honda Ban Hoe Seng Sdn Bhd, told The Star.
On top of that, the Hari Raya promotions offered this month may also have encouraged Malaysians to take the plunge and make their purchases. Car dealers are offering discounts of anywhere from RM5,000 off the price of a Honda Accord to RM20,000 off a Kia Sorento. The festive discounts, combined with the 0% GST, would result in Malaysians saving a sizeable chunk off the price of a new car.
As a result, many car dealers are now facing supply shortages, with even reserve car stocks being almost completely sold out. Meanwhile, buyers are being put on increasingly long waiting lists for the more popular makes and colours. However, given that the concurrent promotions can save buyers thousands or even tens of thousands of Ringgit depending on the model, it is unlikely that a long wait will put them off their purchases during this period.
The Sales and Services Tax (SST) will be introduced on 1 September, ending the three-month tax holiday. Based on the general perception of Malaysians being last-minute buyers, dealers expect that sales will climb even higher during the month of August, with longer waiting lists too.
"All I can say is, if people want to buy a new car, now might be the best time to do so," said Proton distributor sales manager Justin Ong.
(Source: The Star)